From the Open-Publishing Calendar
From the Open-Publishing Newswire
Indybay Feature
Cops brutally attack Human Rights Fest in uptown Charlotte, NC
Suddenly dozens of cops charged into the crowd, jumping on people and using tasers on some. One person was beaten by several cops.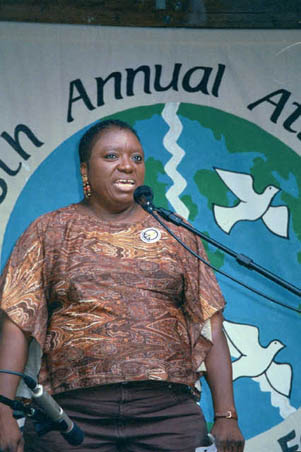 Liberation News Letter of protest to:
Charlotte Mayor Patrick McCrory,
Charlotte Council Members Pat Mumford, Susan Burgess, Anthony Foxx, John Lassiter,
Charlotte Police Chief William Callahan.
I am deeply disturbed by the blatant and violent police violation of the free speech rights of those who were protesting against the war at last week's Human Rights Fest in Charlotte, North Carolina. With 7 of the 200 present arrested and one suffering a broken rib and punctured lung as well as another being shocked with a taser, both in unprovoked police attacks, it seems that the Charlotte-Mecklenburg Police are unaware that we do have the legal right to protest in the United States.
It also seems that the Charlotte-Mecklenburg Police are unaware that when they carry out this kind of violence against those who are standing up against the unjust war of aggression that the U.S. is carrying out against the people of Iraq, that the whole world is watching.
In addition I am writing in protest of the presence of under-cover officers at the following anti-war event organized a week later by the Green Party and the Action Center.
I also oppose the limits to free speech placed on anti-war protesters by the Mecklenburg County Park and Recreation Department at that event a week later.
Mayor Patrick McCrory and Police Chief William Callahan, you are being held directly accountable for the actions of your police employees, and you are on notice, the whole world is watching.
Drop the charges! Stop interfering with the right to protest! Fire, arrest, and prosecute of the police that carried out these assaults!
Sincerely, Steven Argue for Liberation News
Liberation News:
http://lists.riseup.net/www/info/liberation_news
Cops brutally attack Human Rights Fest in uptown Charlotte, NC
By David Dixon
On Sept 23, cops brutally attacked band members and the crowd attending a Human Rights Fest in uptown Charlotte, NC.
The event had been going great attracting a multinational crowd of some 200. Many people passing by stopped and joined in.
The Human Rights Fest featured performances from Dirty South Revolutionaries, Tax Slave, 25 Minutes To Go and Southside Punx. Band members made political statements speaking against Bush, police brutality, war, and making the point that uptown Charlotte was built by the working class and the people had a right to be there.
As Southside Punx was playing their last few songs, a cop told organizers they had to shut it down because someone had set a piece of newspaper laying on the ground on fire. David Dixon told him that the Action Center For Justice had permits to be there until midnight, and the event was almost over. The cop said he didn't care, that "you have to shut it down," so Dixon told him that was being done.
The cop then said, "I don't care. I got my boys coming."
David Dixon stated, "We're shutting it down and we'll be out of here."
The cop replied, "It doesn't matter. I got my boys coming. They'll be here in a minute," and he chuckled.
A member of Southside Punx yelled into the crowd that we had a constitutional right to be there.
Suddenly dozens of cops charged into the crowd, jumping on people and using tasers on some. One person was beaten by several cops.
"My friend was held on the ground at gun point for no reason. This was after they tased him. Then I saw the cops shove another friend to the ground and jump on top of him," said Elizabeth Arrowood. "No one did anything to deserve this."
Brandon Magness with Southside Punx said, "The cops rushed in tasing people and pulling guns. I had at least 3 tasers pointed at me. My roommate got beat up. We were being peaceful."
The cops then told Dixon and Magness that they could arrest them and the band, as well as confiscate the band equipment, for "inciting a riot." They said Magness had been trying to incite the crowd against the police while singing. That couldn't be possible as the dozens of cops that arrived weren't there when the sound was turned on. When Magness stated his innocence, he was arrested.
Dixon said, "It actually appeared the cops were trying to provoke the crowd and incite a riot."
If you witnessed the event or have any photos or video before, during or after the police attacked please send them to
actforjustice [at] yahoo.com
or call (704) 492-8527.
A campaign is being launched to demand the charges against five of those arrested, now known as The Charlotte Five, be dropped and any violations of their civil liberties be addressed.
Sign the petition to drop the charges against the Charlotte Five at
http://www.petitiononline.com/thefive
.
More information will be posted at
http://www.CharlotteAction.org
or call (704) 492-8527.
We are 100% volunteer and depend on your participation to sustain our efforts!
Get Involved
If you'd like to help with maintaining or developing the website, contact us.