From the Open-Publishing Calendar
From the Open-Publishing Newswire
Indybay Feature
The 13th Annual Peace and Unity March!! (10/7)
THE 13TH ANNUAL PEACE AND UNITY MARCH!!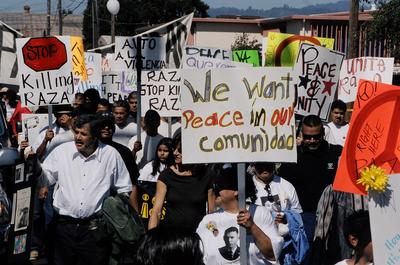 SATURDAY, OCTOBER 7, 2006
Meet at the City
Plaza (Off Main Street) at 11:30am!
March Begins: 12:30am
Peace Rally: 2:30pm - 5:00pm
After the tragic gang related murders of Jessica (age 9) and Jorge Cortez (age 16)in 1994, the Peace and Unity March was organized by the Watsonville Brown Berets to address the gang warfare going on in their community. Our march was to demand peace in our hoods and to educate our youth about their culture and true struggle for social justice. We believe that gang youth are our dorment warrior and once awakened, can be a vital force to create true social change in their communities. The march is historically lead by families of victims of violence and community members demanding an end to all violence including war and governement opression. Please join us in solidarity to help spread a powerful message to our communities.
Over the last 13 years, more than 75 residents of our community have
lost their lives to violence. When will it end? As a community, it is
vital to remain proactive and send a united and positive message into all
our homes and neighborhoods. Enough of the violence!
We need to make a
demand for peace and unity!
We cannot be waiting for the next victim of
violence!
JOIN US FOR OUR 13-YEAR ANNIVERSARY OF CHAMPIONING FOR PEACE &
UNITY!
TOGETHER WE CAN MAKE A DIFFERENCE FOR OUR FUTURE GENERATIONS!
Sponsored by the Watsonville Peace & Unity
Coalition, Student Empowerment Project & Watsonville Brown Berets
for more information call (831) 722-1775
*********************************************
El 13ro Anual de Watonsville
Marcha de Paz y Unidad
Sábado 7 de octubre, 2006
Unimos en la Plaza del Ciudad (por Main St.) a 11:30am!
Marcha Empieza: 12:30am * Fiesta de Paz: 2:30pm – 4:00pm
Durante los últimos 13 años, mas que 70 residentes de nuestra comunidad han perdido su vida a violencia. Cuando acabara? Como una comunidad, es vital que mantenemos pro-activo y mandar una mensaje positivo a todas nuestras casas y vecindarios.
Ya basta a la violencia!
Necesitamos hacer reclamos para paz y unidad!
No podemos esperar la próxima victima de violencia!
Únete con nosotros para nuestra 13-año aniversario de campeonar para paz y unidad!
Juntos podemos hacer una deferencia para nuestras generaciones seguidas!
Para mas información contactan nosotros a brownberets [at] msn.com o (831) 722-1775
Hecho por el Proyecto de Fortalecimiento Estudiantil, Coalición de Paz y Unidad de Watsonville, Bueyes Cafés de Watsonville
Familias de victimas de violencia están bienvenidos para hacer altares de recuerdo
http://www.brownberets.info
We are 100% volunteer and depend on your participation to sustain our efforts!
Get Involved
If you'd like to help with maintaining or developing the website, contact us.