From the Open-Publishing Calendar
From the Open-Publishing Newswire
Indybay Feature
Block (the) Party in Palo Alto
Maintaining a state-of-the art paramilitary requires deep funding. That's why Palo Alto is now providing YOU the opportunity to subsidize your oppression by Shopping Palo Alto! Come join us as we celebrate our affluence, at your expense, at the new Stanford Stadium Grand Opening Pep Rally in Civic Center Plaza, Friday 9/15/2006 6-7:15PM.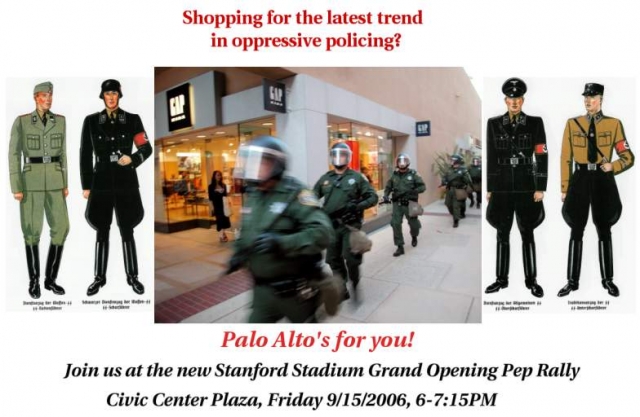 Palo Alto has a proud history of loyal support for its Heroes in Blue.
Sep. 1999: Police officer Luis Verbera, a former Sexual Assaults detective, proved worthy of the title when he was sentenced to a year in jail for five sexual assaults he committed on duty, using his authority. In one attack, Verbera handcuffed a woman he stopped for speeding, put her in the back of his patrol car and put his hand down her underpants, according to court documents. In another attack, Verbera told a surgical technician who witnessed a minor car crash that she would have to ride with him to the station (although she was not under arrest). He then drove to the PAPD garage and sexually attacked her in the police car. [1]

City response: The police chief expressed no outrage. Neither the City Manager, nor the City Council spoke publicly about the case.

Jan. 2002: Police (led by Sexual Assaults detective Natasha Powers) arrested David Eric Carlson for sexually assaulting a 4-year-old boy at the preschool where Carlson had worked for 9 years. Bail was set at $1 million. The arrest was mere hours after the alleged incident, yet police confidently asserted: "The problem with pedophiles is that they don't stop at just one. But we're hoping this is the first time this guy has done this" [2] (But then, a few months later, when the community expressed outrage at the fatal shooting of an unarmed young man by police, however, PAPD somberly reminded us that "It is inappropriate, and potentially harmful, to make speculative responses before all the facts are known."). It took nearly a month before the DA's office decided it really wasn't his first time - because no crime occurred. The child reportedly decided to "trick" police - which the 4-year-old easily accomplished. Unfortunately, the problem with Palo Alto false arrests is that they don't stop at just one...

City response: Police never publicly apologized, despite the obvious trauma to Carlson's life and career. At the time of arrest, police claimed their search of Carlson's home uncovered the information supporting an arrest. But after charges were dropped, it was reported that the case was based on the child's interview. Neither the City Manager, nor the City Council spoke publicly about the case, so there was no indication that measures were taken to prevent a reoccurrence. And, in fact, within months there was a reoccurrence.

May 2002: Police (again led by detective Natasha Powers) claimed 18-year-old Jorge Hernandez, no prior criminal record, confessed to the rape and beating of a 94-year-old woman and held him 21 days. After Hernandez was cleared of the crime by DNA tests, a videotape revealed the alleged confession was coerced by police lying during interrogation.

City response: Two years later, the city paid Hernandez $75,000 to settle his claims against the city - and prevent a public trial that would reveal the police tactics in the case. There was no apology, either to Hernandez or to the public (the crime remains unsolved). On the contrary, police chief Lynne Johnson sulked that her department "didn't do anything wrong" in jailing the wrong person, and continued to implicate Hernandez without offering evidence. And detective Powers put the public on notice that we'll be seeing even more of the same, warning us: "It certainly isn't going to change how I do my job". [3] So who will be her next victim? Neither the City Manager, nor the City Council spoke publicly about the case, despite voting in favor of the settlement.

Mar. 2002: Police officer Jessica Perryman fatally shot unarmed 20-year-old Pedro Calderon after stopping him for resembling a burglary suspect. Perryman dived headfirst into the car driven by Calderon, and tried to get in as Calderon was trying to drive away. Perryman claimed she was pinned by the car Calderon was driving, though she was immediately released from the hospital with only minor cuts and abrasions.

City response: Perryman was cleared of criminal wrongdoing by a secret Grand Jury. She no longer works for PAPD, now working for an East Bay police department, but no disciplinary action was ever publicly announced. Neither the police chief nor any city official publicly commented on her highly questionable actions that led to the shooting.

July 2003: Police rookies Craig Lee and Michael Kan spotted 59-year-old Albert Hopkins sitting in his parked car about a mile from his home, dragged him out, and then beat, kicked, and pepper-sprayed him – when he refused to hand over his identification. In a surprising break with the legendary 'Code of Silence', all four senior officers that arrived on the scene concluded that Hopkins had not committed any crime, and therefore the beating was unjustified. Instead, Kan and Lee were charged with felony assault. [4]

City response: The city paid Hopkins $250,000 to settle the civil suit that resulted. Police chief Lynne Johnson openly admitted responsibility for the attack, by saying the unprovoked assault of Mr. Hopkins was just following departmental policies. PAPD's internal investigation claimed the two rogue rookies were right and the four senior whistle-blowers were wrong (each had over 15 years experience). The split in police ranks apparently succeeded in obscuring the obvious for a few of the jurors: the trial of Kan and Lee ended with a hung jury of 8 guilty votes to only 4 votes for acquittal. Despite the 2-1 margin, in June 2005 the DA let Kan and Lee plea to an infraction (public fighting), that cost them only $250 (not a typo - only one zero there!) to walk free. City officials expressed relief that the case had ended and their eagerness to "get it behind us". Chief Johnson was eager to get her head-whackers back on the street, to show who's boss. Only one official, an HRC member, suggested that perhaps desk duty would be more appropriate. Firing the convicted brawlers wasn't even an option to discuss. When the police department (backed by the city) refuses to sort out its "bad apples", is it unreasonable to conclude that the whole barrel is rotten?

June 2005: A planned anti-war march evoked from chief Johnson the kind of shrill demonization and fear-mongering that has become the signature of this society's leaders, saying marchers were "expected to cause chaos and property damage". That was all that was needed to transform 3 hours of peaceful anti-war marching into an orgy of overtime for not only PAPD, but also the 233 police from all other Santa Clara County agencies plus California Highway Patrol. With horses, helicopter, and full riot gear, the cost was easily over $200,000 [5]. Remarkably, despite the show of force, police contained their nastiest elements from the many onlookers: there were few incidents and no arrests.

City response:Many residents and visitors were horrified by their first look at our local paramilitary force, that is readily assembled to suppress opposition to imperial plans. Nontheless, there was no public official willing to commit the heresy of questioning the judgment of "The Chief"
As you can now see, maintaining a state-of-the art paramilitary that regularly tramples civil rights and criminal law requires deep funding. It drains 20% of the General Fund expense, the #1 expense (and that's not including the legal expense and settlement payouts of civil suits). Just continuing to pay the salaries (not including benefits) of convicted brawlers Kan and Lee costs are least $70,000 per year each. That's why Palo Alto is now providing YOU the opportunity to subsidize your oppression by Shopping Palo Alto! City Manager Frank Benest, boss of chief Johnson, has promoted a plan whereby shoppers can get the city out of the mess he made. Since the city's share of sales tax is 1%, YOU can pay Kan and Lee's annual salaries simply by spending at least $14 million in Palo Alto each year.
So let's get shopping!
Special treat: Enjoy shopping under the soothing roar of Navy jets
providing pre-Game entertainment!
[1] http://www.paloaltoonline.com/weekly/morgue/news/1999_Mar_24.VERBERA0.html
[2] http://www.paloaltoonline.com/weekly/morgue/2002/2002_01_11.molest11.html
[3] http://www.1union1.com/police_lawsuits.htm
[4] https://www.sccgov.org/content/0,4745,sid%253D12602%2526chid%253D126918%2526ccid%253D345555,00.html
[5] http://www.paloaltoonline.com/weekly/morgue/2005/2005_07_13.digest13.shtml

We are 100% volunteer and depend on your participation to sustain our efforts!
Get Involved
If you'd like to help with maintaining or developing the website, contact us.