From the Open-Publishing Calendar
From the Open-Publishing Newswire
Indybay Feature
Shaking Uncontrollably: Thinking Takes Too Long
Everything is happening faster, distractions everywhere you turn, no time to focus. Even right now, as you're reading this, you're probably listening to music, talking on a celly, IM'ing your friend, eating genetically modified food, illegally reproducing copyrighted material, or some combination of the above. So if you're too busy to read my entire "Shaking Uncontrollable" column this week, I feel you. We've been conditioned to have the attention span of a hummingbird on tweek listening to happy hardcore. Just scroll to the bottom if you want a quick recap and continue consuming stuff as fast as you can…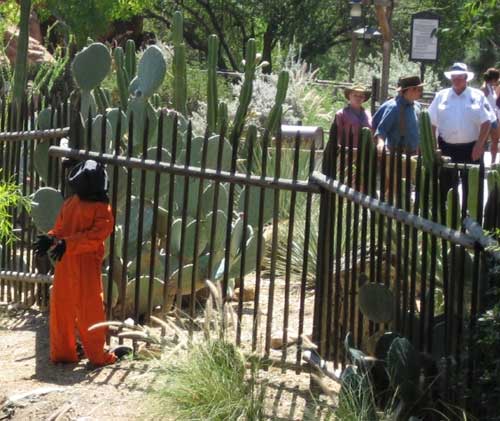 No gum-chewing, spitting, or rioting allowed:
Singapore
banned a ton of activists
from entering the Southeast Asian city-state to protest the World Bank/IMF meeting and/or take part in a counter-summit of NGOs this week. Just in case a few of those pesky dissidents get into the city, Singapore also banned all outdoor demonstrations in connection with the meetings and have designated an area the size of a volleyball court for indoor protests. Reps from the World Bank and IMF were like, "Wow, that really sucks, we just can't believe that this ultra-authoritarian island isn't going to let protesters fuck up our summit and tear down all our barb wire fences again (suckers!). Maybe we'll try to have our next meeting in a place that's more accessible like Antarctica or in a secret underground lair protected by giant squids at the bottom of the ocean." Anyone for volleyball?
Bush Just Ain't the Talkin' Type:
Last week, Iran's president proposed a
debate
with President Bush at this month's U.N. General Assembly, saying it would be the perfect place for an uncensored discussion that the whole world could watch. So far, The White House has denied this request, saying Mahmoud Ahmadinejad just wants to create a "diversion" from serious concerns over Iran's nuclear program. Needless to say, the mainstream media mostly ignored the obvious conclusion that Bush would rather just bomb the shit out of a country of about 70 million people rather than sit down and talk about options to avoid another disastrous war. Moumoud has yet to post any response to this rebuke on his
blog
, but maybe we should try to convince George to start a blog too, so they can just settle this with a flame war instead of the real thing.
US Propaganda Campaign Exposed (Again):
Last year the Bush Administration got busted for paying Armstrong Williams to promote "No Child Left Behind" on his TV show. In November, the story broke that they were paying the Lincoln Group to bribe Iraqi newspaper editors into planting stories. Now it's been revealed that at least 10 Miami corporate media journalists were
taking government dough
for appearing or contributing to programs on Radio Martí or TV Martí. These are US-funded stations aimed at undermining the communist Cuban government of Fidel Castro and they're officially banned in the US because of anti-propaganda laws. This is retarded—Castro has jailed more journalists than any other country except China, yet the US is paying reporters to say bad things about him? What are they going to do next—pay Mel Gibson to talk shit on Israel?
I don't get it:
Creationists believe in a literal reading of the Bible's story of creation. In order to promote this, um, "theory," John Adolfi, a New York real estate agent is building
The Lost World Museum
to disprove evolution. His "proof" —the museums's future main attraction—will be Cy, a dead, one-eyed, noseless kitten. He wrote on the museum's web site that the theory of evolution states that "environmental pressures can lift species from the ape-like creature ... to us today. My question is this. Are there really positive mutations? All I can see are neutral or negative." Where is he looking? A mirror?
Where's the Louis Vuitton Tube Steak?:
According to a new
AP article
, "designer beef" is the "hip new food trend." Fashionable diners can now chow down on beef that (drumroll please) is exactly like one designer Ralph Lauren dines on at his Colorado ranch. "You're not hanging out with him but it's like you are sharing something with him," said chef Isaac Holzwarth. Wow! Will it make my shit look just like Ralph Lauren's shit? I wonder if Martha Stuart is going to be coming out with a brand of bologna just like the kind she ate when she was locked up?
Fashion Police Brutality:
Ok, I know the intertwined concepts of high fashion and supermodels can be pretty appalling, but I don't think that the Italian Vogue/Vanity website was trying to make a critique of the shallowness of consumerist culture when they published their new
feature photo spread.
The series features hypermasculine riot cops beating, stepping on and essentially sexually assaulting "helpless" hotties in super-expensive dresses. My only hope is that this imbecilic photo spread unwittingly inspires a generation of impressionable young girls who emulate supermodels to go out and fight riot cops.
Calling all Situationists:
Rebar
, a local group of creative-types needs help with their next "landscape remix" project. On, "Park (ing) Day" (9/21), they're calling for folks to transform metered parking spots around the world into parks. Last year, they successfully reclaimed a strip of asphalt in the financial district for the cause of urban open space for a few hours by laying down sod, a tree and a bench. Anyone else interested in doing a "slip and slide" in front of the Federal building?
Culture jam of the week:
Banksy has struck again!
This time he secretly placed a life-size Guantanamo bay inmate inside the Big Thunder Mountain ride at Disneyland. The "victim" (an inflatable doll dressed in an orange jumpsuit with chained hands and feet) remained in place for more than an hour before Disney's rent-a-cops shut down the ride, citing a concern for public safety. How the hell is a Gitmo prisoner statue more dangerous for the public safety than a 6 foot tall rat with giant white hands posing for photos with little kids on his lap all day?
Here's the recap for you busy, important people:
Lying is totally acceptable if you're powerful; creationists are the best living proof AGAINST evolution; fashion will never stop getting stupider; and I predict that pranks will become more influential than books within the next 10 years.
PS: There's a massive, leaderless rebellion unfolding in Oaxaca, Mexico that's been completely ignored by the US media. Here's an
audio interview
I did with a friend who just got back if you're interested in hearing about inspiring actions like community groups taking over corporate TV and radio stations.
We are 100% volunteer and depend on your participation to sustain our efforts!
Get Involved
If you'd like to help with maintaining or developing the website, contact us.