From the Open-Publishing Calendar
From the Open-Publishing Newswire
Indybay Feature
SHAC 7 Benefit at AK Press in Oakland, 8/26/06, with SHAC7 Video
Convicted under the Animal Enterprise Protection Act, the SHAC7 are set to be sentenced September 12th in New Jersey. Collectively they face decades of prison time.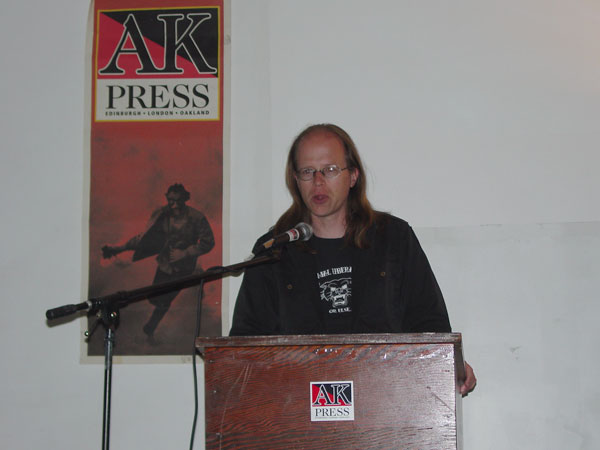 David Hayden spoke of the changing nature of activism and the increased level of antagonism from authorities against animal rights and environmental activists. New laws that have been passed targeting activists are now coming into play. With authorities' limited "success" in stopping underground direct action activists, they now are going after "above ground" activists such as the SHAC7 who now face years of prison time each. Sentencing for the SHAC7 is scheduled for September 12th and a number of Bay Area activists are planning to be there to show their support. He implored the audience not to let the recent governmental persecution to intimidate activists from doing what they know is right. (For instance,
HTTP://SHAC.NET
still lists businesses that work with Huntingdon Life Sciences [HLS] that are worthy of protest.) He himself is currently involved in legal wrangling with a Grand Jury that is targeting almost a dozen local activists regarding the possible concealment of Andreas San Diego who is supposedly being sought in connection with a small bomb that exploded outside of the Chiron corporation's building in Emerville. Immunity has been granted to coerce those subpoenaed to testify yet they still refuse out of principle. He noted that the same rights citizens enjoy on the street (those to an attorney and to remain silent) do not apply in a Grand Jury and those subpoenaed face potential jail time themselves for contempt. In all, recent governmental attacks across the nation amount to a largescale effort to silence dissent. The SHAC7 were convicted for maintaining a website that supported the goal of shutting down HLS. Those subpoenaed in SF face jail time for refusing to speak and cooperate. And Rod Coronado in San Diego is in similar trouble for simply describing a molotov cocktail in a public speech. It is free speech that is being targeted rather than actual crimes.
David Hayden has been subpeaned to appear before a Federal Grand Jury in San Francisco. He and several others have thus far refused to testify. (
http://www.indybay.org/newsitems/2006/08/20/18299026.php
and
http://www.indybay.org/newsitems/2006/01/23/40872.php
)
http://nocompromise.org/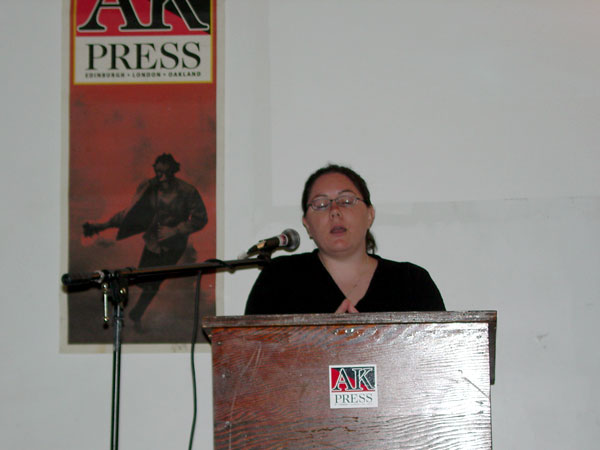 Michael Kozar spoke of his recent work in New Orleans with the Common Ground Medical Clinic and his current work in Sonoma County providing homeless support and creating a free health care clinic. He denounced the "guilt by association" tactics of the government noted by the other two speakers and how the mistreatment of animals and people often go together. Pharmaceutical companies, for instance, have been repeatedly exposed for their unethical practices towards people and animals. A lawsuit is now going forward against Pfizer for offering "free" treatment to low income people when they were actually testing experimental drugs that lead to the deaths of several children. Corporate greed and animal and human abuses go hand in hand. One of the crucial issues for activists in our time is to reclaim health care and food safety.
We are 100% volunteer and depend on your participation to sustain our efforts!
Get Involved
If you'd like to help with maintaining or developing the website, contact us.