From the Open-Publishing Calendar
From the Open-Publishing Newswire
Indybay Feature
Beauty on the Bricks: Precita Eyes Creates Murals and Artists
In a narrow alley off 24th St, a cluster of Nepali peasants raise their fists in resistance as two women smash chains of imprisonment. A small child with AIDS cries at the tombstones of her dead parents. Nicaraguan campesinos celebrate their bountiful corn harvest with music and dancing. Welcome to Balmy Alley, a corridor of more than 70 murals in the heart of the Mission district.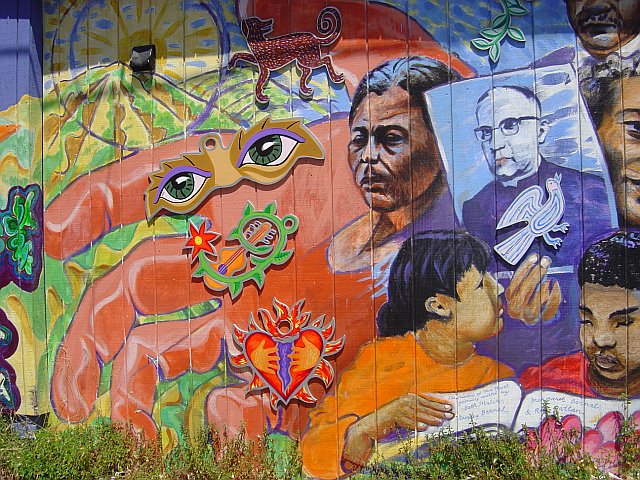 Balmy Alley radiates with color, overwhelms with diversity and vibrates with inspiration, but it blends perfectly with the surrounding neighborhood, where nearly every façade tells a story. In this primarily Latino area, the most precious works of art are on the buildings, not inside them. Precita Eyes is the non-profit group that puts most of the paint on these walls and tells the living history of these larger-than-life pieces to a constant stream of art lovers, graffiti kids, tourists and middle schoolers who travel these streets on mural walking tours.
"Every community has its own issues," said Susan Cervantes, the founder and matriarch of Precita Eyes. "We try not to make any assumptions of what a mural should be. We want the artists to collaborate with the community so each mural reflects that community's voice."
In the barrio surrounding the Precita Eyes storefront, the line between "community" and "artists" is as blurry as an airbrushed line of aerosol paint across a brick wall. Not only does Precita Eyes sell art and supplies, but they also encourage anyone who might walk through the door to get involved by taking a class or even helping out with a mural. Judging by the dozens of kids (and adults) who endured sweltering heat to spend a recent Saturday painting huge wooden screens in Precita Park for the 10th annual Urban Youth Artsfest, this open-door policy has been the key to Precita Eyes' continued vitality over the past three decades.
Cultural Connections
More than a millennium before Michelangelo took a brush to the ceiling of the Sistine Chapel, the Mayan and Aztec cultures of pre-Columbian Mexico adorned the walls of their buildings with paintings. Political muralism flourished in Mexico following the 1910 Revolution and Diego Rivera's style of Social Realism created a sensation in 1920s San Francisco. The Bay Area's Chicano movement connected with this heritage during the 1960s by reviving this public art form, but during the following decade an all-female group called Las Mujeres Muralistas (The Women Muralists) flipped the script and inspired a wave of muralism that led to the nearly 700 murals that now sing from the walls of San Francisco.
"Las Mujeres Muralistas pioneered a different style," explained Patricia Rose, who walked into Precita Eyes in 1980 to write a paper about public art and has worked and painted with the group ever since. "Their male counterparts were painting struggle and they were using confrontational and violent imagery. But the Mujeres wanted to focus on the things that we celebrate, that we're proud of …Now that's really the signature of muralism in San Francisco. We still have murals about struggle and injustice, but also so many about celebration and beauty…that's the legacy."
After working with Las Mujeres, Susan Cervantes taught a six-week class at Precita Valley Community Center that culminated in a collaborative mural. Nobody wanted to stop painting when the class ended and Susan noticed a serious lack of art programs for children—including her own—in the Mission, so she started Precita Eyes in 1977. Since then, Precita Eyes has been responsible for literally hundreds of the vast, colorful murals that characterize the creative spirit of the Mission including the Women's Building, Cesar Chavez Elementary School and, of course, Balmy Alley. Considering the undeniable beauty of their murals, it's hard to believe that many of Precita Eyes contributing artists first got involved with the program to work off community service hours.
In a brilliant twist of irony, many of San Francisco's young graffiti writers who get caught painting on walls spend their public service time . . . painting on walls. "When you come in from getting busted for graffiti, you're a bomber, but Precita Eyes turns you into an artist," explained spray can veteran Francisco Carrasco. "You gotta scrub mad paint brushes and buckets, but they'll give you a little piece of wall to express yourself. Every tagger has a potential to be a muralist."
A ten-year-old Francisco started coming into the shop to gank markers in the early 80s, but when he found out that kids can use all the markers they want if they signed up for a two dollar class, he joined the Precita Eyes family and ended up teaching the youth class from 1987 though 1993. The youth class and the community service program continue to supply a steady stream of talent to Precita Eyes and the group also offers low-cost workshops ranging from toddlers art to adult figure drawing. "They don't care what planet you're from, they'll tell you to come on in," Francisco said, referring to the diversity of budding Precita Eyes students. "They got their arms open to everyone across the world. Susan sees art as a language that everyone speaks."
In the Mission, where the lifespan of public art can sometimes be measured in minutes and many remaining Latino families are still reeling from the gentrification explosion of the dot-com era, the iconic Precita Eyes murals present a sort of psychological anchor—a connection with the community's ancestry and a sign of resilient permanence. "This neighborhood really appreciates and understands the murals—there's a real pride," Patricia Rose said, sitting in her small office as young students sketched new murals in the next room. "It isn't 'some elite group of artists' who came here to give us this wonderful gift. This is our voice—and as the movement goes forward it grows stronger."
http://www.precitaeyes.org/
*In the version of this article that orginally appeared in the printed version of Fault Lines, a mural that formerly existed on Paco's Tacos near 24th St. and South Van Ness St. was incorrectly attributed to Susan Cervantes' mural class. This mural was actually painted by Las Mujeres Muralistas. Fault Lines regrets the error.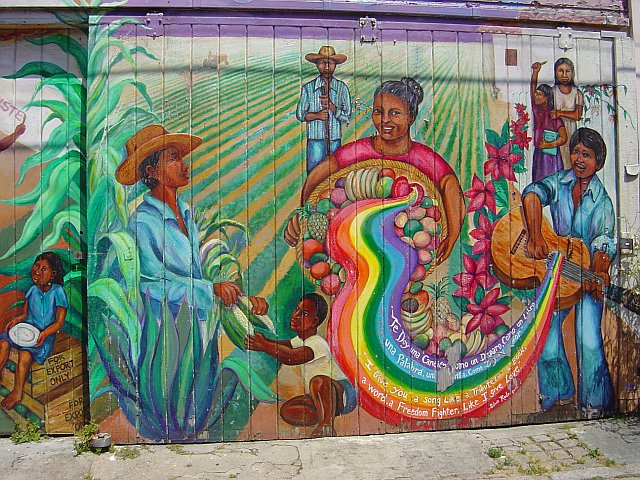 We are 100% volunteer and depend on your participation to sustain our efforts!
Get Involved
If you'd like to help with maintaining or developing the website, contact us.