From the Open-Publishing Calendar
From the Open-Publishing Newswire
Indybay Feature
Loud & Proud: Hard Knock Hip-Hopper Rico Pabon Brings the Spirit of Puerto Rico to the Bay
While most Bay Area rappers have been "goin' dumb" this summer, Rico Pabon has been doing the opposite. Although the soulful, salsified beats on his new album "Louder than Fiction," give it the vibe of hand-clapping party album, Rico's words encourage folks to expand their minds instead of just losin' them. Whether performing with his Afro-Latin hip-hop band Agua Libre or dropping tracks with The Coup and dead prez, Rico reps like a Puerto Rican Chuck D. who ain't afraid to smile.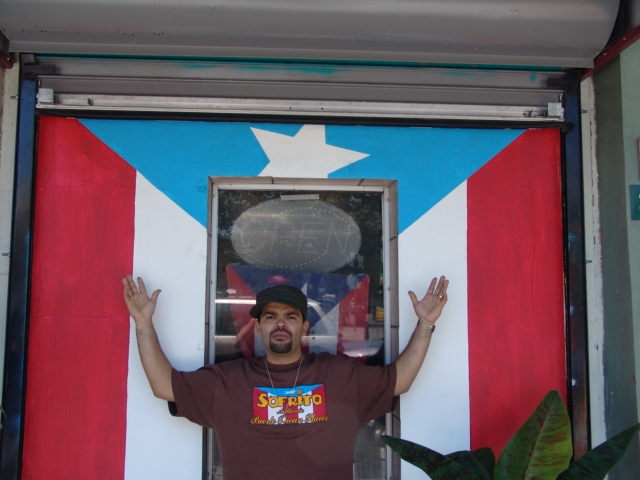 When I met up with Rico at his new restaurant Sofrito (located in the Fruitvale section of Oakland; it's the only Puerto Rican joint in the East Bay), he was definitely grinning from ear to ear. Surrounded by paintings celebrating Puerto Rican freedom fighters and engulfed in the mouth-watering aroma of sizzling plantains, he handed his newborn baby boy over to his wife, and sat down to talk with Fault Lines about music, struggle, and how he learned that a colony was more than just a bunch of ants…
Fault Lines: How does it feel to be a conscious rapper in a hyphy scene?
Rico Pabon: The music industry has always pushed thug characters out there, because it grabs people's attention right away. I've been doing my thing in the Bay for over 15 years with the same intention, the same fire…and I feel like my personal mission is to stand for positivity no matter what mainstream folks are doing.
I usually start my shows off a cappella, because I want folks to know that I'm trying to educate, not just put words together. It makes me feel good that even in the world where most of the attention is on these cats who are basically merchants of death…people will always choose survival. I don't think we're any different from a plant or flower in nature. If you put us in a tough situation, we're going to choose the direction of the sun. You can try to put us in the dark, but we'll move toward the light.
FL: How do you feel about using corporate, mainstream institutions to reach masses of people?
RP: I think technology is changing things. You don't need the major cats, 'cause you can upload your songs on the 'Net and have them across the world in a few seconds. I don't think going major is a necessity—at least I hope not, because a lot of what I'm talking about is telling people to not buy shit like diamonds . . . and it's cool to party, but let's party with some consciousness. Let's think about what we're going to do, instead of getting drunk and drugged up so the police have the excuse to take us to jail and give us three strikes before we reach 18 years old.
FL: Speaking of your subject matter, you rhyme about some very complex topics like the World Bank. How do you rap about issues like free trade without losing hip-hop fans who might not know what you're talking about?
RP: I'm just a regular cat; I don't have any college degrees. I'm self-educated, and I think that's a good way to learn. You just hear what people are saying, then you get curious and check out the books and do your own research.
The way I got politicized was by listening to something that KRS-ONE said in a freestyle on MTV Raps back in the day. He referred to Puerto Ricans as Africans, and he referred to a lot of people from different places in the African diaspora, and I'd never heard of Puerto Ricans referred to as Africans. I immediately went to the encyclopedia I had in my house, and it was the first time I ever read anything about my own country. Even though I was raised as proud as can be, with flags and everything, there was no deeper understanding. It was an empty pride. That one line sent me to the encyclopedia, which sent me to the library and there you go. Without that line, we may not be sitting here in my restaurant.
FL: What message were you trying to send by dedicating your last album, My Power, to Puerto Rican freedom fighters?
RP: When I first heard of PR freedom fighters, I was walking by Revolution Books in Berkeley, and I saw a book called "Prisoners of Colonialism" with a Puerto Rican flag on it. Before that, I just thought a colony was where the ants lived. But that book made me realize that there were PR political prisoners in the US, and four or five of them were locked up right here in Dublin [California]. I was just touched that they had my people locked down for life, locked up for their beliefs—that Puerto Rico shouldn't be a colony, which is what the United Nations has said many times.
I wrote a letter to see if I could get on Dylcia Pagán's visitor list, but you had to have a relationship with the prisoners from before their incarceration, so I pretended to be a long-lost relative. [Dylcia was captured with her comrades in 1980 for participating in the underground wing of the Puerto Rican independence movement to resist illegal U.S. occupation of her homeland. She was given a 55-year sentence oncharges of seditious conspiracy, among others.] Dylcia and I just clicked right away, and that just made me realize that I was on the right path, that I needed to keep fighting for the freedom of Puerto Ricans and all other political prisoners. I felt like writing some songs was the least I could do.
President Clinton actually freed 11 of the 16 [Puerto Rican nationalist] prisoners, and I was there the day Dylcia walked out of prison—the best day of my life except for the birth of my son. And being locked up for almost 20 years didn't kill her spirit; she came out with even more fire.
But the song is relevant, because there are still prisoners who have been in since the beginning, so the struggle continues…that's why I did My Power. In that part of my life, getting my people free was all I was thinking about. Until Puerto Rico is no longer a colony of the U.S., we're going to have freedom fighters, so I don't have to change the words of the song because people will always be trying to put our destiny back in our own hands.
FL: I've heard you say that the most beautiful music comes from struggle. Why do you believe that?
RP: Well, besides hip-hop, the other music that I'm really interested in is bomba and plena. They're traditional Puerto Rican styles that came from the time from when slavery was still strong. Plena comes from when dockworkers were being treated like garbage and that was their form of protest, to relieve their spirit and let out their frustrations.
If you hold that pain inside, it will kill your spirit. In my case, it's the same thing… coming from a house that was overrun with drugs and alcohol. Coming from that struggle is the reason why I began to write. I had all these things inside that I needed to let out. I would have just continued to be an angry young man if I didn't.
http://www.hardknockrecords.com
http://www.myspace.com/ricopabon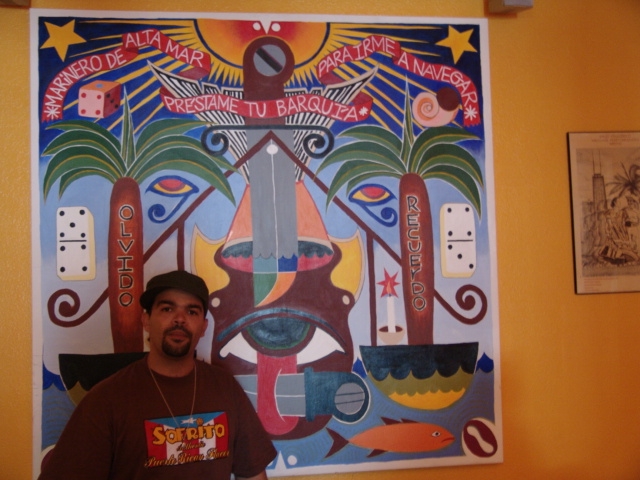 "Until Puerto Rico is no longer a colony of the U.S., we're going to have freedom fighters, so I don't have to change the words of the song because people will always be trying to put our destiny back in our own hands."