From the Open-Publishing Calendar
From the Open-Publishing Newswire
Indybay Feature
Oakland Police Infiltrators Took Control Of Anti-War Group
Just as the Santa Cruz police were caught spying on organizers of anti-war parade, Oakland police also infiltrated the anti-war movement.

Oakland Police Infiltrators Took Control Of Anti-War Group
Introduction by Steven Argue
In 2003 the Oakland police used brutal and unprovoked force against protesters on the Oakland docks by opening fire on an unarmed demonstration against the war. The ammunition used were so-called "non-lethal" bullets (these are actually potentially lethal). This violence was carried out by police under the control of Democrat Mayor Jerry Brown and it was denounced by Liberation News, Mumia Abu-Jamal, the Longshore Union and many others at the time it happened. Accounts can be seen in the following articles:
U.S. Troops Open Fire On Iraqi Protesters, Again by Steven Argue (An article that talks much of the violence by the Oakland police on the docks.)
http://sf.indymedia.org/news/2003/04/1605582.php
Jerry Brown, Oakland's Richard Daley? By SCOTT FLEMING
POLICE VS. PROTESTORS AT PORT By MUMIA ABU-JAMAL
http://projects.is.asu.edu/pipermail/hpn/2003-May/007395.html
It is now also known that those who had taken control of this important protest were police infiltrators as well.
The following article is from the San Francisco Chronicle, a corporate paper, yet it does an unusually good job of exposing the police operation inside the group. As corporate propaganda usually operates, however, it tells this bit of truth in order to put forward the claim that the government no longer does such things. This is a claim we've been hearing from government and corporate press ever since COINTELPRO operations were exposed in the 1970's. All such assurances have repeatedly found to be lies, as new operations have been uncovered.
The seriousness of fact that the government took control by becoming the elected leadership of this organization is important to recognize, both in terms of this dock action and in the implications on the broader left of the United States.
The Oakland dock actions have been some of the most important actions in the United States in opposition to the war because they aligned themselves with the power of the working class and worked to physically stop weapons shipments. Combined police infiltration and police violence played their role in ending these actions, but that does not mean they should not be tried again. In fact, the police interest in these actions point to the fact that organizers were doing the right things.
The implications for the broader left in the United States are also important. In this instance as in many others the police were caught, but government infiltration by local police, FBI, CIA, and other police agencies is much more widespread in the United States than those instances where the culprits do get caught. The ill effects of government infiltration and control of organizations on the left are combined with the rampant opportunism promoted by the values of this society. That opportunism is often connected with the Democrat Party, union bureaucracy, and other structures seen in bourgeois public opinion as respectable and legitimate, structures that often or always run counter to the people's interests but can provide career opportunities and/or legitimacy to those who go along with their program.
It is this infiltration and opportunism that help provide many alien agendas within the leftist movements meant to do us harm. It is for this reason that Liberation News never seeks unity just for unity's sake, but always asks the question, "Unity with whom and on what principled basis?"
Past government operations in the United States, including COINTELPRO, have revealed several targets of police infiltration:
1. Information gathering: Information thus gathered has then been used against leftists by police agencies to get people fired from their jobs, to burglarize their homes, to carry out violent assaults, to carry out police and judicial frame-ups, and to commit police murders. (Example: the 1971 FBI / Chicago Police murder of Fred Hampton.)
2. Disruption: Causing fights and divisions between legitimate activists by spreading false information and forging inflammatory letters. Also to lead groups into dangerous tactical situations as they did on the Oakland docks.
3. Discrediting the Left: Getting groups to take bad political positions. In addition getting people to use tactics (such as terrorism) that will alienate movements from the public and be used for arrests.
4. Inciting violence against the left: The FBI has also used their infiltration of the far right to plan, organize, and carry out violence and murders of leftists. (Example: the 1979 Greensboro massacre of Jim Waller, Sandi Smith, César Cauce, Bill Sampson and Mike Nathan by Ku Klux Klansmen and American Nazis.)
Taking control of the leadership of any organization, as was done by the Oakland Police, greatly facilitates police operations.
What was done by the Oakland police, both in shooting protesters and in infiltrating and taking control of this group, were crimes. Yet Jerry Brown, a darling of many liberal Democrats, supported the repressive actions of his police.
Down with the Democrats, the other capitalist party of war and repression!
Build the socialist movement!
Liberation News:
http://lists.riseup.net/www/info/liberation_news
Published on Saturday, July 29, 2006 by the San Francisco Chronicle
http://sfgate.com/cgi-bin/article.cgi?file=/c/a/2006/07/28/BAG7NK79HQ1.DTL
Oakland Police Spies Chosen to Lead War Protest
by Demian Bulwa
Two Oakland police officers working undercover at an anti-war protest in May 2003 got themselves elected to leadership positions in an effort to influence the demonstration, documents released Thursday show.
The department assigned the officers to join activists protesting the U.S. war in Iraq and the tactics that police had used at a demonstration a month earlier, a police official said last year in a sworn deposition.
At the first demonstration, police fired nonlethal bullets and bean bags at demonstrators who blocked the Port of Oakland's entrance in a protest against two shipping companies they said were helping the war effort. Dozens of activists and longshoremen on their way to work suffered injuries ranging from welts to broken bones and have won nearly $2 million in legal settlements from the city.
The extent of the officers' involvement in the subsequent march May 12, 2003, led by Direct Action to Stop the War and others, is unclear. But in a deposition related to a lawsuit filed by protesters, Deputy Police Chief Howard Jordan said activists had elected the undercover officers to "plan the route of the march and decide, I guess, where it would end up and some of the places that it would go."
It was revealed later that the California Anti-Terrorism Information Center, which was established by the state attorney general's office to help local police agencies fight terrorism, had posted an alert about the April protest. Oakland police had also monitored online postings by the longshoremen's union regarding its opposition to the war.
The documents showing that police subsequently tried to influence a demonstration were released Thursday by the American Civil Liberties Union, as part of a report criticizing government surveillance of political activists since the terrorist attacks of Sept. 11, 2001. The ACLU said the documents came from the lawsuit over the police use of force.
Jordan, in his deposition in April 2005, said under questioning by plaintiffs' attorney Jim Chanin that undercover Officers Nobuko Biechler and Mark Turpin had been elected to be leaders in the May 12 demonstration an hour after meeting protesters that day.
Asked who had ordered the officers to infiltrate the group, Jordan said, "I don't know if there is one particular person, but I think together we probably all decided it would be a good idea to have some undercover officers there."
Several months after the rally, Jordan told a city police review board examining the April 2003 port clash that "our ability to gather intelligence on these groups and this type of operation needs to be improved," according to a transcript provided by the ACLU.
"I don't mean same-day intelligence," Jordan told the civilian review panel. "I'm talking about long-term intelligence gathering."
He noted that "two of our officers were elected leaders within an hour on May 12." The idea was "to gather the information and maybe even direct them to do something that we want them to do," Jordan said.
"I call that being totalitarian," said Jack Heyman, a longshoremen's union member who took part in the May 12 march. He said he was not certain whether he had any contact with the officers that day.
Jordan declined to comment when reached at his office Thursday. In his deposition, he said the Police Department no longer allows such undercover work.
City Attorney John Russo said he was not familiar with the police infiltration of the protest, but said the city had made "significant changes" in its approach toward demonstrations after the port incident. Police enacted a new crowd-control policy limiting the use of nonlethal force in 2004.
The ACLU said the Oakland case was one of several instances in which police agencies had spied on legitimate political activity since 2001.
Mark Schlosberg, who directs the ACLU's police policy work and wrote the report released Thursday, cited previously reported instances of spying on groups in Santa Cruz and Fresno in addition to the Oakland case. He called on state Attorney General Bill Lockyer and local police to ensure that law-abiding activist groups don't come under government investigation.
"It's very important that there be regulation up front to prevent these kinds of abuses from occurring," Schlosberg said at a news conference.
Schlosberg said the state needs an independent inspector looking into complaints and keeping an eye on intelligence gathering at such agencies as the California National Guard and the state Department of Homeland Security.
Tom Dresslar, a spokesman for Lockyer, said the attorney general had not yet read the ACLU report. But he said his boss "won't abide violations of civil liberties. There's no room in this state or anywhere in this country for monitoring the activity of groups merely because they have a political viewpoint."
Following the Oakland port protest and disclosures about the monitoring of activists, Lockyer issued guidelines in 2003 stating that police must suspect that a crime has been committed before collecting intelligence on activist groups.
But Schlosberg said the ACLU had surveyed 94 law enforcement agencies last year and found that just eight were aware of the guidelines. Only six had written policies restricting surveillance activities, he said.
© 2006 San Francisco Chronicle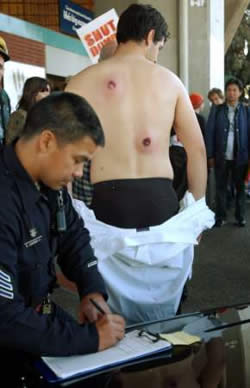 We are 100% volunteer and depend on your participation to sustain our efforts!
Get Involved
If you'd like to help with maintaining or developing the website, contact us.