From the Open-Publishing Calendar
From the Open-Publishing Newswire
Indybay Feature
Maria Shriver Greeted With Suspicion in Watsonville
California First Lady Maria Shriver visited Watsonville's Farmer's Market this past Friday afternoon where she was met with skepticism.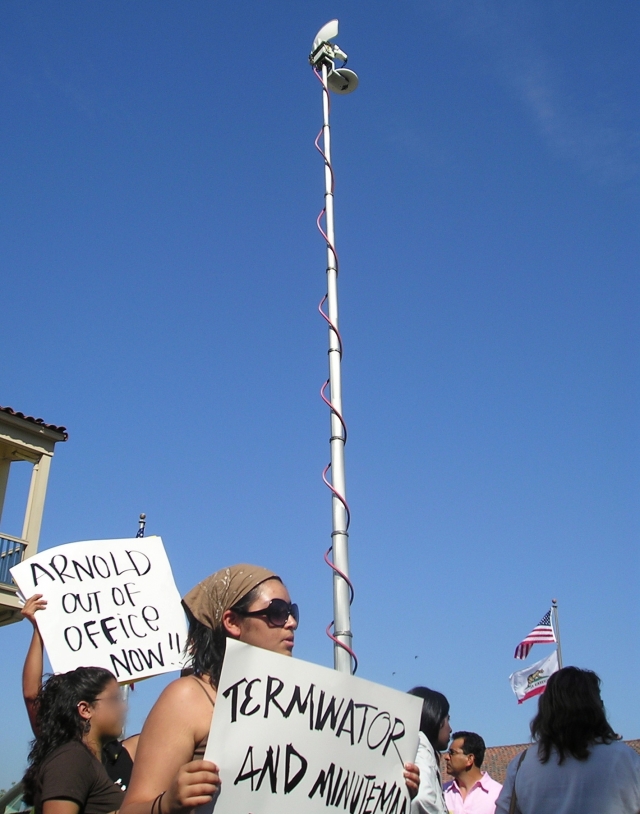 On Friday afternoon in Watsonville, community members let Maria Shriver, wife of Governor Arnold Schwarzenegger, know just how they felt about her visit to their heavily immigrant city. Carrying signs that read, "Arnold Supports Terrorists" and "No Somos Tu Picture Op! Terminator Go Home!", people protested the visit from California's first lady. Billed as a promotion of the food stamp program, many attendees felt it was staged as a public relations opportunity with the Mexican-American community on behalf of her husband, Governor Arnold Schwarzenegger who is up for re-election this November. He has not been a popular politician in the pro-labor Central Coast area, due in part to his attacks on schools, unions and immigrants via his verbal support for illegal, vigilante "border enforcement" militias, such as the Minutemen.
Despite the protests, Shriver reportedly walked around the Watsonville Plaza's Farmers Market and special health promotion/job fair for approximately forty-five minutes, shaking hands and passing out information. She then retreated to a building across from the East side of the plaza and departed for the airport, cutting her visit short. Last year, Schwarzenegger was scheduled to appear at a Monterey County CHP ribbon cutting ceremony in May. However, when news of the organized protests against his visit were publicized,
his appearance was abruptly cancelled at the last minute.
From all appearances, the protest was relatively calm, with approximately forty people of all ages carrying signs and occasionally shouting out regarding their feelings about the Governor. The Watsonville Brown Berets were well represented, as well as grandmothers, workers and children. There were a few counterprotestors who were loud; the Watsonville police presence was light and they didn't seem to interfere with people's right to protest. A few older people expressed disappointment to the younger protesters for missing the opportunity to talk to Shriver.
Who Is Maria Shriver?
From an older person's perspective, one can understand why people from an earlier era might have a different outlook on her visit. Maria Shriver is the niece of the late Presidential John F. Kennedy and the late Presidential candiate, Robert Kennedy. The latter became a strong ally for farm worker rights and even participated in marches with Cesar Chavez in California in the late 1960s. Shriver is also the daughter of Eunice Kennedy and Robert "Sargent" Shriver. (Note: Sargent is his middle and common name, not a military title.) Though the name Sargent Shriver is now unfamiliar to most people under the age of 45, it would not be an exaggeration to say that he may have done more for poor people through his work at the federal level than any other single government official in United States history. Bill Moyers once said, "I can think of no American alive today who has touched more lives for the better than Sargent Shriver."
After a working in youth delinquency prevention and education, Shriver was appointed by his brother-in-law, President Kennedy, to pioneer a new program -- The Peace Corps. Within a few years the program was highly successful. Following the death of President Kennedy in 1963, Shriver was appointed by President Johnson to implement the mandates of the Economic Opportunity Act of 1964, the "War on Poverty." During the critical period of time when Johnson was escalating the Vietnam War, Shriver oversaw the creation of the most socially ambitious programs this country has ever seen. Through his leadership, Community Action Programs, Job Corps, Legal Services (programs for the poor, of which California Rural Legal Assistance was a beneficiary; support from the CRLA was critical to the early victories of the United Farm Workers.); Upward Bound, VISTA (now called Ameri-Corps), Teacher Corps; Foster Grandparents and Head Start were born. Despite the gradual reduction of funds for the programs -- a byproduct of President Johnson's unwillingness to disengage from Vietnam from 1965 - 1968, the majority of programs were still intact by the end of the Johnson presidency. Unfortunately, the election of Nixon signaled the end of this progressive era in American social policy. Though Nixon attempted to completely dismantle these projects, many lived on due to their widespread grassroots popularity. The fruits of these programs continue to benefit our communities up to this day. Both of Maria Shriver's parents continued their outstanding service to people well into their 80s. Unfortunately, Sargent Shriver, 90, now suffers from Alzheimer's Disease.
Maria Shriver, 50, is a journalist by profession and has worked on Dateline NBC from 1989 until 2004. Since becoming a political spouse, she has suspended her work in journalism, citing a conflict of interest. Despite the fact she claims to be a Democrat, she campaigned for her Republican husband in 2003. As First Lady, Shriver has worked on promoting programs that give practical benefits to Californians, including health promotion, Food Stamps, the Earned Income Credit and disaster preparedness. When Schwarzenegger pushed his anti-union, anti-education referendum campaign in 2005, Shriver was conspicuously silent. Some reports have said that Shriver was angry at her husband for these unwise proposals. They have four children together, ages 16 - 8.
As Schwarzenegger continues to tacitly endorse the harassment of immigrants through his approval of groups such as the Minutemen, one wonders what role Shriver will play in Schwarzenegger's re-election campaign. As a self-professed Catholic, one is left to wonder how Shriver can ethically lend the credibility of her Shriver name to an agenda that will be used to further oppress those whom her family fought their entire lives to help?
Related posts on Indymedia:
Demonstrations Against the Terminator Held in Watsonville, Sacramento and L.A.
Monterey Bay Area Labor Terminates Governor's Visit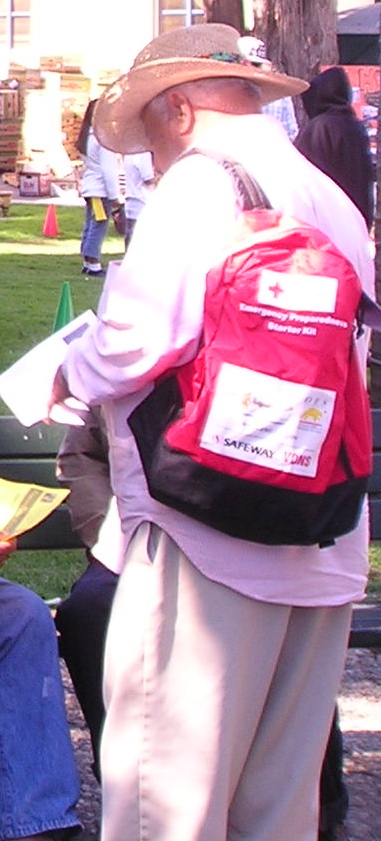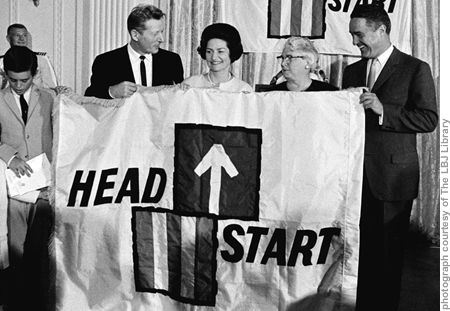 We are 100% volunteer and depend on your participation to sustain our efforts!
Get Involved
If you'd like to help with maintaining or developing the website, contact us.