From the Open-Publishing Calendar
From the Open-Publishing Newswire
Indybay Feature
Anti War and Immigrant Rights Activists Confront the Power Elite at Bohemian Grove
Monte Rio California on Saturday was the spot for an anti war pro worker demonstration against the annual Bohemian Grove party for the super rich.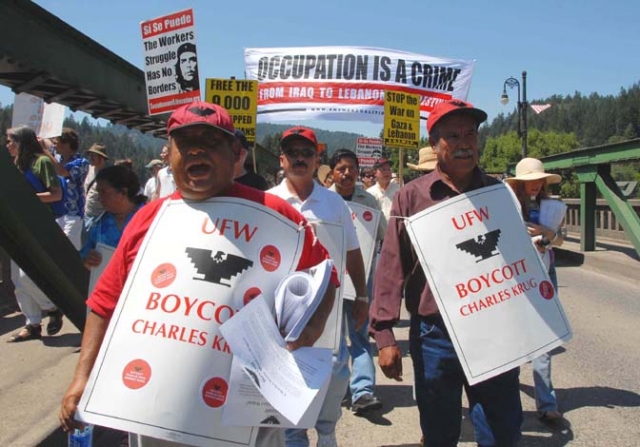 Every July on a secured 2700-acre compound along the Russian River the richest of the rich converge to network with other privileged ruling class males for 2 weeks. The Bohemian Grove founded in the late 1800's is nestled in one of the largest stands of old growth redwoods in Northern California and acts as a playground for these policy makers as far away as possible from the workers and poor who have created all of the wealth that they enjoy. Ex presidents, military leaders, corporate heads from all the major media conglomerates, arms manufacturers etc. are members. Haliburton, Becthel and Weyerhauser officials, Democrats and Republicans alike, get to marvel at trees over 1500 years old in the grove while sharing notes on their neo liberal policies that has laid waste to much of the world's environment.

While this pro imperialist anti worker gathering was taking place this weekend hundreds of protestors converged at the gates of Bohemian Grove to draw attention to the expanding war and occupation against the people of the Middle East and the war here at home. Despite temperatures that were well over 100 degrees demonstrators came from all over Northern California. Organized by the Bohemian Grove Action Network and the A.N.S.W.E.R. Coalition the demonstration was a way for organizations to network for future actions. A.N.S.W.E.R filled a bus from San Francisco and another bus came from Garberville organized by Veterans for Peace.

An opening rally featured the Native Resistance Drums and Cora Lee Simmons from the Round Valley Indians for Justice. Mary Moore from the Bohemian Grove Action Network welcomed the protestors. The event was chaired by Miguel Molina and Kris Welsh from KPFA radio. Other Speakers included Calvin Gipson from Glide Memorial and A.N.S.W.E.R., Richard Becker the West Coast Co coordinator of A.N.S.W.E.R. and Casimiro Alvarez the regional director of the United Farm Workers. Alvarez called on the need for the progressive movement to be unified in their different struggles. The UFW has launched a boycott of Charles Krug and Mondavi wines. Mondavi recently fired all of its long-term workers to replace them with sub-contracted labor to avoid paying benefits.

The mile long march into the grove was stopped by layers of California Highway Patrol officers just before the gates to Bohemian Grove but that did not prevent the strength of the demonstration from being heard inside. Before the protest returned to the rally site participants agreed that the next step in confronting the war makers was August 12 in San Francisco, Washington and Los Angeles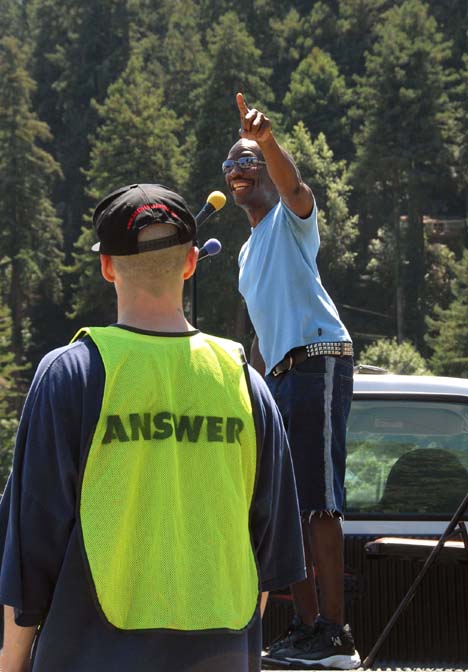 We are 100% volunteer and depend on your participation to sustain our efforts!
Get Involved
If you'd like to help with maintaining or developing the website, contact us.