From the Open-Publishing Calendar
From the Open-Publishing Newswire
Indybay Feature
Private Property, Raging Grannies, and Electric Cars
SF Bay Area FOX-TV covered "the intersection of private property, Raging Grannies, and electric cars" in a report aired on July 14, 2006.
The Raging Grannies jumped head first into the fray when the call came from our friends in the Electric Vehicle Association. They had been denied permission to distribute literature about electric cars in front of a San Jose theater showing the movie, "Who Killed the Electric Car?" Grannies sprang into action and descended on tony Santana Row with in-your-face theatrics!
A Story of Private Property, Raging Grannies, and Electric Vehicles
KTVU Channel 2 in the San Francisco Bay Area (a FOX-TV affiliate) covered "the intersection of private property, Raging Grannies, and electric cars" in a report aired on July 14, 2006.
Members of the San Jose and San Francisco Peninsula Raging Grannies Action League jumped head first into the fray when the call came from our friends in the Electric Vehicle Association. Amanda Kovattana, owner of a bright yellow "Sparrow" electric car, reported to us that members of the EVA had tried to pass out literature in front of CineArts Theater in San Jose's tony Santana Row shopping district. They were given the bum's rush from the theater manager. Amanda reported that:
"Cine Arts wanted to see any literature that we wanted to hand out. We had asked if we could stand in the lobby inside the theatre and hand out our brochures…we sent them copies and they didn't approve of the material ….so our people stood on the sidewalk and handed out our material. Towards the end of the shift, the manager came out and told our man off for handing out the brochures anyway. She insisted that the sidewalk was theatre property and not public property and was mad at us for not honoring their request. She asked us not to come back... We have lawyers who would say otherwise about the sidewalk and I'm sure you [Raging Grannies] are familiar with that battle."
Yes indeed, the Raging Grannies ARE familiar with the battle for the right to demonstrate on what is called "private property" in the form of shopping districts and malls. We Grannies cite the Pruneyard Act that took hold in 1980 and distribute literature and frequently demonstrate (particularly in front of Wal-Marts) whenever we please. Under the California Constitution, individuals may peacefully exercise their right to free speech in parts of private shopping centers regularly held open to the public. The Grannies choose to ignore the part that implies that maybe we should nicely ask permission first…
Our Raging Grannies called the press and returned to the scene where EVA members had been denied the right to distribute literature less than a week earlier. Under the watchful eye of uniformed "private security", we passed out some of the very same pamphlets and sang environmental songs for patrons entering and leaving the CineArts Theater. Then we proceeded with great fanfare down Santana Row with placards, a Granny dressed as the Statue of Liberty with gas mask, and a spy with NSA identification on her fedora that followed the Grannies and warned al fresco diners to "Pay no attention to those Grannies and DO NOT read their subversive literature about fuel-efficient vehicles" ...
At that point the property management private security guards demanded that we leave, although at times they couldn't contain their laughter, especially when our National Security Agency spy character shouted, "Yes! Make those Grannies leave. They must cease their quest for clean air and freedom of speech!" Our Reverend Granny Judy Tergis stepped in to calm the scene when the San Jose Police arrived on bicycles. They followed us down the street as we took our good time passing out electric vehicle and plug-in hybrid information, stopping here and there to sing to the Santana Row outdoor diners of which their were many, including a tipsy Japanese tourist group who joined is in declaring loudly "Banzai for Toyota hybrids!"
Amanda Kovattana reacting to the incident from an electric car owners point of view:
"I told the Raging Grannies about the reception given us at Santana Row and dang if they didn't get themselves on the 10 o'clock news tonight. As soon as I told [them] the theatre said they own the sidewalk, the Grannies were set to rage. They love that sort of thing.
The coverage on Channel 2's Ten o'clock news was awesome. They showed close-ups of the postcard, the trifold and a Corbin Sparrow brochure I was giving out. They had a new banner that said "Hybrids not Hummers". … Granny Ruth, my contact, told how electric cars exist and plug-in hybrids exist and that the theatre tried to stop us from handing out information about these cars.
[As Granny Ruth said] the police know them and know the publicity consequences of arresting the Grannies. So the Grannies stayed and nothing more could be done, though the reporter did explain that since this is a mall built on private property, the sidewalk is not public property as traditionally understood, but belongs to the mall.
That's privatization for you. Faux street, faux sidewalk, faux rights."
Report by Granny Ruth Robertson
Peninsula Raging Grannies Action League
http://www.RagingGrannies.com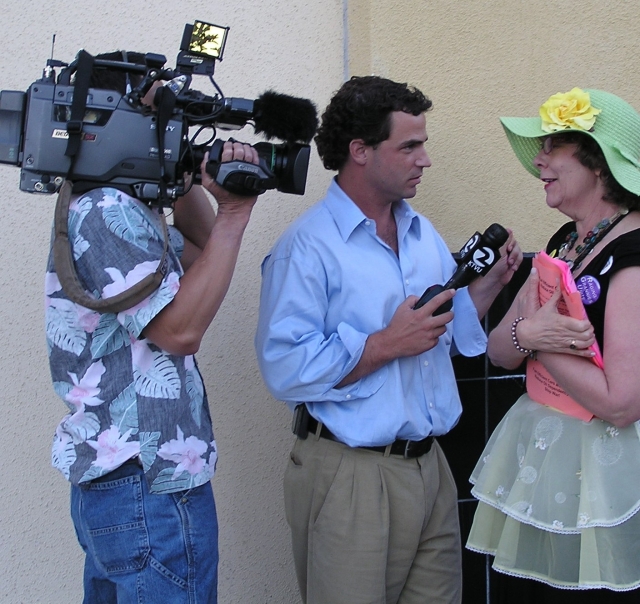 Photo by Kim Kinoshita
The interviewer took up the issue of right to the sidewalk in shopping malls and shopping districts. Granny Ruth promotes fuel-efficient cars and chastises theater management for refusing to allow members of the Electric Vehicle Association permission to leaflet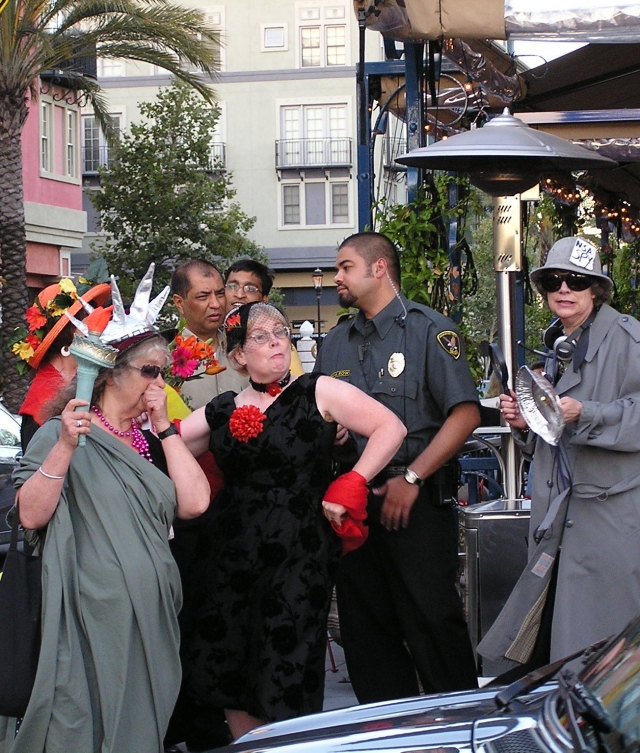 Our Statue of liberty holds her nose at left demonstrating the lack of clean air on tony Santana Row where shoppers parade their fancy gas guzzlers. At right our "NSA spy" monitors the situation whilst Security Guards in between start to panic...call police...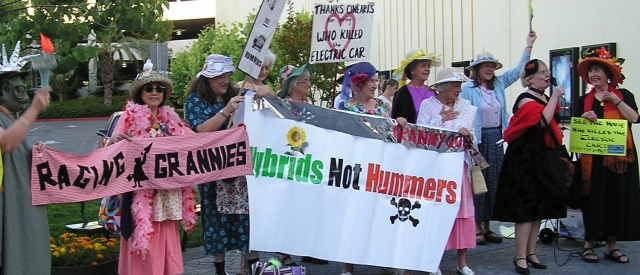 A dozen Raging Grannies from San Jose to San Francisco joined in the fun!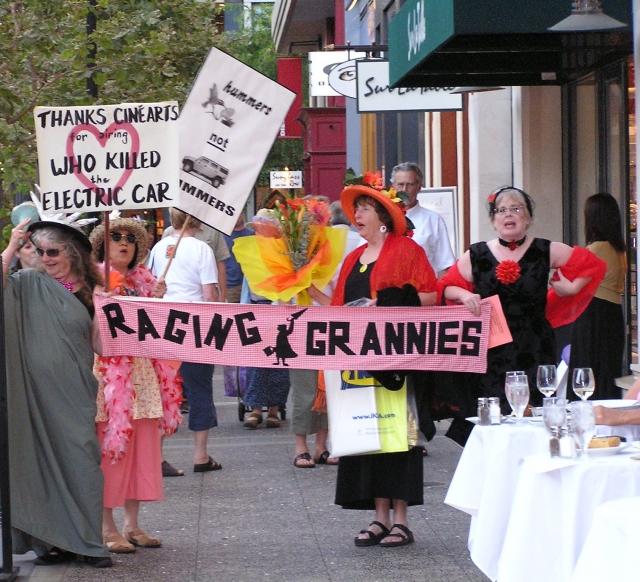 All Photos by Kim Kinoshita
We are 100% volunteer and depend on your participation to sustain our efforts!
Get Involved
If you'd like to help with maintaining or developing the website, contact us.