From the Open-Publishing Calendar
From the Open-Publishing Newswire
Indybay Feature
Jackson, Mississippi: Abortion protesters unfazed by bomb scare (Repost)
Report from the The Clarion-Ledger: A bomb scare interrupted an abortion rights rally at Smith Park in Jackson, Mississipi on Saturday, but leaders on both sides of the abortion debate said demonstrations and counter-demonstrations planned for this week would not be deterred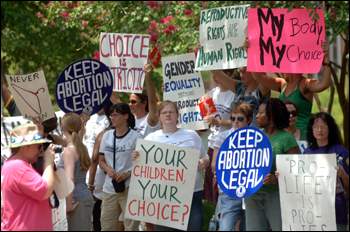 Abortion protesters unfazed by bomb scare
By Leah Rupp,
leah.rupp [at] clarionledger.com
And Jean Gordon,
jmgordon [at] clarionledger.com
photos by Barbara Gauntt/The Clarion-Ledger
A bomb scare interrupted an abortion rights rally at Smith Park in Jackson on Saturday, but leaders on both sides of the abortion debate said demonstrations and counter-demonstrations planned for this week would not be deterred.
Operation Save America, formerly known as Operation Rescue, has planned an eight-day protest focusing on the state's only abortion clinic - the Jackson Women's Health Organization at 2903 North State St.
Law enforcement officials prepare to send a robot into Smith Park to investigate a suspicious suitcase after being notified of a bomb threat during Saturday's rally.
No arrests were made Saturday, though there were verbal confrontations at a rally sponsored largely by the National Organization for Women.
"All of the activists cooperated very well today," police Cmdr. Tyrone Lewis said.
Earlier in the morning, activists with Operation Save America faced an empty parking lot because the clinic had already conducted its business for the day.
The abortion rights rally at Smith Park drew more than 200 people from across the nation, leading to confrontations with anti-abortion demonstrators before the bomb scare.
The park was evacuated after authorities were told a bomb might have been placed in a trash can. The suspected bomb turned out to be a suitcase containing several pill bottles, according to a preliminary police investigation.
About 15 officers already were on hand initially, but by the end of the day, the bomb squad and federal agents had been called in.
Individuals who may have placed the suitcase in the bin were being questioned.
"The trash can is safe and intact," Lewis laughed.
The mood wasn't as light earlier in the day.
Activists from as far as Boston came to the Jackson park to counter protests planned by Operation Save America.
But an hour into the afternoon rally, members of Operation Save America and individual anti-abortion protesters began to filter in, many carried Bibles and 5-foot-tall signs featuring pictures of fetuses.
Abortion rights demonstrators linked arms to try to keep anti-abortion supporters out and blocked their signs with their bodies.
"We just came here to see what they had to say - you're the one making all the trouble," said Canton resident E.C. Smith, pointing at Jerry Bellow, who is part of an abortion rights organization in North Carolina called Anti-Racist Action.
Smith held a sign reading "Thou Shalt Not Kill," called himself a "messenger of God" and carried a worn, maroon Bible.
"You don't get to play with the nice liberals today," Bellow shouted back at him, an inch from his face.
A group of abortion rights demonstrators from Boston wore black handkerchiefs over their faces, showing only their eyes and refused to give their last names to reporters. They also tried to block anti-abortion activists from entering the park.
Anyone is allowed to gather in a public park as long as the gathering is peaceable, police Lt. Jesse Robinson said.
A pregnant Elizabeth Johnston, an Ohio resident, attempted to get through the crowds several times while carrying one of the signs with a photograph of a fetus.
Abortion rights demonstrators were aggressive in their attempts to block her sign and keep her out of the park. "Are you concerned, sir?" Johnston said to one of the nearby officers.
Johnston said she and her husband bring their five children - ranging in age from 1-year-old to 7 - to many similar rallies. "Children see things clearly," she said. "When they look at this picture, my children know this is wrong."
Abortion rights activists who gathered for the rally said they were merely responding to the anti-abortion crowd.
"This is about women having control over their bodies," said Sunsara Taylor, who is from New York and part of the World Can't Wait: Drive Out the Bush Regime Now organization. "They were trying to shut us down and we were just responding to that."
While the verbal confrontations grew louder on the outskirts of the rally, Kim Gandy, president of the National Organization for Women and keynote speaker, addressed the bulk of the crowd.
"A lot of women don't have options outside of this clinic," said Gandy, adding that the organization doesn't only deal with abortion issues, but also birth control, adoption and comprehensive sex education.
Near the end of Gandy's message, officers announced the park needed to be vacated immediately because of the bomb scare.
"Our rally was done - I was about to make closing statements," said Michelle Colon, president of the Jackson area chapter of National Organization for Women.
Colon said she's never heard about a bomb scare at a Mississippi rally, but that they are common at clinics across the county. "This is nothing compared to what doctors and patients at these places face every single day," Colon said.
The shock for the Rev. Flip Benham, leader of Operation Save America, was that officers were interested at all.
"What is going on in Jackson?" he said. "I thought we were in a state of emergency? Don't they have anything else better to do?"
Benham said at the church he operates out of in North Carolina, bomb-sniffing dogs routinely check the building.
The crowd at the rally was much larger than the one at the clinic earlier Saturday. Some 60 people stood behind police barricades set up on the sidewalk.
To prepare for any public disturbance, Jackson police sent four officers mounted on horses and two school buses carrying police in riot gear. The officers stood in the street as the abortion protesters prayed, read Scripture and shouted at clinic security staff.
Clinic operator Susan Hill, president of the National Women's Health Organization, asked that abortion rights activists not demonstrate outside the clinic this week to minimize crowds.
Jackson police said Saturday's bomb scare and the verbal altercations at the rally and clinic will not change the way officers are planning to handle activities by both groups throughout the week.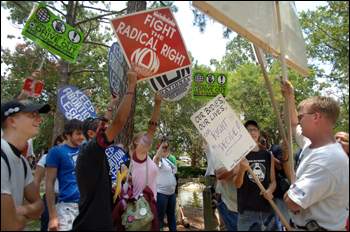 Pro-Choice (left) and Anti-Choice (right) activists continue to defend their positions after being evacuated.
We are 100% volunteer and depend on your participation to sustain our efforts!
Get Involved
If you'd like to help with maintaining or developing the website, contact us.