From the Open-Publishing Calendar
From the Open-Publishing Newswire
Indybay Feature
A Complex Tragedy: Denice Denton and UC Santa Cruz
Note: The intended purpose of this piece is to help various activist communities in Santa Cruz, and the UC system at large, better understand Chancellor Denice Denton's role at the University, and to spark a community conversation about how we will move forward for the better. I have specifically chosen not to speculate about the circumstances surrounding Denton's death, focusing instead on discussing her achievements, contextualizing her criticism, and analyzing the potential for radical social change at UCSC.
As I read through the articles, stories and remembrances of former UC Santa Cruz Chancellor Denice D. Denton, I feel like I'm meeting her for the first time. I'm meeting the former University of Wisconsin professor who left an enduring mark on her students. I'm meeting the role model and mentor of women in science and engineering. I'm meeting the first female dean of the University of Washington's College of Engineering. I'm meeting the first openly queer woman to lead a major research university. I'm meeting the person who publicly challenged Harvard's sexist President. I'm meeting the woman whose death leaves a "gaping hole in the small and tightly knit community of America's elite female scientists and engineers." I'm meeting the woman I, and most in the Santa Cruz community, never got the chance to know.

Denton's short time at UCSC can be best illustrated by her investiture in November of 2005. The newly appointed Chancellor made a bold statement – using a non-traditional 2-day series of events to have a discussion of diversity in education. She laid out her priorities for her new position by using the slogan 'diversity through excellence,' multiple languages, and quotes from prominent feminists bell hooks and Gloria Anzaldúa. She envisioned a different type of university, mentioning social justice, and, with great applause, the need to improve campus workers' wages. But even then, on the first days of her career at UCSC, it was already too late to avoid an appointment plagued by defensiveness. An 'alternative' event program had been passed out to all of the guests, noting the labor struggles on campus and urging the investiture participants to, "tell Denton to get with the program."

I use this example because it describes the overall environment in which Denton arrived, and worked at the University. She had a broad vision of change for UCSC, but was instantly and continuously put on the defensive by various communities locally and state wide. While some of these criticisms were clearly sexist and homophobic, such as Santa Cruz Sentinel managing editor Don Miller's famous "powerful coterie of lesbians" quote, the majority of concerns were directly tied to important historical inadequacies and problems with the University, including the huge disparity between top administrators and students/workers.

Let's take the hiring of Denton's partner, Gretchen Kalonji, as an example. As part of a deal with the UC Office of the President (UCOP), Kalonji, a distinguished scholar, was given a $192,000 position with the UC. Criticism was quick to come, which the mainstream media cited as 'calls of nepotism,' but which for many of us in the activist community, was much more complex. While the San Francisco Chronicle had a bold and offensive title referring to Kalonji as Denton's "lesbian lover," and a small number of sexist homophobes, mostly outside of Santa Cruz, took issue with Denton and Kalonji's orientation, being angry with the idea of their tax dollars supporting these women, local activists were concerned about very different issues. First was the amount of money both Denton and Kalonji were receiving – around $500,000 combined salary in addition to their free campus house and various lavish expenses (such as the $68,750 in 'moving expenses' Denton received and the $50,000 'housing assistance' Kalonji was given). This was not a critique of either individuals' character or accomplishments (in fact, many of us, myself included, were pleasantly surprised in the choice of Denton as Chancellor and thought Kalonji was well qualified), but was ultimately a class criticism. We were upset with the fact that top UC administrators gave themselves raises and seemingly tossed around money for their own, while at the same time they raised student tuition enormously, cut numerous programs, and claimed there was 'no money' to help workers receiving poverty wages. In accepting the huge salaries and perks, Denton and Kalonji, possibly unintentionally, sent a message to the UC community: we're with the corrupt class of administrators lining our pockets on the backs of students, workers, and every Californian. This may have been a non-issue had they been hired at another university, but not in Santa Cruz, which was amidst the rise of a new university-based labor movement.

A second concern, arising more recently, was related to the ease at which Kalonji was given a position. Many of us believe in the importance of partner hires, but the unequal distribution of these hires has become problematic. The UCOP had little trouble creating a position for Kalonji, while numerous world-class professors (most notably those with a focus on racial and ethnic studies) have left UCSC after the University failed, amongst other things, to uphold their agreements to hire faculty members' spouses.

This was the first scandal that Denton faced. Like all of the controversies surrounding her time at UCSC, it was a complex one – in this case, involving both illegitimate heterosexist criticism and legitimate criticism based on class. This controversy, much like those that would follow, was primarily about the institution (and its historical inequality), but due to the hierarchical structure of the university and the peculiarities of the particular issues, this controversy (and others) became highly personalized as well.

Some have blamed the activist community for focusing so much on Denton as an individual, urging us to treat people with more respect and be less critical. While there is a strong necessity to reanalyze our tactics of past years, we should recognize that the institution was specifically structured to place an incredible amount of power (and pressure) on the shoulders of the Chancellor. As the head of the UCSC hierarchy, Denton became the person ultimately responsible for addressing the historical inadequacies of the University. She was the person with the power to make the changes we so desperately needed, thus she naturally became the intended audience of many of our actions. Feelings by activists that Denton's assistants and other members of the administration were either not listening or not following through on their promises further exacerbated this situation. Due to the hierarchical nature of the University, 'the Chancellor' increasingly has become a stand in for 'the institution,' primarily by the mainstream press, whose consistent desire for simplification blurs an accurate analysis, but also by activists, who have been trained to focus pressure on those with decision-making power.

Lately, after Denton's tragic death, I have come to believe that had she more time with us, her continued efforts in the name of diversity could have moved the University in a very positive direction. While she and other administrators had communication (or lack of) and follow-through problems with students and workers, it was obvious that Denton was making a strong attempt to address issues that had been ignored by numerous previous Chancellors and the institution as a whole. This included her financial support of student initiated outreach and retention programs, and also a recent situation where, after decades of struggles for a department focused of the critical study of race and ethnicity and recent concerns that 40% of senior faculty of color had or were considering leaving UCSC due to hostile working conditions, a lack of institutional support, and spousal hire problems, the Chancellor reportedly called an emergency meeting of faculty and grad students of color (which may not happen now).

Denton's death is tragic on many levels. First, and most importantly, is the personal level which I am choosing not to speculate about (although I find arguments relating to the pressure faced by women and queers in leadership positions to be compelling); Second is her important position as a role model and mentor for women in science, frequently overlooked at UCSC, and the gap that has been left; Third, my primary focus, is a tragedy at the institutional level at UCSC. When I graduate from the University next spring, I will have had at least 4 Chancellors in four years (Greenwood, Chemers, Denton, and now Kliger). It's extremely difficult for the University to maintain a sense of consistency, let alone progress with a constantly revolving administration. Student and community activists, as well as workers have been around for a long time, but, for the most part, we don't have the power to make the necessary changes, so we're forced to educate each new administration on the vital issues we face. Denton was beginning to understand our concerns, and had started to frequently advocate for our efforts, but with her tragic passing, our attempts of progress within the University have been significantly set back. Who will follow through on Denton, and previous administrations' positive efforts and promises?

Denton came to UCSC with a progressive vision for change, yet the hierarchical, undemocratic and unaccountable structure of the University created an environment where radical systematic change was extremely difficult. The type of change we're looking for would require more than one individual's efforts. It would take an institutional commitment, where everyone from the Chancellor to the Deans of various academic divisions are actively engaged. Significant systematic change, working within the current hierarchical structure, would also require a commitment from the UC Regents and the UCOP, something we have yet to see.

This type of change at UCSC is possible, although very unlikely, especially due to Denton's departure. Another approach besides a reliance on those currently in power is the pursuit of a more decentralized, democratic and accountable university where the communities most affected by, and most knowledgeable of particular institutional problems are given the power, and institutional support to spearhead the necessary changes. This would mean a fundamental shift in the structure of the University of California, giving students, workers, and community members the ability to determine the education of their communities. In my eyes, this approach offers more of a potential for long-term systematic change than a reliance on individual administrators that may posses positive qualities.

Ultimately, though, in order to move forward as best we can, we'll undoubtedly take multiple approaches at the same time – we'll be working within the current hierarchical institution while also moving towards a University with a radically different structure and relations of power. Denton's commitment to diversity was admirable, and so I'd like to end by echoing Angela Davis' comments at the Chancellor's recent memorial: I hope that we will all strive to continue the legacy of Denton's commitment to diversity and social justice, in whatever form it may take.

My condolences to the friends and family of Denice D. Denton. She will be missed.

-----

I'd like to thank Chanda, Ray, Becky, Paula, and Amanda for their thoughtful critiques and support in writing this article. I'd also like to encourage everyone to comment on this article, spread it around, write your own, and begin discussing the future of UCSC with your friends, colleagues, and families.





Sources of Some Information:

Remembrances from Friends and Colleagues
http://www.ucsc.edu/administration/denice_denton/remembrance.asp

Suicide of a Chancellor
http://www.insidehighered.com/news/2006/06/26/denton

Photos from Denton's memorial ceremony
http://www.mercurynewsphoto.com/2006/06/29/in-memoriam/

Denton's memorial ceremony (specifically Angela Davis' speech)
http://www.ucsc.edu/administration/denice_denton/memorial_ceremony.mov

Death leaves gap in female science leadership
http://www.mercurynews.com/mld/mercurynews/living/health/14937454.htm

UCSC's Denton carried additional burden on her shoulders
http://www.mercurynews.com/mld/mercurynews/news/opinion/14928207.htm

Denton Remembered As 'Warrior'
http://www.nbc11.com/news/9450332/detail.html

Denice Denton, 1959-2006: Former UW dean fought for women in the sciences
http://seattlepi.nwsource.com/local/275504_dentonobit27.html

A terrible loss
http://www.advocate.com/exclusive_detail_ektid33195.asp

Campus leaders reflect on Denice Denton's life, career
http://www.news.wisc.edu/12679.html

Chancellor's residence wish list made public
UC paid $600,000 to make upgrades to University House
http://www.sfgate.com/cgi-bin/article.cgi?f=/c/a/2006/03/30/BAGD9I0FK61.DTL

A Problem of Hard-wiring
http://www.metroactive.com/metro-santa-cruz/11.23.05/nuz-0547.html

Chancellor Denton's inaugural address
http://www.ucsc.edu/news_events/press/video/download/investiture_11-04-05.mov

UCSC clerical workers rally for new contract, pay raises
http://www.santacruzsentinel.com/archive/2005/January/28/local/stories/02local.htm

UC hires partner of chancellor
Creates $192,000 post for Santa Cruz chief's lesbian lover
http://www.sfgate.com/cgi-bin/article.cgi?file=/c/a/2005/01/20/BAG27AT2CQ1.DTL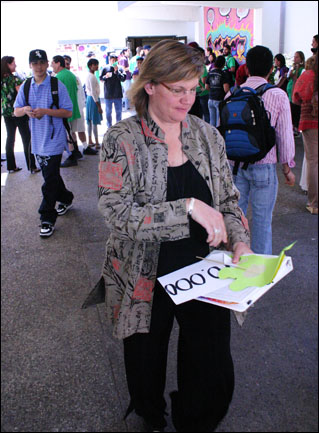 We are 100% volunteer and depend on your participation to sustain our efforts!
Get Involved
If you'd like to help with maintaining or developing the website, contact us.