From the Open-Publishing Calendar
From the Open-Publishing Newswire
Indybay Feature
San Francisco Stands with Lt. Ehren Watada on "National Day of Action"
On June 27 over 150 people came to Justin Herman Plaza in San Francisco to demonstrate their support of US Army Lt. Ehren Watada.

On June 22, 2006 Lt. Watada became the first US military commissioned officer to publicly refuse deployment to Iraq and now faces possible court-martial charges for refusing to participate in the Iraq war and occupation.


"It is my conclusion as an officer of the Armed Forces that the war in Iraq is not only morally wrong but a horrible breach of American law. Although I have tried to resign out of protest, I am forced to participate in a war that is manifestly illegal. As the order to take part in an illegal act is ultimately unlawful as well, I must as an officer of honor and integrity refuse that order.", said Lt. Ehren Watada in a video statement which was played before the national media on June 7, 2006.
The rally opened with a sing-along performance by the "Raging Grannies" and the featured
speakers were veterans Paul Cox, Michael Wong, and Aimee Allison who spoke of their personal experiences resisting the military.
The crowd became still and solemn as they listened to Ehren Watada's voice over the sound system. Some became tearful as they listened to the interview of Ehren, by Sarah Olsen, discussing how he came to his decision to refuse an order to particiapte in the Iraq war.
"A lot of people including my parents tried to talk me out of it. And I had to tell them, and I had to convince myself first, that it's not about just trying to survive. It's not about just trying to make sure you're safe. When you are looking your children in the eye in the future, or when you are at the end of your life, you want to look back on your life and know that at a very important moment, when I had the opportunity to make the right decisions, I did so, even knowing there were negative consequences." Lt. Ehren Watada (excerpt from interview with Sarah Olsen)
During the course of the rally supporters wrote messages of encouragement and gratitude on large cards to be sent to Lt. Watada. Closing the rally with a rousing a capella rap performance, Galen Peterson engaged the crowd in a call and response.
On June 27, San Francisco was one of over 30 cities to participate in the "National Day of Action" to support Lt. Watada. Other cities included New York, Oklahoma City, Toronto, Vancouver, Tokyo, Atlanta, San Diego, Ft. Lauderdale, Honolulu, Kansas City, and more!
This is just the beginning in building momentum towards national actions around Lt. Watada's possible court martial date which is expected to be in August. Widespread public support can have an impact on the possible consequences that Lt. Watada may face for taking this couregeous stand. It is our responsibility, as civilians, to support soldiers who are standing up for true democracy and International, US, and military law by refusing to fight in this illegal war.
For more information on Lt. Ehren Watada visit:
http://www.ThankYouLt.org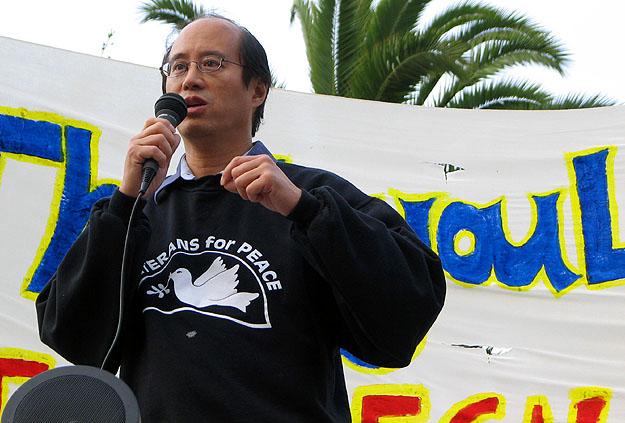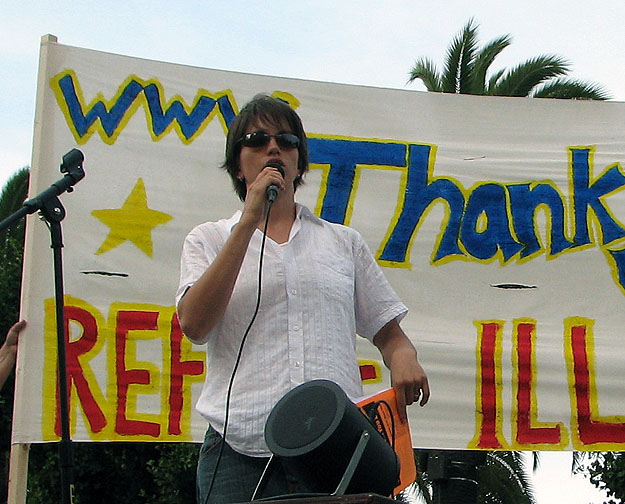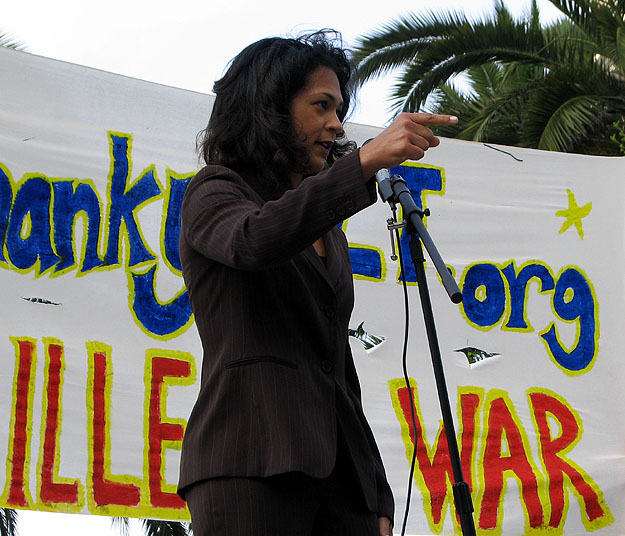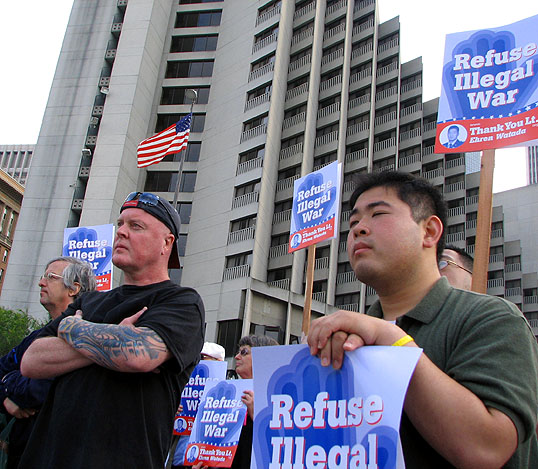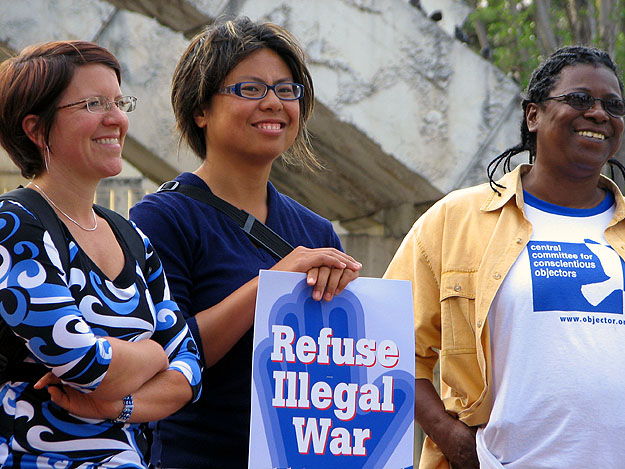 We are 100% volunteer and depend on your participation to sustain our efforts!
Get Involved
If you'd like to help with maintaining or developing the website, contact us.