From the Open-Publishing Calendar
From the Open-Publishing Newswire
Indybay Feature
Counting Lives Lost, Making Tangible an Abstract Measure of Grief
While traveling through Watsonville on June 1st, I came across a grid of four inch figures representing "every person who has died in Iraq since we invaded." The exhibition is at Sierra Azul Nursery and Gardens and is part of the Pajaro Valley Arts Council exhibit, Sculpture IS, which is showing June 2nd through July 30th. Thirty-nine regional artists are showing over seventy pieces of work ranging from installation and performance art to a variety of sculptures that are kinetic, functional, traditional and collaborative.

"Counting Lives Lost, Making Tangible an Abstract Measure of Grief" was installed by a volunteer group of artists over Memorial Day weekend. Two tons (four thousands pounds!) of clay were reportedly used so far to make the figures and I believe there are plans to continue adding new figures as more Americans and Iraqis continue to die in the Iraqi War. Only American and Iraqi deaths are being represented, but installation artist Kathleen Crocetti is well aware that people from other parts of the world are also dying in the Iraqi War.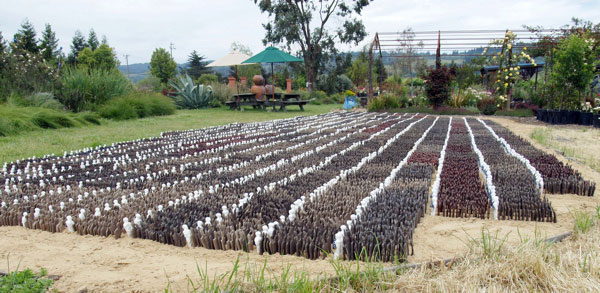 photos by Bradley
artist statement (below) by Kathleen Crocetti
* * * * * * * * *
Counting Lives Lost, Making Tangible an Abstract Measure of Grief
I find that when numbers get past a certain size they are just big numbers, and the abstractness of numbers numb us to the reality of the situation. I have made one small 4 inch figure for every person who has died in Iraq since we invaded.
At this point in time for every US troop member we have lost there have been 16 Iraqi. It is important to me that we as a nation recognize not just our loses, but the losses we have caused. At the same time, honoring our own and being respectful of them is paramount to my piece/peace.
I want people on both sides of the war debate to come see my work, it is a memorial. Each American figure has an American Flag across his/her chest and then 16 anonymous shadow figures standing behind. The shadow figures represent the 1:16 ratio of Iraqi dead to American dead. The 1:16 ratio is very conservative; we do not know exactly how many Iraqis have died. Of the 39,400 known Iraqi dead only 3,500 of them have been named, the other 90% are anonymous to us. They are certainly not anonymous to their families.
During the last two months I have gotten our community involved in catching up with the Iraqi body count. During these work parties while we were cutting out clay bodies we talked.
In the making and the talking we feel as if we are doing something. Grieving is an active process, not a passive one, and recovery is a choice. It is my belief that as a nation we are in denial and have not yet begun to mourn. We need to start the grieving process now, because it is painful and uncomfortable and the sooner we start acknowledging our culpability and responsibility the sooner we will stop inflicting grief upon others.
Memorials are usually held after someone has died. Honoring those who have died on both sides of the battle field while the battle continues to rage makes my work political. It is my aim to honor those who have died as respectfully as possible while making the growing abstract number visible and tangible. War is war; I am not interested in conversations about how and why we got into this situation.
I am in mourning; eventually as a nation we will need to mourn the dead, maybe the sooner we get started the sooner we will stop.
Kathleen Crocetti
* * * * * * * * *
Sierra Azul Nursery and Gardens
http://www.sierraazul.com
Iraq War News on Indybay
http://indybay.org/international/iraq
Deaths in Iraq Since March 2003 (Last Updated 6/2/2006 )
US: 2,474 Coalition: 224 Iraqi Military: 12,976 - 15,033
Iraqi Civilians: 100,000+ in 2003 and 2004 alone
Sources: iCasualties.org, Antiwar.com, Centcom, Iraqi Body Count, Medact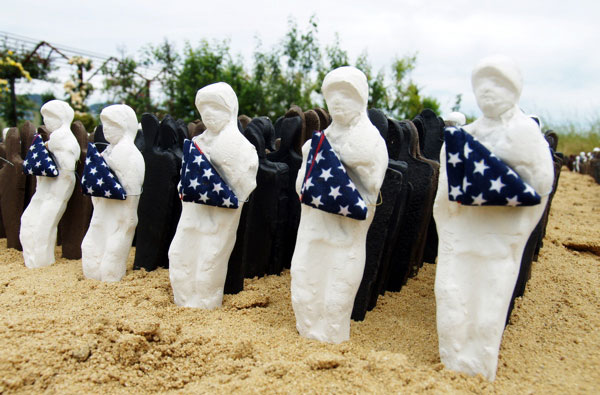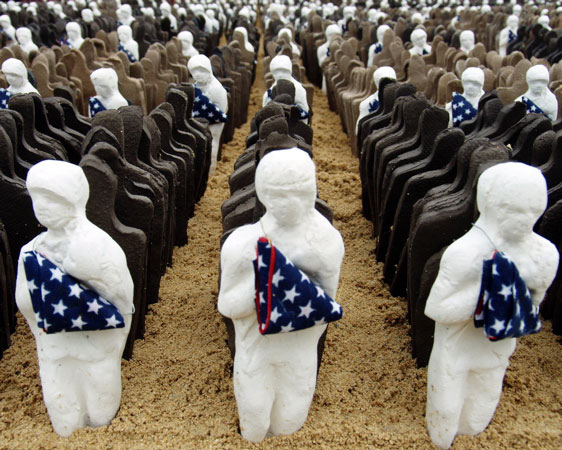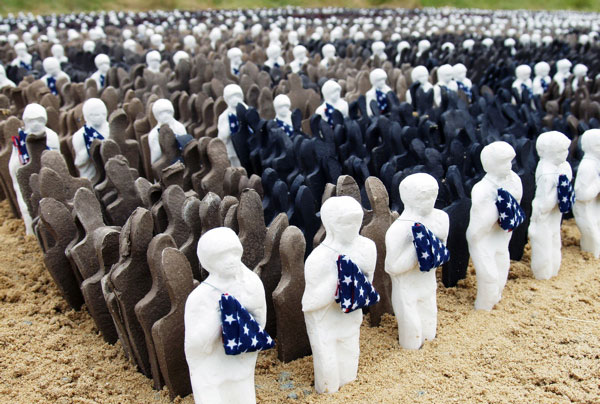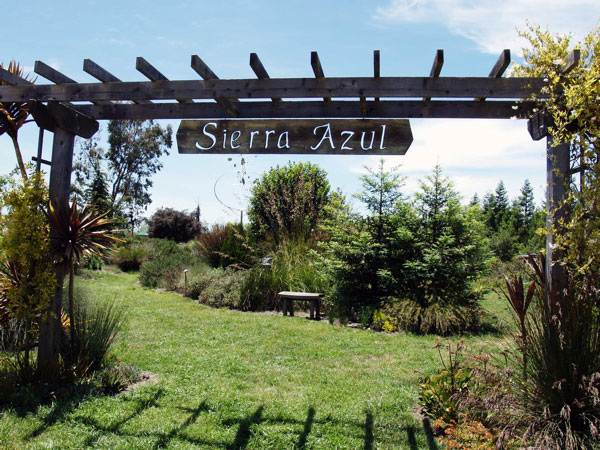 We are 100% volunteer and depend on your participation to sustain our efforts!
Get Involved
If you'd like to help with maintaining or developing the website, contact us.