From the Open-Publishing Calendar
From the Open-Publishing Newswire
Indybay Feature
The End of the World....Wide Web?
Telecom Giants Threaten Equal-Opportunity Internet Delivery

illustration by Jared Power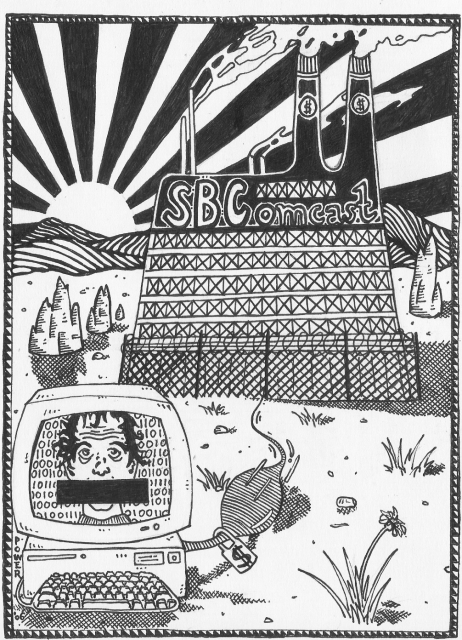 How did we get the Internet as it is today--a thing that gives us the ability to publish pamphlets, create local community radio stations, and to reach out across the world? For the price of a computer and a DSLl connection, we get a soapbox as large as CcNN or The New Yyork Times. Anarchists and radicals have been saying for years that the Internet is a priceless tool, but can that be taken away? This freedom to dissent, to break the mainstream media monopoly surely cannot survive. All the same, the Internet has remained relatively free of charge. The doomsday predictions have not come true . . . yet.
In the last few months there has arisen a struggle between two large capitalist industries over the future of the internet. It's the "Net Neutrality" debate. On one side is Silicon Valley lead by Google, Yahoo, Amazon, and hundreds of other companies. On the other: telecommunications and cable companies, such as AT&T, Verizon, and Comcast. They are fighting over who gets to control
the internet and how much money the companies who own the cables can squeeze out of content providers, small and large.
Internet service providers, or ISPs, have gone through a tremendous wave of consolidation. There used to be thousands of Internet service providers, but today, due to Supreme Court rulings and FCC deregulation, there are really only two: the telephone company, which offers DSL, and the cable modem company. Here in San Francisco, it is SBC and Comcast. Smaller companies,
such as Speakeasy, just resell access and services over SBC's lines. Now that the ISPs have a duopoly, they want to exercise power and are looking to Internet content providers for other sources of profit.
What is Net Neutrality?
Net Neutrality is the principle that forbids Internet service providers from discrimination in content delivery. "Net Neutrality" is why the Indybay home page will download to your computer just as fast as the White House's. Representatives of major ISPs have argued that because they own the broadband cables, they ought to have the right to charge extra for quick and "guaranteed delivery" of data. Currently, ISPs are required to handle data in a similar fashion as telephone companies: all content must be processed equally, regardless of source.
At the recent Congressional hearings, Net Neutrality backers warned that ISPs want to move away from the open Internet to create an Internet fast lane for their own services--and their highest paying clients--and a slow lane for everyone else.
A senior Yahoo lobbyist on Net Neutrality in Washington explains it this way to Fault Lines: "It's not that Yahoo couldn't afford to pay the telcos. It's that if we started paying, then everybody else would be forced to pay, and that would kill innovation. Small sites and startups would be hurt." That's really what's at stake.
Should Indymedia and thousands of others be able to setup their own Internet-based television station and provide other innovative services? Or should we go back to the world where you need millions of dollars for a cable franchise or broadcast license?
In 1996, there was a proposal to add Net Neutrality provisions to the Telecommunications
Act. At the time, the telcos said they would never discriminate and managed to prevent neutrality from being written in the law. This past fall they changed their tune, and declared that it was their right to charge for whatever they wanted. A coalition organized primarily by Internet freedom
activist David Isenberg, with the support of large Silicon Valley companies, has mobilized to protect Net Neutrality. The coalition includes everybody from Google and the Electronic Frontier Foundation to the American Association of Retired Persons. With that support, they have lobbied Congress
to hold a series of hearings about Net Neutrality. These hearings are part of a process to create a new law, which will ideally require the ISPs to maintain Net Neutrality.
The coalition has lobbied Congress to write legislation to protect Net Neutrality, even if the law is approved. A Yahoo representative stated that "the telcos will not give up. This will be a many year fight over the future of the Internet."
Even if the telcos win, and they are able to scrap Net Neutrality, it's not the end of freedom on the Internet. This is one important fight among many, in a larger struggle over the future of the Internet. Will it be a tool for everybody to speak, to communicate? Or, will it be a medium like Hollywood and mainstream journalism, where a privileged few will be able to buy access to an audience? Before the Internet, free speech was only available to those who owned a printing press. The telephone and cable companies want to go back to that world, and a surprisingly broad coalition of groups are trying to stop them.
For more information, check out
http://www.media-alliance.org
We are 100% volunteer and depend on your participation to sustain our efforts!
Get Involved
If you'd like to help with maintaining or developing the website, contact us.