From the Open-Publishing Calendar
From the Open-Publishing Newswire
Indybay Feature
Students, Activists Bike to Bechtel Intl Headquarters, Shut Down Building for 45 Minutes
Students and activists biked to Bechtel Corp's international headquarters today to say, "No more oil wars, and no more wars for corporate greed!" Following a rally to expose Bechtel's corrupt and immoral behavior, a noisy bike ride and march circled the building. Organizers of the event then attempted to enter the building to make an appointment to speak with CEO Riley Bechtel, resulting in a 45-minute lockdown of the building, with no Bechtel employees being let in or out.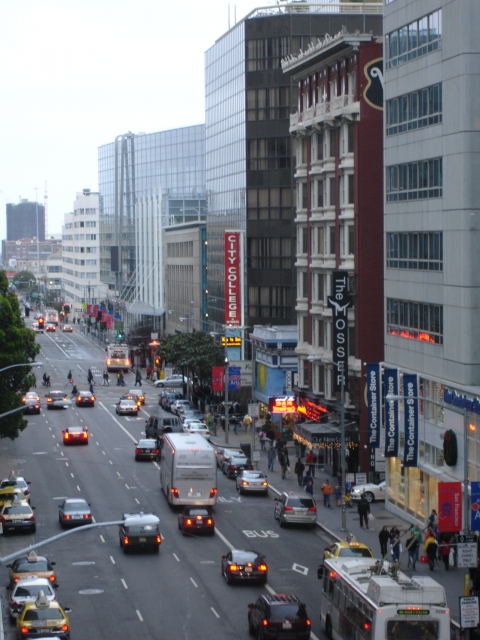 A group of students, activists, and concerned citizens converged on Bechtel today by bicycle and on foot to say, "No more oil wars, and no more wars for corporate greed!" Following a rally then a bike ride and march to circle Bechtel, eight individuals then peacefully and politely caused a 45-minute lockdown of Bechtel's main offices at 50 Beale St, beginning at approximately 2:15 PM and ending past 3:00 PM.

Speakers at the rally addressed Bechtel's exploitation of the Third World, involvement in nuclear test sites, and dubious insider connections to the Bush Administration. These ties include Bechtel CEO Riley Bechtel's position on the President's Export Council, Bechtel board member and senior consultant George Schultz's position as Chairman of the influential Committee for the Liberation of Iraq, and Bechtel Senior VP Jack Sheehan's Pentagon-appointed position on the Defense Policy Board. Through connections such as these, Bechtel executives helped to orchestrate the invasion of Iraq and Bechtel is profiting from the war and occupation.

Speakers also highlighted Bechtel's role in water privatization, such as its attempt to privatize water in Cochabamba, Bolivia, which resulted in massive protests which drove Bechtel out of Bolivia. (Bechtel later sued.) They also pointed out that Iraqis want to rebuild their own cities and their own infrastructure, and that we should let them do it.

Cyclists and marchers then circled the building, making noise and raising their voices against Bechtel, corporate greed, and wars fought for corporate profit. Colorful flags and signs demanded, "Bechtel out of Iraq!"

Speakers at the rally included Chelsea Cologne, Livermore Labs organizer; Will Parish, organizer of the August 6 and 9 international days of action against Bechtel; Michael Hoffman, Students Against War SFSU; and Julia Waters, United Students for Global Justice at City College; and Lacy MacAuley, Students Against War SFSU and Campus Antiwar Network.

Students from City College and San Francisco State University began their bike ride at 12 noon, cycling from SFSU, through the City College campus, through the Mission District and on to Bechtel. They arrived at Bechtel's International Headquarters at 50 Beale Street, next to the Embarcadero BART station, at about 1:30 PM.

CAUSING A LOCKDOWN

Following the bike ride and march, Lacy MacAuley, one organizer of the event, which was called "Biking to Bechtel," announced that she intended to go inside the building to seek an appointment to speak with CEO Riley Bechtel, inviting any attendees of the event to join her if they wished. Many attendees went home at that point, and several stayed in front of the building.

Eight individuals, consisting of five female students, two female seniors, and a young man in a business suit, left all signs, flags, and bicycles at the rally site and walked to the south entrance at 45 Fremont St, the second of two buildings that stand "back to back" and house Bechtel's offices. They entered the building, and asked the front desk if they could make an appointment with CEO Riley Bechtel. They were then asked to wait, and eventually told by security that they could not be in the building if they did not have an appointment. The head security woman told the group that they must go to the offices at 50 Beale St to make an appointment.

The group then walked to the south entrance of 50 Beale St and attempted to enter, finding the doors locked. Security personnel were just inside the glass doors and did not make eye contact when the group politely spoke through the glass and asked to enter. The lobby of 50 Beale St contained a front desk and turnstiles. Employees gained access to elevator corridors and therefore the upper floors of the building through electronically-coded name badges.

The group then calmly walked to the north entrance, seeing that that entrance was still open. When they arrived they found the doors locked, but noticed that the south entrance was now open. One student and one senior then walked to the south entrance. When they arrived they found these doors had again been locked. So individuals in the group casually waited at both entrances.

Security personnel responded with a complete lockdown of the building. According to one of the outdoor security persons, this response is apparently a standard one when "protestors" are present. They did not allow employees, delivery personnel, or individuals with other business inside the building to enter or exit. Many employees of the building began accumulating in the elevator corridors visible just inside. Many walked up to the building and, finding it locked, decided to take a walk and do some errands. Others became aggravated that they could not enter the building, making gestures at the security personnel.

At least one employee in the building had also participated in the rally and bike ride around the building. He was forced to wait outside the building with everyone else.

The group of eight on both sides of the building explained to employees that they wished only to make an appointment with CEO Riley Bechtel, and that the response was an overreaction of security since we meant only to conduct valid business within the building.

Finally, after the building had been on complete lockdown for 45 minutes, security personnel gave in to the demands of building employees and opened one small door on the north side and began letting through individuals who had name badges. Students on the north side asked to enter so that they could make an appointment, but were denied entry.

The group then reconvened with others who had been waiting in support at the rally site. Many cyclists then rode away down Mission Street, chanting, "Si se puede! We shut down Bechtel today!"
We are 100% volunteer and depend on your participation to sustain our efforts!
Get Involved
If you'd like to help with maintaining or developing the website, contact us.