From the Open-Publishing Calendar
From the Open-Publishing Newswire
Indybay Feature
Permaculture Convergence at Ocean Song
Severine von Tscharner Fleming reports from the 3rd Annual Bay Area Permaculture convergence at Ocean Song Farm and Wilderness Center in Sonoma County; March 10-12 2006.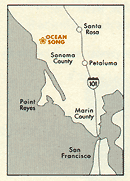 Ocean Song sits high up on the glistening native grasslands of Sonoma County where fog, snow and sunshine each take turns gracing the horizon. The hills roll into the ocean and the roaring waves are audible in certain spots. Ocean Song is a grassland preserve, old ranch, and home to the most recent Bay Area Permaculture Convergence.
In mid-March, over 150 practitioners of urban agriculture, rural agriculture, natural building, myco-remediation, non-violent communication, sustainable animal husbandry, landscape design and plain old organic farming attended the convergence. Most had taken a Permaculture Certification Course or even a Permaculture Teachers Course, but there was no secret handshake and all were welcome to join in the activities. Forced by the cold to huddle together near the fire, we exchanged stories, heralded successes, ranted, raved and networked.
Our first lecture came from Penny Livingston, a Permaculture 'not so elder' who has informed the perma-practice of many in this region through her Regenerative Institute/Permaculture Institute of Northern California, once based out of Point Reyes and now located in Bolinas. Penny is a smiling, pale-haired mama, but her story took on the rhythm and intonation of a Native American. She told the prophesy of Handsome Lake, a Mohawk who foresaw the coming of another race and the difficult times ahead. Handsome Lake foretold of bugs with eyes, flying noise, people with no respect for their elders… of settlers. He foretold of environmental ruin, of calamity and war. Handsome Lake also dreamt that his people would not be conquered by these times. He learned in his dream that the keystones for survival were joy, peace, unity, the capacity to see the greatness, to blend in, support each other, grow strong in adversity and overcome. We "permies" felt our hearts surging with gratitude to be surrounded by such reverence for the earth, commitment to be part of healing the earth and our communities, and the joyful praise of humanity.
Each activity during the Convergence began with a handheld circle, a wonderful way to meet a new stranger and squeeze a new hand. The opening and closing circles were moderated by Starhawk, a silver-haired grizzly Glenda of benevolence whose books, like "The Fifth Sacred Thing" are the preferred bedtime stories of tree sitters and Babylon-dwellers alike.
While Starhawk led us in chanting and ritual, we made a witch's brew. Actually it was compost tea. We all added worm castings, beneficial bacteria, kelp, molasses, rock dust and sacred bits of stone while taking turns stirring with a copper rod. We made potent the brew while also making ourselves potent and becoming active catalysts of healing in our gardens and beyond. After bubbling and stewing the whole weekend, we each took home some of the brew for our own gardens.
During "open space" we posted workshops and think-shop ideas up on the wall alongside a grid of times and places, and then came together by interest to learn exactly what we wanted. I went on a tour of the land with Brock Dolman, a quick-witted badger and guru of hydrological metaphor (The Water Institute, Occidental) and Ben Faher, the current Ocean Song land steward.
We learned about the encroachment of fir onto oak woodland when the 'positive disturbance' of grazing, burning and other human activities is removed. We learned how important the grading of a road is in determining the sediment load of streams, home to many types of salmon. We learned that the California's coastal prairies are some of the most diverse, rare, and endangered ecotopes in the country, and that California is at the top of the diverse flora list. We noticed that the native bunch grasses could easily succumb to the more ferocious annual grasses, particularly at the entrance of an old barn where dairy herds churned the earth while waiting to be milked. Ben showed us the lay of the land, the drape of the underground streams, and showed off his wonderful drainage ditches. Many had been created using horse-drawn plows during an earlier work-party. One of the ditches had been filled with tons of organic compost from the Rawstock raw food gathering hosted at the site last year.
All who attended had a lovely time, and the circle is expanding. If you would like to learn about upcoming Permaculture courses, watershed courses, earth-activist trainings, urban skills/wilderness skills courses and weekend activities, they can all be found on the web.
For more about Permaculture:
http://www.urbanpermacultureguild.org
http://www.oaec.org
http://www.Earthactivisttraining.org
http://www.regenerativedesign.org
To learn about Organic Farm internships:
http://www.organicvolunteers.org
http://www.woof.org
http://www.pixiepoppins.org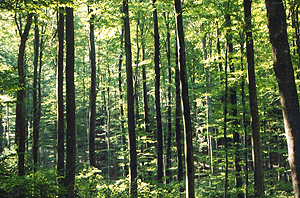 We are 100% volunteer and depend on your participation to sustain our efforts!
Get Involved
If you'd like to help with maintaining or developing the website, contact us.