From the Open-Publishing Calendar
From the Open-Publishing Newswire
Indybay Feature
Related Categories:

Central Valley | Immigrant Rights
Cesar Chavez Day or Police State?
Cesar Chavez Day or Police State?
By Mike Rhodes
The day started with students being intimidated to attend school, Fresno police officers surrounding several schools, and a look-down once the students were in class. Fresno High looked more like a prison than an institution for learning as the police helicopter circled overhead, dozens of police vehicles constantly drove around the school, and the students were locked inside their rooms.
About 150 students staged a protest inside Fresno High during morning classes. When they tried to jump the fence to join other protestors downtown, they were charged by the police and forced back on campus. There was a report of 2 students being hit with tasers and a parent being arrested for assulting an officer. In all, 220 students were detained on Friday. That compares to 200 who were detained on Wednesday.
Most of the arrests took place downtown and at schools around town as students walked out of class to protest proposed immigration legislation in Congress. Many of the students were trying to get to City Hall, where Fresno police chief Jerry Dyer had told organizers they could go and not be arrested. But, when students would attempt to get to City Hall they were turned away and/or detained by police on truancy charges. They were then taken to a community center where they stayed until their parents could pick them up.
One group of students, after having been confronted by the Fresno police department and prevented from reaching City Hall, decided to go to an event honoring Cesar Chavez at the Convention Center. Upon arriving at the Convention Center they were told they could not enter the event. They were turned away and later detained by the police.
Following the "officially sanctioned" Cesar Chavez event at the Convention Center, there was a march through town. About 1,000 marchers, led by a Mariachi band, walked about a mile through downtown with a police escort. The marchers seemed totally oblivious to the chaos that surrounded them. The marchers did not carry one sign mentioning the immigration issue.
In the afternoon, after most of the detainments of students had been made, the Fresno Police Department held a press conference. Channel 30 news (the local ABC affiliate) is reporting that police chief Dyer announced that outside agitators were urging students to walk out. This has led to concern that the police will now target community activists who either helped the students with logistical support (like providing megaphones, etc) and those monitoring the police actions.
This is similar to what happened at an earlier student walkout at Fresno High in December 2003. Following that walkout (see:
http://www.indybay.org/news/2003/12/1663441.php
) police, school administrators, and a grand jury searched for evidence that adults had planned the walkout. No evidence was ever found.
Earlier stories about this weeks walkout:
http://www.indybay.org/news/2006/03/1812615.php
http://www.indybay.org/news/2006/03/1812070.php
http://www.indybay.org/news/2006/03/1811655.php
http://www.indybay.org/news/2006/03/1811395.php
http://www.indybay.org/news/2006/03/1811305.php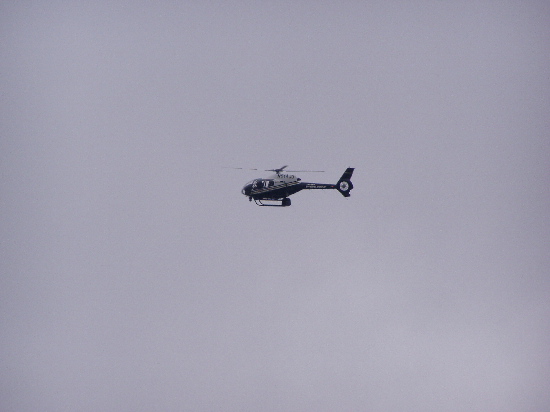 You could find out where the arrests were being made by watching the helicopter. When it would go to an area and circle, you could bet something was going on there.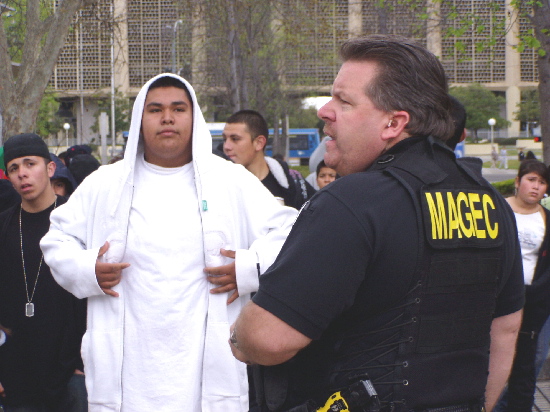 MAGIC - The Fresno area gang suppression unit stopped the students from getting to City Hall.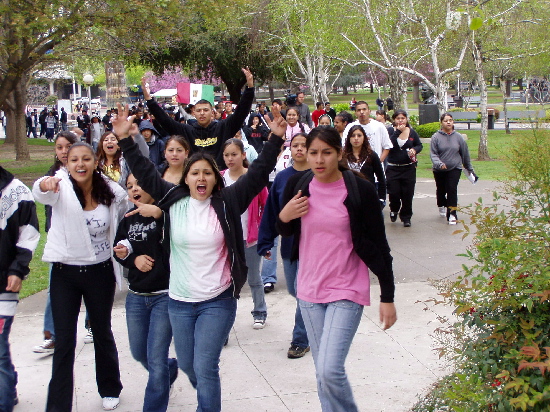 After being turned back from going to City Hall the students went back to Courthouse Park. They then decided to go to the Convention Center where there was an event honoring Cesar Chavez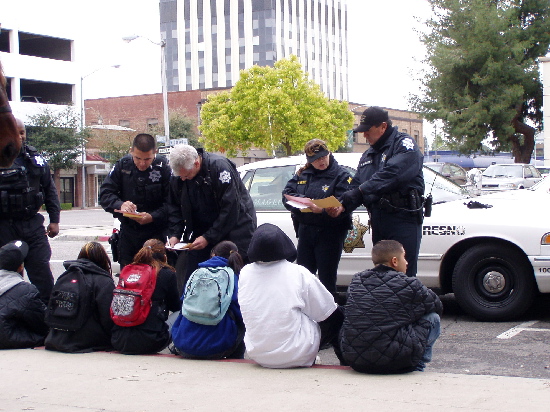 After being prevented from going to Fresno City Hall, where the students were told they would not be arrested, they are surrounded and captured by the police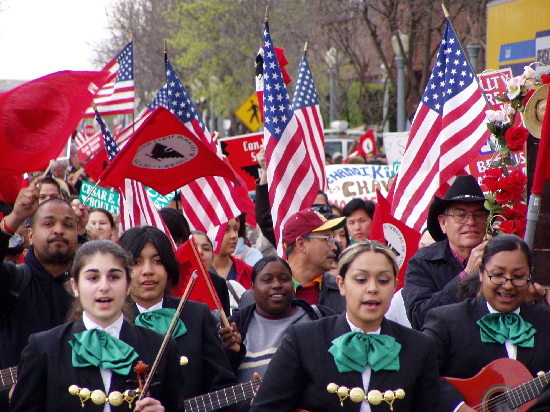 This is the officially sanctioned Cesar Chavez Day march.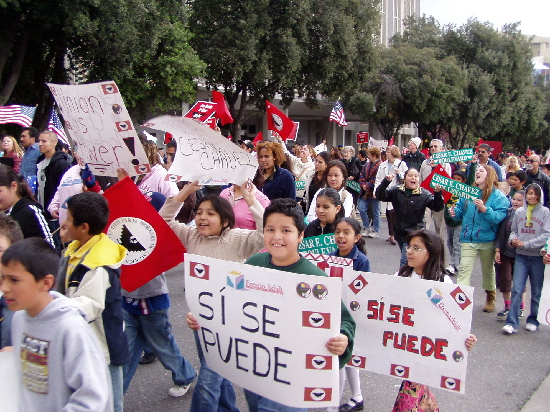 There were no signs about the immigration issue at the "official" Cesar Chavez Day march. But, they did have nice music and a police escort. All photos by Mike Rhodes

We are 100% volunteer and depend on your participation to sustain our efforts!
Get Involved
If you'd like to help with maintaining or developing the website, contact us.