From the Open-Publishing Calendar
From the Open-Publishing Newswire
Indybay Feature
David Ray Griffin Speaks to Sold-out Audience About Myths and Reality of 9/11
Almost a hundred people eager to hear David Ray Griffin speak about the myths and reality of the terrible events of September 11, 2001 had to be turned away from the Grand Lake Theater in Oakland, California early yesterday evening because his lecture was completely sold-out.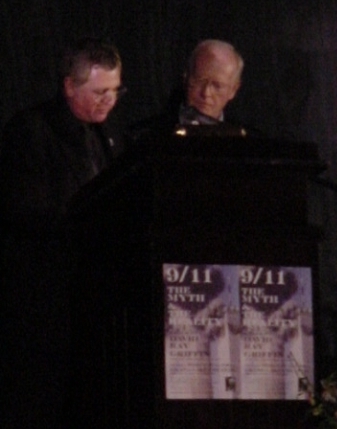 Academician David Ray Griffin addressed an overflow audience early yesterday evening at the Grand Lake Theater in Oakland, California. The topic of his lecture was the Myths and Realities of the terrible events that occurred in the United States September 11, 2006.
At one point in his address, Dr. Griffin remarked that the mainstream media seems to be showing greater interest in his theories that controlled demolition was used in the destruction of New York World Trade Center buildings, that the government failed to adequately investigate and explain the terror incidents of that day, and that those events were used as a pretext to go to war in Afghanistan and Iraq.
He suggested that this growing interest might possibly be due to the corporate world's growing disenchantment with the Bush administration which is failing by its own incompetence to deliver the economic rewards which imperial conquest seemed to have earlier promised it.
Griffin expressed hope that secular humanists and people of every religious denomination begin to demand answers to the burning questions they have about the concealment of truth by those wielding power in America today.
9/11 The Myth and the Reality: A Talk By David Ray Griffin
http://www.pdeastbay.org/911MythReality/
Grand Lake Theater
http://www.renaissancerialto.com/current/grandlake.htm
Griffin was interviewed yesterday on the KPFA Berkeley radio program Flashpoints which can be downloaded at the website
http://www.flashpoints.net/
David Ray Griffin will speak again Sunday, April 2nd 2006 at 12:00 noon at the First Unitarian Universalist center in San Francisco, and Monday April 3rd, 2006 at 12:00 noon before the Commonwealth Club in San Francisco.
Scholars for 9/11 Truth is a resourceful website that provides a wealth of serious and topical information about 9/11:
We are 100% volunteer and depend on your participation to sustain our efforts!
Get Involved
If you'd like to help with maintaining or developing the website, contact us.