From the Open-Publishing Calendar
From the Open-Publishing Newswire
Indybay Feature
Drowning Out Hateful Christian Facists
As Luce and a few hundred youth supporters rallied on the steps of City Hall in San Francisco, behind a line of police and a row of barricades, they were drowned out by protestors chanting, "Religion Is One Thing, Theocracy Is Another! The Christian Right Is Wrong!" and "Battlecry Is Based On Lies, Think For Yourself, Open Your Eyes!"

Protesters in San Francisco gave a fitting welcome to the fundamentalist preacher Ron Luce and his Teen Mania youth ministry on March 23. As Luce and a few hundred youth supporters rallied on the steps of City Hall in San Francisco, behind a line of police and a row of barricades, they were drowned out by protestors chanting, "Religion Is One Thing, Theocracy Is Another! The Christian Right Is Wrong!" and "Battlecry Is Based On Lies, Think For Yourself, Open Your Eyes!"

The fundamentalists came to San Francisco for a two-day youth rally, "Battlecry for a Generation" at AT&T Park baseball stadium, which they expect to draw tens of thousands of youth. Their rally on the steps of City Hall was meant to deliver a message against San Francisco and especially its tolerance of gays and lesbians. "These are the very city hall steps where several months ago ***gay marriages*** were celebrated for the entire world to see," the fundamentalists said in their call for the demonstration

The counter protest was organized in just a few days by World Can't Wait, Not In Our Name, Code Pink, and Bay Area Coalition for Our Reproductive Rights. The counter rally was a colorful mix of representatives of the gay, lesbian, bi-sexual and transgender community, progressive religious forces, pro-choice and anti-war political activists, atheists, politicians and others. There was a large banner from World Can't Wait that said, "No to Woman-Hating Anti-Gay Christian Fascist Theocracy!" A demonstrator carried a sign that read, "Hitler started with Youth Rallies." Another sign said, "I moved to San Francisco to Get Away From People Like You."

Just before the rally by the fundamentalists, the counter protestors organized their own rally on the steps of City Hall. San Francisco Supervisor Tom Ammiano opened the rally saying, "We have to take them seriously because if we don't stand up, if we don't speak out and if we are not counted, they could win." Earlier in the week the San Francisco Supervisors passed a resolution condemning the fundamentalist rally for spreading hate of gay people and others.

A speaker representing World Can't Wait read from the organization's call, "Your government is moving each day closer to a theocracy, where a narrow and hateful brand of Christian fundamentalism will rule."

Other speakers included, Bay Area Coalition for Our Reproductive Rights, Sister Bernie Galvin, Not in Our Name, Code Pink, Howard Wallace of the San Francisco Labor Council and Pride at Work, The anti-war ANSWER Coalition, American Atheists and the Pastor of the Church of Natural Grace.

California State Assemblyman Mark Leno, author of the Gay Marriage bill that was vetoed last year by California's Governor Arnold Schwarzenegger ended the rally saying of the fundamentalists, "They're loud, they're obnoxious, they're disgusting and they should get out of San Francisco."

Ron Luce claims that the purpose of his movement is to protect youth from a culture of violence, drugs and permissive sexuality, citing MTV and video games as some of the biggest problems facing youth today. But what Luce is really aiming to do is create a political force of youth trained in a narrow and hateful brand of Christianity based on a literal interpretation of the bible.

While making a particular point of denouncing homosexuality, Luce attacks all sex outside of marriage and even masturbation. "If it's any sexual interaction outside of marriage it's not right," Luce says. "And the Bible is also clear that marriage is between a man and a woman and so that's God's instruction book for us." Of masturbation, Luce says, "Encouraging teens to do this actually helps to insure their bondage to sexual issues!" His web site also attacks the right to abortion and the teaching of evolution.

And the aim of Luce and other Christian fascists is not just to win converts for this but to impose it on U.S. society as a whole. A few days after the San Francisco rally, Luce will be a featured speaker at a major rally for Vision America, a group headed by Rev. Rick Scarborough, a close associate of former House Speaker Tom Delay. Scarborough is the author of a booklet titled "In Defense of…Mixing Church and State." It argues that the belief that the Constitution provides for separation of church and state is "a lie introduced by Satan and fostered by the courts."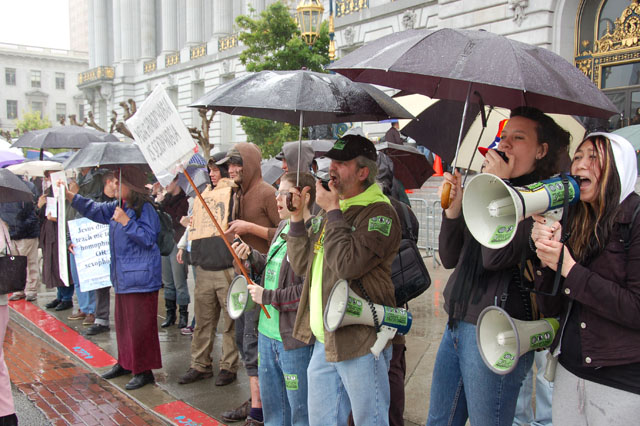 We are 100% volunteer and depend on your participation to sustain our efforts!
Get Involved
If you'd like to help with maintaining or developing the website, contact us.