From the Open-Publishing Calendar
From the Open-Publishing Newswire
Indybay Feature
UCSC Military Recruitment Debate Reportback
On Wednesday, Feb. 8, UCSC's Colleges 9 and 10 hosted a tightly-controlled debate on the issue of military recruitment. The two speakers were William Griffin, in charge of Army recruitment for the Monterey Bay area, and Mario Ramirez Hardy, a long-time counter-recruitment organizer and GI Rights Hotline counselor.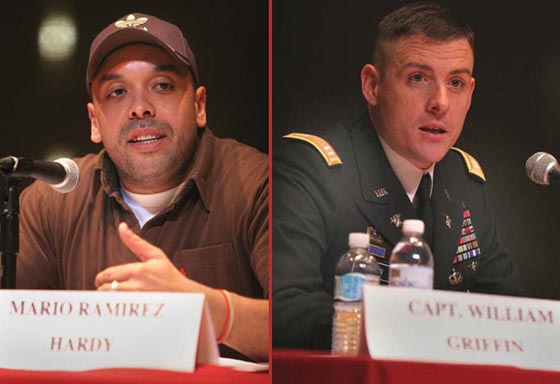 The issue of military recruitment at UC Santa Cruz and in the community as a whole has been prominent for years. Due to creative student protests, all branch of the military have been prevented from any form of recruiting on campus for more than a year. After multiple successful local campaigns, the majority of Santa Cruz County high school parents have opted their children out of contact lists sent to recruiters. Santa Cruz County now has the lowest recruitment rate in the state of California.
On Wednesday night, Colleges 9 and 10 organized a debate on the issue of military recruitment. William Griffin, the top dog for Army recruitment in the area, faced off against Mario Ramirez Hardy, who has been helping GIs get out of the military for over a decade, in addition to a wide array of counter-recruitment activities.
The night was very tightly controlled by Colleges 9 and 10 (c9/10) staff, headed by Wendy Baxter, and moderated by Professor Paul Roth. There were fears of protests from students, possibly by Students Against War (SAW), as military recruiters are known not to be welcome. Due to these fears, c9/10 staff taped a 'do not cross' line on the ground outside the Multi-Purpose Room, where the debate was held. Protesters and leafletters were not to cross the line. Nonetheless, important flyers found their way in the hands of almost all the student attendees. No protests were planned, as no military recruitment was to take place.
During the debate, Mario Ramirez Hardy and William Griffin calmly answered a few questions that they had received before hand. Students with questions were asked to write them on cards, which Roth and Baxter screened. No questions relating to foreign policy were allowed. Due to all these restrictions, the debate wasn't overly exciting, although there was a good deal of information presented.
Mario Ramirez Hardy systematically dispelled the myths about military recruitment - using facts provided from military or governmental sources. He spoke about how military recruiters, under the enlistment agreement (see:
http://quakerhouse.org/documents/enlist.html
) can change anything at any time, with or without notice to the enlistee (i.e. recruiters can't make any promises). He noted that 57% of enlistees don't get a dime for college, that 90% of women in the military reported harassment (1/3 of which were raped), the high rates of discrimination against people of color, and the violent heterosexism and homophobia of the military, seen by their 'Don't Ask, Don't Tell' policy and the consistent harassment of enlistees found to be queer. These statistics were backed up by more than a decade of personal experiences counseling GIs.
William Griffin, the Army recruiter, attempted to claim that 'statistics can be made to say anything,' although did not address the fact that these statistics were from the military and government themselves. He attempted to appeal to people's assumed nationalism - suggesting that the military is there to defend freedom. Many students rolled their eyes with these remarks, as the Pentagon was recently found to be spying on UCSC students, directly threatening these freedoms that they claim to protect. Griffin further claimed that the military 'treats everyone the same' and protects enlistees from physical harm. However, he did not have any statistics to back his claims, except for the one time that he claimed over 100% of enlistees receive something.. making many students scratching their heads at how anyone could arrive at more than 100%. Overall though, Griffin was very calm and composed, with slick answers for all the questions - just like a recruitment commercial.
On the hot topic of a possible military recruitment ban from campus, Griffin relied on the Solomon Amendment, a federal bill which threatens to take away university funding if they don't allow recruiters. He consistently claimed that the military just does what they're told - including discriminating against queers and women (as Hardy added). In contrast, Hardy suggested that students and communities should have the right to determine who visits their schools and that if they wanted to ban military recruiters, no one should stand in their way.
Once the debate was over, students clapped (the first time they were allowed to all night - except for one impromptu clapping for Hardy) and a few milled around to talk to the speakers, but most walked home with some questions answered, but many more remaining.
While the debate was not riddled with excitement, its existence signified the growth of UCSC's counter-recruitment movement and the prominance of the issue on campus, as the event was completely organized by college officials, not activists. It offered an opportunity for a wider audience to inform themselves on some of the issues related to military recruitment, which will hopefully transfer into more solidarity with counter-recruitment actions and campaigns in the future. It should also lead to a greater ability for student attendees (many of which were from SAW) to break down the fallacious arguments widely circulated by military recruiters - or 'salesmen' as Hardy called them.