From the Open-Publishing Calendar
From the Open-Publishing Newswire
Indybay Feature
Japanese Whaling launches Consumer Boycotts and a Union Blackban
The Nisshin Maru whaling factory ship has stopped and the hunters are out hunting in the Southern Ocean Whale Sanctuary. Once again Greenpeace activists have put their inflatable zodiacs into the water to try and form a human shield between harpoon and whale. Tensions are higher after the collision of the Nisshin Maru and Arctic Sunrise. Maybe there are things which people on dry land can do as well, such as boycotting Gordon's seafood products, and products of other companies invested in by the Nissui Company.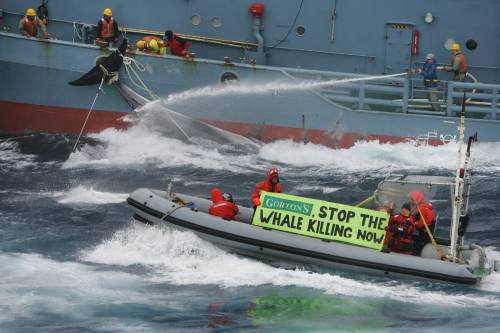 The activists putting themselves in front of a grenade tipped harpoon are more nervous, but just as determined to disrupt the hunt and slaughter. Their tactics are proving effective in reducing the numbers of whales killed. The whalers are feeling frustration at their inability to meet their quota. There is also frustration by activists when equipment on the inflatables breaks which necessitates repairs and time away from disrupting the hunt.
Andrew, onboard the Esperanza, implores people to act as consumers and initiate a boycott of companies associated with Japanese Whaling.
He urges people in the US not to buy Gorton's products:
Gorton's is wholly owned by of Nissui, which is also a major shareholder of the Kyodo Senpaku - the company actually doing the whaling. So Gorton's is Nissui's "child company", or a "branch" of Nissui, or one of Nissui's "tentacles". Whatever metaphor you use, it is all about the same in my eyes - just follow the money. Nissui supports whaling and Gorton's supports Nissui with tons of cash from its profitable line of seafood products.

So, if you're like me and you don't want to support a company linked to the whaling industry - as a consumer you choose not to support Gorton's. And you tell them about it.
In New Zealand Sealord is 1/2 owned by Nissui. Cascade Seafoods in Bellingham, Washington, is wholly owned by Nissui. Nissui has holdings in Nederlands and elsewhere.
Andrew recommends these actions that you can take from the Greenpeace site:
Maritime workers blackban whaling fleet
In New Zealand, the Maritime Union has black banned working with Japanese whaling ships. Maritime Union General Secretary Trevor Hanson said the Union supports the two environmental groups Greenpeace and Sea Shepherd in their attempts to end Japanese whaling in the Southern Ocean. The Maritime Union sees the whaling issue as a part of a wider maritime crisis with overfishing, exploitation of maritime workers and "flag of convenience" shipping.
Mr Hanson endorsed the actions of both Greenpeace and Sea Shepherd, saying that when the polite approach fails, the use of non- violent direct action is the best method. "In many cases the exploitation of the maritime environment goes hand in hand with the mistreatment of maritime workers, but because it is out of sight, out of mind off the coast, it is easy to ignore." he said.
He also endorsed a proposal by the New Zealand Green Party for the New Zealand Government to send a frigate to observe and provide moral support for the protests. "The Japanese whalers are trying to bluff their way through, but a strong united message now could be the final push needed to end this practice." he said.
See Also
Sources:
Previous Articles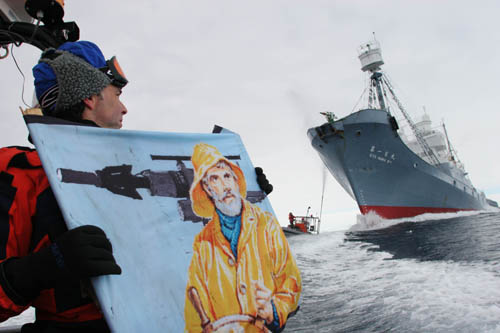 We are 100% volunteer and depend on your participation to sustain our efforts!
Get Involved
If you'd like to help with maintaining or developing the website, contact us.