From the Open-Publishing Calendar
From the Open-Publishing Newswire
Indybay Feature
Lower 9th Ward Citizens Fight Demolition in New Orleans
The city of New Orleans is attempting to destroy the homes of residents in the Lower 9th Ward. This is in spite of a temporary moratorium won by social justice groups against the city which blocks attempts to bulldoze the homes of Lower 9th Ward residents. The moratorium, which ends on January 6th, 2006, is being circumvented by the city through the unconstitutional use of eminent domain. Local residents are working alongside Common Ground Collective, a grass-roots organization working for the rights of displaced and neglected victims of Hurricane Katrina, and are protesting the action and calling on citizens everywhere to get involved.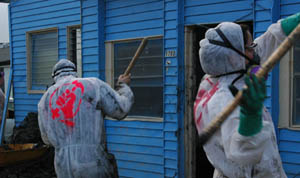 Brandon Darby, Common Ground's 9th Ward Organizer is headlining the project to protect the rights of 9th Ward residents. "These residents are living in shelters across the country. FEMA is cutting them off on February 7th. They have no where to go. The city is trying to violate their constitutional rights and use a twisted interpretation of eminent domain laws to allow developers to grab this land from these communities."

The Lower 9th Ward embodies the heart of a community that evolved from African-American families over many generations, and residents share a devotion and pride in their homes and neighborhoods that is becoming more and more scarce across the country. Unfortunately, the area was also atypical in its neglect from the city.

Elois Reed, a local real estate broker and community activist, knows all to well how this plagued the area before the hurricanes. Speaking of real-estate appraisals that seemed to have to do more with the color of the neighbors rather than the quality of the property and levee boards that ignored the real development and growth that residents brought about, Reed provides a disheartening picture of the discrimination that tax-paying residents suffered from their city. "The city has been on a fast track to alienate people from their properties," she states. "There was so much controversy to even get housing." That neglect was brought to a head in the aftermath of Hurricane Katrina. Now, with the current Eminent Domain action, many displaced residents are being shut out of the decision making process altogether.

Darby spoke to that issue, commenting on the treatment of 9th Ward residents in a Post-Katrina world. "It's a shame that we have to go to these lengths in the United States of America in order for these residents to be heard. There are elderly residents living in the Lower 9th Ward without services. They have no power, no water, no medical treatment, and they are being told that they can't be here. Federal agents patrol these dark streets and threaten to arrest any resident that stays in this curfew area for trespassing in their own homes. Neither the city, state, nor federal government has any solution as to where else they could stay. Most residents were left to die when the storm was approaching. Then they were shot at and called looters when they scavenged for food. They ended up at the convention center where the government left them for days without water or even toilets. They were then evacuated all across the nation. The government told them they couldn't come back and physically guarded this area with machine guns and refused to allow these residents to even see their homes. Most of these residents haven't received any money for their homes yet."

Common Ground is protesting the injustice of the attempted seizure, pointing out that privately-owned properties are being confiscated through eminent domain without the due process generally allowed to its owners. It is a move by the government that could set a dangerous precedent for the private property rights of all owners.

Common Ground is currently fighting to have City, State, and Federal Government extend the same courtesy and aid to Ninth Ward residents that has been provided to property owners in the predominantly white St. Bernard's Parish. "St.Bernard Parish is less than two miles away, parts were damaged just as badly there as was in the Lower 9th. Why do the predominantly white communities get FEMA trailers and the freedom to decide what happens to their private property when the predominantly black Lower 9th residents have rich businessmen meeting about the future of their homes and communities?" Darby asked.

Common Ground is having daily emergency meetings with the newly formed Lower 9th Ward Community Council and other residents in an effort to inspire and organize against the land grab. "If the government won't enforce these peoples constitutional rights," Darby stated, "help them have water, food, and other necessities, then we will work with these communities to accomplish it on our own. We will stand our ground, together."
We are 100% volunteer and depend on your participation to sustain our efforts!
Get Involved
If you'd like to help with maintaining or developing the website, contact us.