From the Open-Publishing Calendar
From the Open-Publishing Newswire
Indybay Feature
Day of Rememberance or Night of embarrassment
Trans community needs to learn how to treat the media before the media treats TG/TS people with respect.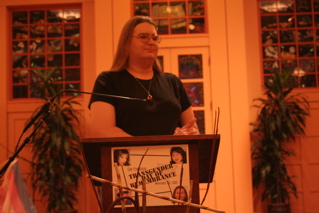 As a trans person and a someone who produces media I have to say that generally the TG/TS community does not know how to treat the media.
My experience with the TGDOR.
First of all Tranny Talk was the only broadcast media to show up, and as the producer of this show I felt I was treated like shit by those people.
Gwen Smith the creator of the TGDOR is always bad mouthing the so-called mainstream media, BUT when trans only media shows up she treats them like shit.
My point; if the trans community wants respect from the media then they need to earn it. The trans community and its leaders need to learn how to treat the media or the media will not give them respect.
Secondly: The turnout was small. Actually the turnout was an embarrassment. It was so small that I could not get one snap shot of the march.
Thirdly: I would like to say that the group the Pink Pistols were there, and their presence was appreciated and will never be forgotten.
And the fourth and final rant: If the trans community wants the violence to stop then get right with the status quo, and quit alienating the community from the rest of the world.
The display by Gwen Smith was a disappointment and as a trans person I do not feel like I am a part of that community.
Peace and Good Luck (and will the people from TGDOR please go to school, they need the education.)

(Oh and by the way this note it to the people who were worried about me taking pictures of you. There is not one photo from that event that is worth anything on the commercial market, so I have no incentive to take pictures of people unless you are directly involved. Signs are the only things worth taking pictures of and posting.)

The crimes against these people will never be solved.
You know evverytime I go to a trans event the same ole people are the speakers. That is evident of bias amongst the community. There are other more important people who have valuable advice and knowledge.
This community is reserved for your favorite click. What I mean is the TG/TS community is full of groups. If you don\'t fit in you aren\'t accepted. If you aint one of us your worthless.

We are 100% volunteer and depend on your participation to sustain our efforts!
Get Involved
If you'd like to help with maintaining or developing the website, contact us.