From the Open-Publishing Calendar
From the Open-Publishing Newswire
Indybay Feature
July 4th Pictures From Edinburgh G8 "Carnival of Full Enjoyment"
The Carnival for Full Enjoyment travelled around the streets of Edinburgh on Monday 4th, involving a cast of G8 Summit protesters, clowns, police and local people. The Carnival called upon 'workers, migrants, students, benefit claimers, New Dealers, work refusers, pensioners, dreamers, duckers & divers' to resist the 'daily grind of the institutions that plunge us into overwork, poverty and debt.'

The day started with police and groups of protestors playing cat and mouse through the streets, as police quickly started to stop and search people under the Section 60 imposed all over Edinburgh. At 12pm groups of people began to gather in and around Princes St. From that time on, and throughout the day, police tried to heavily repress any demonstration using scores of riot police, horses, dogs, and endless batton charges whilst attempting to pen in groups of people. As a result several clashes occurred in the Princes St and Canning St areas that resulted in more than 100 people arrested, and around 60 protesters treated for injuries caused by the heavy handed policing. Despite this many streets in central Edinburgh were taken over by protestors throughout the afternoon.
Read More On Indymedia UK:
http://www.indymedia.org.uk/en/2005/07/315975.html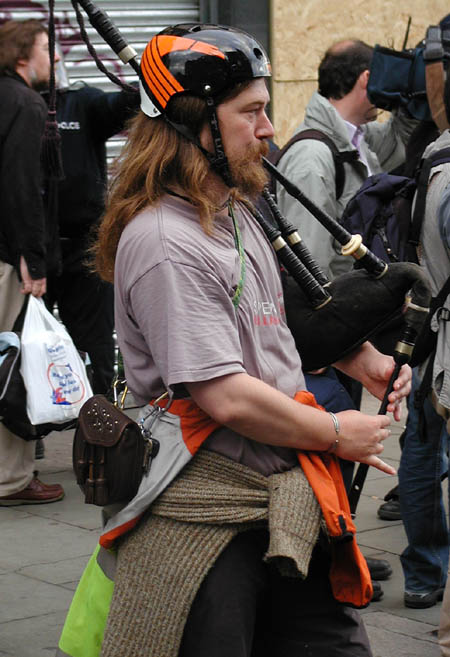 (if someone can resample this so its smaller and then hide this large version that would be great)
Sorry for posting that video so large (its over 10mb for just a few seconds). It's a short clip of a confrontation between police and protesters on Rose St in Edinburgh. The police had a huge crowd surrounded in the early evening but eventually let most of the crowd out. After most of the police left, a small group of police were trapped on Rose St and a few large stones and a basket (shown in the video) was tossed at them. The police didnt really respond (they had earlier in the day) and eventually a huge numbers of police cars came back and chased everyone away (the pictures near the end of the post are from next to Rose St).
Not too exciting and at least some of the rocks were thrown my nonprotester local youth (one passed out on the street drunk and the cops marched over him before this confrontation).
But... this event has been sold to the UK media as the "worst riot in over 200 years"
see
http://news.scotsman.com/index.cfm?id=739212005
while some of the coverage wasnt dealing with Rose st, most of it was
"Some of yesterday's worst clashes took place in narrow Rose street, where yobs in a crowd of 250 protesters hurled bottles and large bakery baskets from a nearby supermarkets at police.
A few of the mob even ripped up and threw paving stones.Police charged several times to push the demonstrators back."
That video isnt that exciting and doesnt really show much of a clash but apparently "Edinburgh City Centre was gripped by violence and confrontation virtually unknown since the Porteous Riot of 1736" (see
http://news.scotsman.com/opinion.cfm?id=739052005
)