From the Open-Publishing Calendar
From the Open-Publishing Newswire
Indybay Feature
Day of Action Against Red Lobster Protest 6/25 in San Bruno: Photos
As part of a nationwide HSUS-coordinated Day of Action Against Red Lobster, we had about 20 people at our demo in San Bruno (1210 El Camino Real), and handed out a bunch of flyers to people in cars passing by, and to Red Lobster patrons - we even got 5 patrons to turn away and not eat at Red Lobster! In addition, we collected signatures on letters to send to Red Lobster telling them that people will not be going to their restaurants until they join the boycott of Canadian Seafood to put the needed economic pressure on the Canadian fishing industry to get them to ask the Canadian Department of Fishing and Oceans to stop the seal slaughter. We were also covered by a local news radio station (740 am) - unfortunately, they do not have their coverage online. Here are some pictures from our demo.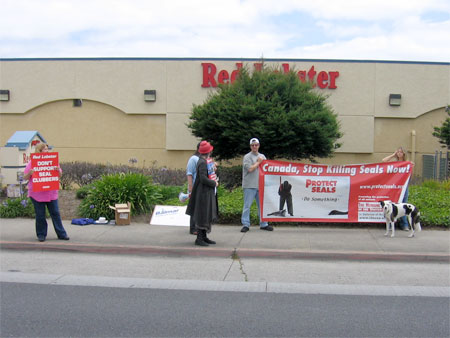 The Humane Society of the United States (HSUS) is encouraging Red Lobster to join with many other seafood restaurants and retailers, such as Legal Sea Foods, Down East Seafood, and Whole Foods Market, in supporting our Boycott Canadian Seafood campaign until Canada permanently ends its seal slaughter.
By the end of this year's slaughter, over 300,000 harp seals in Canada will have been killed in order to sell their pelts to the fashion industry; 95 percent of them were defenseless pups just days or weeks old. In 2001, a veterinary panel studying the Canadian seal hunt concluded that in up to 42% of the cases they observed, the seals were likely skinned alive.
Why Boycott Canadian Seafood?
Seal hunting is an off-season activity conducted by fishers from Canada's east coast. They earn a small fraction of their incomes from sealing and the rest from commercial seafood products, such as snow crabs. Canadian seafood exports to the United States contribute $3 billion CAD annually to the Canadian economy--this dwarfs the few million dollars of income generated by the seal hunt. Even in Newfoundland, where 90% of sealers live, revenues from the seal hunt account for less than 1 percent of the province's economy.
Our Boycott Canadian Seafood campaign is designed to force Canada's fishing communities to choose between the small share of income they make from sealing and the far larger share they make from exporting seafood.
Why Red Lobster?
Red Lobster is the number one seafood chain in the United States, and it is a major importer of seafood from Canada. According to the Canadian Broadcasting Corporation (CBC), Red Lobster is one of the largest consumers of Canadian crabs, and its imports of seafood from Canada extend far beyond crabs. The connection between Canada's commercial seal hunt, Canada's commercial fishing industry, and Red Lobster as a major purchaser of seafood gives Red Lobster and its customers the power to bring Canada's cruel seal slaughter to an end.
To date, Red Lobster continues to sell seafood from Newfoundland and the rest of Canada, despite repeated requests from the HSUS to join the boycott. Red Lobster needs to hear from the people in communities across North America that they want Red Lobster to take a stand against seal clubbers by joining our boycott campaign and ceasing to purchase Canadian seafood until Canada ends its commercial seal hunt.
for further info:
http://www.harpseals.org
http://www.seasheperd.org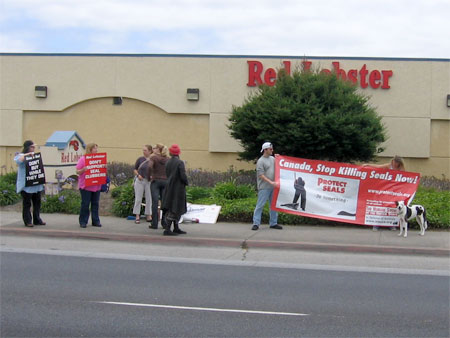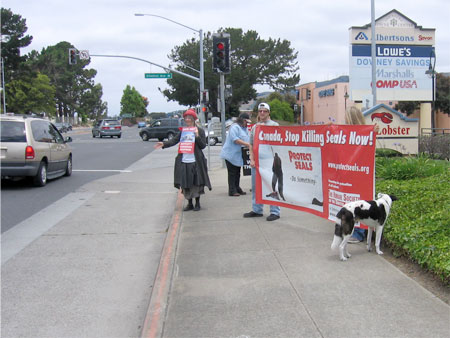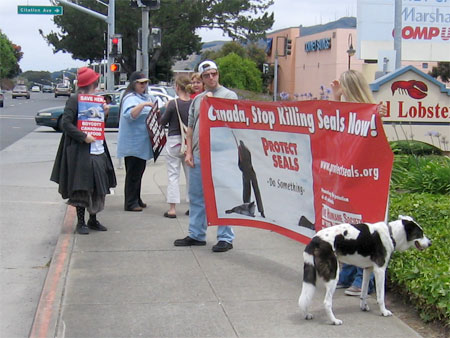 We are 100% volunteer and depend on your participation to sustain our efforts!
Get Involved
If you'd like to help with maintaining or developing the website, contact us.