From the Open-Publishing Calendar
From the Open-Publishing Newswire
Indybay Feature
Traders are gearing up for a new futures market. These new carbon exchanges promise billions in potential profit, but will they save the planet?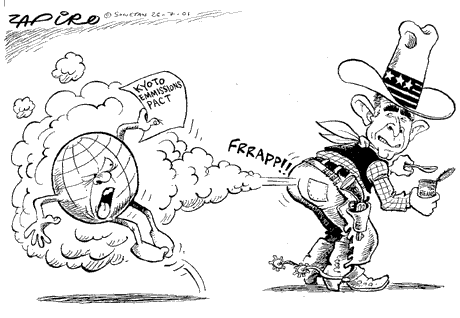 Traders are gearing up for a new futures market. New carbon exchanges promise billions in potential profit, but will they save the planet? High up in the Rocky Mountains of Colorado, the town of Aspen has been blanketed with 24 inches of snow in the past week. This has meant booming business to a 60-year-old company, which sells hotel rooms and ski passes to local attractions like the Hanging Valley Headwall.

The Aspen Skiing Company may not always be so blessed. In the not-too-distant future, when climate change starts to take significant effect, warmer winters and less snow could cause the business to go bust. That's why Pat O'Donnell, the president of the company, decided to participate in a voluntary plan to reduce global warming.

In late February, O'Donell announced that his company would join the Chicago Climate Exchange (CCX) and trade greenhouse gas reductions in a market that offers its members the opportunity to voluntarily commit to reducing their impact on the world's weather.

The way the system works is this: CCX members agree to reduce greenhouse gas emissions 1% a year over 4 years. This percentage comes from a baseline percentage of emissions that occurred from 1998-2001. Members who reduce beyond the goal may sell emission allowances on the exchange. Members who do not meet their goal must buy allowances on the exchange in order to stay in compliance.

"The ski business has to get our own house in order, otherwise we're sunk," Auden Schendler, the company's director of environmental affairs, told CorpWatch. "Any sensible business leader knows that carbon credits are the wave of the future."

The company is not legally required to trade in "carbon credits" because the United States has not signed the Climate Change Convention, but across the Atlantic, most major European power plants and factories have become part of a legally binding scheme to reduce greenhouse gas emissions that went into effect on February 16.

The European Union's plan is the first multi-national emissions trade system in the world that includes all 25 member states. Canada and Japan are planning their own carbon markets soon, which will likely be linked to the EU's.

The first "carbon trade" was executed before the laws went into effect, in March 2003 between the global oil company Shell and a six-year-old Dutch multinational, Nuon that supplies power to users in Belgium and Germany. Nuon bought a significant volume of allowances from Shell for 2005.

Carbon trading is an umbrella term that includes the trading of greenhouse gas reduction credits that were defined in the 1997 Kyoto Protocol of the Climate Change convention, first drawn up in 1992. There are two major systems of trade that were agreed upon - Joint Implementation (JI) and Clean Development Mechanisms (CDM). JI allows emissions credits to be traded between two different countries. CDM allows companies to earn credits by paying for emissions-reducing and clean energy projects in developing countries.

Countries set greenhouse gas limits for emitting companies, giving those companies what the Kyoto Protocol calls "Assigned Amount Units" (AAUs). If a company produces less than its limit, it can trade remaining allotments to companies that have exceeded their limit.

Each country gets to decide how to divide up its carbon allocation. For example, Denmark announced in February that its 235 electricity and heat producers would be allocated 65.1 million tons, while 120 industry and offshore producers will be allocated 27.6 million tons. In addition, the country set aside a reserve of 0.9 million tons for new entrants and significant growth.

The incentive to trade is based on the fact that for every ton of CO2 that goes over their target, companies are liable to a fine of 40 Euros ($50.57) during a three-year transitional period. From 2008 to 2012, the punishment zooms up, to 100 Euros ($126.45) per ton of CO2.

All told, some 13,000 companies across Europe are required to take part. This includes electricity and heat generators that exceed 20 megawatts and cement, ceramics, ferrous metal, glass, pulp and paper producers that are the largest emitters of green house gases.

The biggest emitters of carbon dioxide registered under the EU scheme are respectively; the German energy groups RWE AG and E.ON, Swedish power company Vattenfall, Endesa from Spain, followed by Anglo-Dutch steel and aluminum company Corus Group, Royal Dutch Shell Group, Thyssen Krupp, Estonian power group Eesti Energia and Britain's Drax Power.

There are six exchanges that help companies buy and sell carbon credits: CCX (which also owns Amsterdam-based European Climate Exchange), Climex and Sendeco2, as well as three existing electric power-trading companies - Nord Pool, EEX and Powernext. The current CCX listed price of CO2 is 1.09 Euro ($1.39).

In 2004 alone nine million tons of CO2 changed hands, only a fraction of the 2.2 billion tons annually that can potentially be traded within the European Union starting this year. Trading costs, charged by the market brokers, have tumbled from 16 cents per ton down to as low as 2.5 cents. Point Carbon, a Norwegian analysis and consultant company, predicts that the business could be worth tens of billions of Euros in just a few years and that Russia alone could earn as much as $10 billion, because its Kyoto targets were set at levels that peaked just after the collapse of the Soviet Union. Today Russia's power production has fallen some 30 percent, making it the world's largest owner of carbon credits, which also allows it to drive prices up by restricting supply.

But the biggest challenge is making the system actually deliver reductions in greenhouse gases, which can only be determined if the governments cut the number of allowances drastically. Right now, experts say that too many allowances have been issued for the scheme to drive a major clean up of European industry.

"We need to accept that the first phase of emissions trading (2005-2007) is not going to deliver emissions reduction," Russell Marsh, head of policy at the Green Alliance, a UK environmental think tank, told the BBC. "It's clear that at the moment, the way it has been set up, the carbon price is not going to be high enough to make a real difference, now or for the next three years."

Indeed, if too many allowances have been issued, the carbon price will fall and could even hit zero, making the whole scheme collapse. But Andreas Arvanitakis of the consulting firm, Point Carbon UK, believes that the price of up to 20 Euros is, "Perfectly feasible."

"A cold and dry winter in Scandinavia would mean that there was little hydropower available, and more coal would be used, which would push the price of carbon up," he told the BBC. "In fact, the winter has been mild and wet, which is one reason why the price has fallen by more than a Euro since the start of the year."
This article originally appeared in CorpWatch, February 2005
We are 100% volunteer and depend on your participation to sustain our efforts!
Get Involved
If you'd like to help with maintaining or developing the website, contact us.