From the Open-Publishing Calendar
From the Open-Publishing Newswire
Indybay Feature
Cinco De Mayo Protest Slams Schwarzenegger for Anti-Immigrant Stance
More than 40 members and supporters of San Francisco's immigrant community celebrated Cinco de Mayo yesterday by blasting Governor Arnold Schwarzenegger for supporting the Minutemen, an all-volunteer organization committed to using armed force to stop Latinos from crossing the U.S.'s southern border. Standing at the front door of the State building, protestors decried the Governor for criminalizing the Latino immigrants who provide the economic backbone to large sectors of California's economy. Many also expressed surprise that Schwarzenegger, an immigrant himself, would support vigilante justice against newcomers to our state.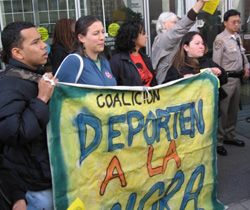 Soon after stating that he wanted to close California's southern border, a statement later retracted, Governor Schwarzenegger declared he supported a group in Arizona called the Minutemen. Made up of unpaid volunteers, some of them armed, the Minutemen patrol the Arizona-Mexico border in the hopes of stopping illegal immigration into the U.S. Soon after the Governor's comments, several anti-immigrant activists announced plans to expand the Minutemen's operations to California.

Yesterday, the day commemorating Mexico's independence, the immigrant community declared their devoted opposition to Schwarzenegger's role in the Minutemen's new plans.

"Governor Schwarzenegger…your comments fuel hatred and invite anti-immigrant sentiment," said Renee Saucedo of the San Francisco Day Labor Program. "Here in California, we will never tolerate anti-immigrant sentiment, especially when you completely neglect the root causes of why our people are forced to immigrate."

For many, that root cause involves the deep poverty some of those living in Mexico face, often times due to U.S. corporations' detrimental role in their local economy. Many illegal immigrants come North simply to be able to provide for their families. Ironically, the work they do to earn money often does a great deal towards supporting California's food service and farming industries, among others, a fact it seems our Governor ignores.

"The problem is that Arnold doesn't respect immigrants, even though he is an immigrant himself," said Gerardo Mendoza, also a member of the Day Labor program. "The governor forgets that California is a state of immigrants…and that we, the immigrant workers, are creating the wealth in this country."

A variety of other organizations were on hand to declare their solidarity with the Latino immigrant community, including the Chinese Progressive Association, the Ella Baker Center, and Poor News Network. Several expressed concern about the increased militarization of the border the Minutemen represent, and Schwarzenegger's support of this militarization.

"On behalf of the African-American, I want to say we're dismayed and outraged," said Van Jones of the Ella Baker Center. "We don't want to see segregation or racialized vigilante violence. We saw too much of that in Alabama. It means death, it means killing, and it means murder."


We are 100% volunteer and depend on your participation to sustain our efforts!
Get Involved
If you'd like to help with maintaining or developing the website, contact us.