From the Open-Publishing Calendar
From the Open-Publishing Newswire
Indybay Feature
Bay Area Group Exposes The Myth Behind California's Happy Cows
East Bay Animal Advocates (EBAA), a San Francisco Bay Area-based animal advocacy organization, unveiled the findings of its investigation of the California dairy industry.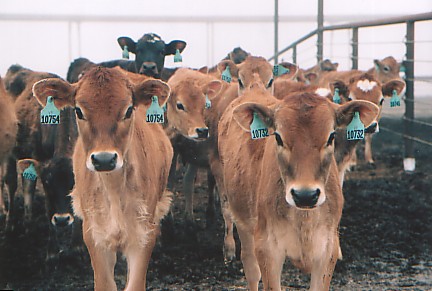 The group's graphic documentation ( available at
http://www.insidedairyproduction.com
) reveals systematic animal neglect at dairy farms across the state. EBAA documented conditions at farm operations in five of California's top producing dairy counties (Merced, San Joaquin, Sonoma, Stanislaus, and Tulare).
Each year the California Milk Advisory Board spends $37 million to promote the Happy Cows marketing campaign.
"The Happy Cows advertising demonstration contrasts with the life of the modern California dairy cow," states Christine Morrissey, director of East Bay Animal Advocates. "Despite exceptional economic and agriculture growth, California's dairy practices have a detrimental effect on animal welfare, environmental sustainability, public health, and occupational safety."
In California, dairy concentrated animal feeding operations commonly confine several thousand cows on limited acreage. Cows are denied adequate protection from severe weather conditions. The pasture-less dry lot system increases the incidence of infection, disease and injury among the cow population.
According to California's South Coast Air Quality Management District, California dairies pose a serious threat to humans living in surrounding rural communities.
In 2004, the California Pollution Control Financing Authority allocated $70 million in state bond funds to expand large dairy operations, which produce significant amounts of pollution from cow manure.
Founded in 2003, East Bay Animal Advocates is a nonprofit organization based in the San Francisco Bay Area. Through education and rescue efforts, EBAA works on campaigns to defend animals harmed in agriculture, entertainment, fashion, households, research and beyond.
For more information:
http://www.insidedairyproduction.com