From the Open-Publishing Calendar
From the Open-Publishing Newswire
Indybay Feature
Spring rebellions show student-workers, unions and community a potent force
Although carefully concealed or downplayed by the big business media, burgeoning campus rebellions and related struggles are rising to a fever pitch across the United States, Canada, Puerto Rico and elsewhere.

Student-workers, unions and community a potent force
Spring rebellions show signs of a growing movement
By Bryan G. Pfeifer
UMASS AMHERST -- Although carefully concealed or downplayed by the big business media, burgeoning campus rebellions and related struggles are rising to a fever pitch across the United States, Canada, Puerto Rico and elsewhere.
Throughout the spring 2005 semester hundreds of campus community actions including boycotts, counter-recruitment protests, hunger strikes, tent cities and walkouts have taken place with the peak of activity thus far happening the week of April 18-22.
Many of these actions are in response to budget cuts in relation to the U.S. war on Iraq, union contract struggles, education and fee hikes, military recruitment, living wages and union recognition for campus workers.
A21 at UMass Amherst:
'No contract? No peace: Hands off student organizations!'
"If we're going to fight against oppression we have to fight all oppressions. Everything is connected. We have to unite. If we don't unite the students, faculty and community nothing is going to happen," said a Venezuelan graduate student and teaching assistant while picketing at the University of Massachusetts-Amherst April 21.
This international graduate student, a member of the Graduate Employee Organization-UAW Local 2322, who requested anonymity due to the increasing repression of the Department of Homeland Security, walked out with her union sisters and brothers and thousands of undergraduate students boycotting classes in solidarity (
http://www.geouaw.org
).
GEO, with a membership of 2,400, has been working without a contract since July 1, and has been bargaining with the administration for over a year. Other campus unions are in similar circumstances. About 18,000 undergraduate students and 6,000 graduates students attend UMass-Amherst.
The union called the one-day walkout in response to the administration's proposals of real wage and health-care cuts, an end to health benefits for currently covered same-sex couples, and drastic increases in child-care costs. Escalating protest actions beyond A21 will increase if the administration continues to bargain in bad faith says GEO.
"UMass-Amherst is the flagship campus for the state, but we fear that the flagship is sinking," said Jen Turner, GEO president. "These proposals would hurt graduate student employees, hurt student organizations, and hurt the Commonwealth of Massachusetts, eroding the quality and accessibility of education for all."
The graduate students and their allies in the Take Back UMass Coalition, the student-worker coalition representing undergraduates, the Massachusetts Society of Professors and many others came out en masse on A21 in solidarity with GEO.
They also protested the administration's plans to strip undergraduate student organizations of their independence and power by placing undergraduate student organizations under administration control (
http://www.takebackumass.com
).
The issues: a broad struggle
Last fall UMass-Amherst witnessed a series of very public racist incidents involving several outgoing leaders of Student Government.
The weekend of September 24-26, 2004 pictures surfaced depicting nine senior student government officials celebrating a Ku Klux Klan caricature in a student organization office.
A 500-person "Rally Against Racism" October 6 began a months-long campaign to repel the racists and to demand that the UMass administration's institutionalized racism and oppression of students of color, lesbian, gay, bisexual and transgender students and women end.
A few weeks after these photos surfaced GEO received a series of emails from an anonymous source revealing conversations between Vice Chancellor of Student Affairs Michael Gargano and the racist student leaders. The emails detailed plans to undermine progressive student actions in the Student Government Association and campus generally as well as various racist tactics to attack then Latin@ SGA President Eddie Bustamante.
These events were indicative of a racial climate on campus so hostile that the campus administration was forced, largely for public relations purposes, to assemble an outside panel of experts to advise it on how to address the problem (
http://boston.indymedia.org/newswire/display_any/28901
).
The Commission on Campus Diversity spent five months meeting with students, parents, faculty and community members to find ways to address and improve the situation, releasing their recommendations in early February in an 86-page report.
On the first day of Spring Break, Chancellor John Lombardi released a 17-page proposed "action plan" in response to the Commission's recommendations. (
http://www.umass.edu/campusdiversity
) with a two-week comment period, one of which was spring break week. After this he said the plans would be implemented.
After massive resistance from the campus community to his original plan and the brief time allotted for comments to the proposal, the administration extended the comment period to April 22.
In response to the protests Lombardi re-issued another "action plan," this time at 33 pages but it still contained the same proposal to "reorganize" student organizations.
Although Lombardi claims his plan will improve diversity and inclusion at UMass, it unfortunately has little to do with these issues and completely ignores most of the Diversity Commission's recommendations according to Mishy Leiblum of Take Back UMass.
"Instead, Lombardi has proposed the most sweeping reorganization of student affairs in over three decades, and the creation of a new centralized bureaucracy unaccountable to students or other members of the campus community. If Lombardi's proposal is implemented, all student organizations will be consolidated under this new centralized bureaucracy, stripping them of their independence and limiting their programmatic control," said Leiblum.
"Fortunately two of the commission members have drafted an alternative to the Chancellor's plan, the UMass Community Action Plan, which has been endorsed by a wide array of faculty, students, staff and community members," added Leiblum.
"This plan implements all of the Commission's recommendations, and most importantly leaves the programming and organization of student groups where they are most likely to succeed: with students."
The administration's bad-faith bargaining with campus unions and attacks on student independence and power are happening at the same time of increasing police militarization of campus and administration consolidation of financial, banking, and military interests most boldly represented through the UMass Foundation (
http://foundation.umass.edu
) (see related article).
This proposed dismantling of independent student power on campus, if successful, will also have national implications. Private and public universities will take UMass-Amherst's lead to neutralize or quash dissent precisely at a time when student-worker resistance-undergraduate and graduate-is on the rise.
At A21 Thomas Coish, president of SEIU Local 888 that represents 1,100 administrative, clerical and professional staff at UMass-Amherst, put a spotlight on this development and the increasing capitalist orientation at UMass Amherst and public universities in the U.S. He also described what he sees as the calculated tactical moves by the administration to divide and attack students, especially students of color, from union members and other workers on and off campus.
A significant number of 888's members work for student organizations directly or indirectly and many directors like Nelson Acosta who leads the Office of (African, Latin@/Asian/Pacific Islander/Native American) affairs, are threatened by an administration consolidation. Lombardi's plan "has everything to do with centralizing control" in the hands of the administration said Coish. Lombardi's proposed "Center for Student Development," could possibly result in the loss of union jobs through downsizing, attrition and forced retirement.
And if Lombardi's somewhat merger-type plan is carried out, the first student groups to lose facilities and funding will be progressive and left-wing student organizations which will also reduce the power of campus unions and other progressive sectors on campus to fight back.
But, as Coish looked out at the hundreds of students assembled on the Student Union lawn, he like many others at A21, expressed optimism about the diverse anti-racist working-class movement coming together on campus.
"The administration needs to open its ears to what's happening today. This isn't the end of this. There will be other actions between students and labor about labor issues and diversity."
An injury to one is an injury to all
The faculty union, the Massachusetts Society of Professors-National Education Association, supported A21 by issuing a petition solidarity statement with the boycott and walkout:
"Undergraduate students and graduate student employees, concerned about campus diversity and about cuts in real wages, have called for a day of action - a class boycott for undergraduates and concerted action for graduate students - on Thursday, April 21. I pledge not to penalize those who participate in these activities because of a principled commitment."
Over 200 faculty members signed this statement in a few days and it was published as an ad in The Daily Collegian, the campus' undergraduate student newspaper.
The MSP, GEO and the Take Back UMass, have jointly advanced five key demands: Support the Community Action Plan, not Chancellor Lombardi's student "reorganization" plan; increase the number of faculty in classrooms and labs; no cuts to real wages or benefits including same-sex domestic partner ones; student control of student organizations and fair contracts for all campus unions.
A21 received numerous letters of support or acknowledgement from unions, labor councils and federations in Western Massachusetts and elsewhere including the AFL-CIO. Participants included members of AFSCME, the Massachusetts Nurses Association, the Massachusetts Society of Professors, members of Local 2322's executive staff, the Million Worker Movement, the National Writers Union, the Sheet metal workers, the Steelworkers, Pioneer Valley Labor Council members, SEIU, the UFCW, the University Staff Association and U.S. Labor Against the War. Many members of progressive campus community organizations attended.
Media coverage included local, state and national press including from the progressive radio program Democracy Now!
Many popular progressive fighters like Howard Zinn also expressed support.
"I would like to express my solidarity with the graduate students at the University of Massachusetts, Amherst , in their struggle for justice at the university. Graduate students have too often been exploited as cheap labor by academic institutions, and it is refreshing to see them organizing and demanding their rights. I hope the students, faculty, and staff at UMass Amherst will stand together in support of your campaign," said Zinn in an A21 statement of support.
Amanda Ciafone, a member of the Graduate Employee Student Organization-UNITE-HERE at Yale traveled to UMass Amherst in unity and solidarity with the actions there (
http://www.yaleunions.org/ges
), (
http://www.unitehere.org
).
Yale and Columbia called a joint strike for the week of April 18-22, some say for the first time in "Ivy League" history.
This action follows the one-day walk out by members of the University of Michigan graduate student union in March.
These strikes are the first by "Ivy League" graduate students since the National Labor Relations Board ruled in July 2004 that graduate students at private colleges are students, not workers, and cannot form unions. This reversed a 2000 NLRB ruling in which graduate students had won the right to organize as workers. So now at private universities the administration must agree to voluntary recognition. The administrations at both Columbia and Yale staunchly refuse to recognize graduate student unions.
The graduate student-workers at Yale and Columbia that took part didn't teach classes, grade papers or host review sessions this week. Their demands include health care for family members and a grievance process that would allow student teachers to raise concerns with the universities.
Ciafone's union has received "amazing support" from the clerical and maintanence workers, the campus community and organized labor in the U.S. and elsewhere. She said on April 20 six busloads of GESO members and supporters from Yale traveled to New York City for a "Rally for Justice" to support Columbia graduate student-workers, organized as the Graduate Student Employees United-UAW Local 2110 (
http://www.2110uaw.org/gseu
). Other buses in the Tri-state area surrounding New York also attended. The Columbia union website posted letters of solidarity from labor unions in Australia, Korea, Hong Kong, Brazil and elsewhere.
"People are coming together right now which is very exciting. I believe this is a national movement that is beginning to form a new vision for the academy," said Ciafone.
'We shut down campus'
To build for A21, GEO, Take Back UMass and the MSP, held over 50 teach-ins informing over 9,000 graduate students about issues related to the current struggles.
Outreach was conducted through banner drops, email list serves, intervening in campus tours, letters sent to prospective parents and students, a media campaign, posting on hundreds of campus bulletin boards, the distribution of 18,000 leaflets by GEO alone and thousands more by Take Back UMass and MSP, and web site postings.
"We tried to put a flyer in every students hands. All this work took a tremendous amount of organization," said Mark Nelson, GEO's grievance coordinator.
At 7 a.m. pickets went up at the UMass-Amherst campus' Southeast and Southwest entrances receiving honks of support from passersby including many campus union workers arriving at work.
At 9 a.m. pickets went up at four of the most student trafficked buildings on campus, Bartlett, Machmer, Herter and Lederle. These buildings house dozens of GEO teaching and research assistants, faculty and staff offices. Departments such as English, History, Comparative Literature, and Women's Studies, whose faculty and teaching assistants teach thousands of undergraduates, are also in these buildings as are the classrooms many of these students are taught in.
According to GEO picket captain Dan Lutz, at least 100 graduate students and allies participated in picket lines at all four buildings. Lutz said no classes were taught in these buildings and some teaching assistants met their students inside and led them out to the picket lines or to participate in outreach.
GEO members and allies on the picket line held a sea of blue "No contract, No peace" placards at all locations.
They had a lot to say about their working conditions and campus life.
The administration's bad-faith bargaining is "a slap in the face and it's disrespectful for the work we do here," said Emmanuel Harris, a sociology graduate student and GEO member picketing at Machmer.
Mazen Naous, an English graduate student and GEO member picketing at Bartlett said: "The university wants to cut back on everything we've gained so far."
At Bartlett GEO member and Comparative Literature graduate student Kanchuke Dharmasiri, said the administration is undermining diversity on the campus and is "cutting down on the funding and contracts," for graduate students.
Milton, a Kenyan international graduate student in Comparative Literature picketing at Machmer, said he's "in solidarity with students" and "strengthening the diversity component is crucial." He said that an inclusive environment and recognizing student-worker's basic needs for living wages and benefits "makes your family comfortable and makes you feel at home here," and the administration is not committing to this.
Kat Jones, a Sociology graduate student and GEO member, holding a "support same-sex domestic partner benefits" placard said she came to the picket at Machmer because she cares about childcare, healthcare and wages. "The university doesn't value our contributions. The university doesn't seem to put a priority on graduate and undergraduate students."
Undergraduates also walked the picket lines holding GEO placards and others that read: "Class Boycott today," "Students 4 GEO," "Money for Jobs Not for War: Military Recruiters Out of Our Schools," "Undergrads support your TA's" "Unity Makes All Students Strong."
Chants from bullhorns such as "No contract, no peace" "What do we want? Contract: When do we want it? Now," and "Racism? No Way," "We're 'gonna beat back these racist attacks," "Whose school? Our school," "No healthcare? No peace," "No child-care? No peace," and "Hey Hey! Ho Ho!: Lombardi's plan has got to go," could be heard all over campus.
A "Critical UMass Unity Ride" of over 100 flying picket bicycle riders traversed campus between picket lines distributing leaflets, chanting and engaging in picket line support.
The rider's leaflet declared their action was to "support the graduate student's walkout and undergrad student's boycott and their fight for a fair contract and to build solidarity among peaceful, pro-union, anti-racist, anti-sexist people…"
MSP member Mark Brenner and GEO Organizer Amanda Plumb also traveled between picket lines in a pick-up truck covered in blue "Fair Wages, Healthcare and childcare" GEO signs. They carried picket line supplies and brought forth chants and music booming from a sound system on the flatbed.
The students were ready for a visit by Massachusetts Governor Mitt Romney when he tried to sneak into a Massachusetts Board of Higher Education meeting in Goodell Hall where pickets moved to confront him. Romney, instead of using the front entrance where media were present, attempted to slither in through the back service entrance but was confronted by 50 pickets chanting slogans at deafening volume with back up from the pick-up sound system.
Inside as Romney addressed the board, over 20 pickets held aloft union placards. GEO rank-and-file members said Romney looked very nervous, spoke haltingly, quickly finished and slithered back out the service entrance where his limo was waiting to whisk him away.
In response to this, John Donahue a Labor Studies graduate student and GEO member, raised the very popular call-and-response chants over the bullhorn: "When I say Romney you say rat" and "When I say Romney you say fink." Donahue at various points exchanged Lombardi and UMass System President Jack Wilson for the fink and the rat.
Pickets at Goodell moved after being threatened with arrest by campus police. A cop on a "riot-equipped" horse ordered dispersal, telling students that they were interrupting the Board meeting.
But David Kotz, a professor of economics who was in the meeting, said he could barely hear the pickets chanting. In a letter to Chancellor Lombardi, Kotz denounced the police and the administration for what he sees as an act of disrespect and a suppression of student's rights to free speech. He described in detail the numerous times he and his colleagues have called the administration to ask them not to schedule construction during class times outside of Machmer hall. Kotz said his Department Chair was told "to deal with it" when she called the administration to register a grievance.
"The lesson? It seems that our top university officials see no problem with scheduling construction in such a way that it outright stops the instruction process. Instruction is evidently expendable. However, the sounds of protest must not be allowed to intrude on the tranquil setting that our top officials require to conduct their business. That is the message the administration sends to faculty and students. It does not make us proud of this university," wrote Kotz.
In response, Lombardi wrote back, "I too was in the room and observed what you observed. I do not know about the incident you describe but I will look into it. Thanks for bringing this to my attention. John."
From 9 a.m.- noon teach-ins for undergraduate students led by faculty members and graduate students from the Art, Communications, Comparative Literature, Economics, Education, History, Labor Studies, Political Science, and Sociology departments took place at the Student Union.
At noon all pickets converged in the Student Union area to hear an update on the day's events, to call legislators, and to enjoy cultural events as well as a barbeque prepared by the independent student organizations Earth Foods and People's Market.
Barbara Ehrenreich, noted author of "Nickel and Dimed" and a UAW-National Writers Union member, was the day's featured speaker. She said that the UMass struggle is a part of "a larger nationwide context of an all-out assault on working people and people of color."
She gave as examples attacks on same-sex marriage rights and benefits, the UMass administration's reorganization plans, the multi-million dollar union-busting industry, the destruction of AFDC which she said was largely a racist, misogynist attack on working women, the attempted privatization of social security, the new bankruptcy law, and increasing health insurance costs and/or no healthcare at all.
Under cover of the war in Iraq "there is a war going on right here" in the form of "low-wages, inadequate benefits and shrinking safety nets," said Ehrenreich. But the "real importance of today's walkout and boycott lies" in the resistance and movement building at UMass-Amherst and elsewhere.
Pavel Payano, newly elected Student Government Association President and Take Back UMass member, summed up the day's mood among participants: "The day was "very successful. We shut down campus. It shows how much this community supports us."
Students and workers: Unitin' and fightin'
A placard, "Students and workers unite for justice," carried by an undergraduate student at a March 31 rally of over 600 at UMass-Amherst aptly represents an embryonic movement now building on the campuses (
http://boston.indymedia.org/feature/display/34745/index.php
).
A short list includes:
 On April 21 at UW-Madison undergrads, grad students, academic staff, and campus union workers protested cuts to public education and public employment from the state government. They marched up State St. to join AFSCME and other union workers -- teachers, clerical workers, janitors, from across the state at the Capitol building. AFSCME international president Gerald McEntee spoke before 5,000 strong.
"We want to send a message to both the Republicans and Democratic governor Jim Doyle that budget cuts to UW system and proposals to
contract out state jobs to private companies is not only fiscally irresponsible, but will decrease quality of life in Wisconsin," declared a writer at Madison Indymedia.
 Rutgers students built the first "Tent State University" to protest the slashing of the state education budget in 2003 (
http://www.tentstate.com
). The slogan at Rutgers' tent city this year is "Education not War," and the tents are now up at other state universities as well including the University of Texas at Austin, University of Missouri-Kansas City, Ohio State. At UC Santa Cruz despite 19 students being attacked and brutalized by a campus police riot under the auspices of the administration April 19, the tent protest against education, fee hikes and the war continues (ucsc.tentstate.com).
On April 20 thousands of students walked out of UC System schools to protest education cuts, and tuition and fee increases proposed by California Governor Arnold Schwarzenegger, described as "the people's governor," on the state of California's web site.
 A National Student Labor Week of Action organized by the Student Labor Action Project, a partnership between Jobs with Justice and the United States Student Association. The week began March 31-the birthday of United Farm Workers founder Cesar Chavez-and ran through April 4, the anniversary of the assassination of Dr. Martin Luther King.
During the week at the University of North Carolina in Chapel Hill, about 200 students and allies rallied against Aramark dining services on behalf of a worker fired while trying to form a union. Students also took part in the AFL-CIO's March 31 National Day of Action to protect social security, the largest grassroots mobilization to date to save this vital public service from privatization. At Washington University on April 4 over 20 students occupied and began sitting-in the admissions office to demand a living wage for the janitors, cafeteria and other low-wage workers at the schools main campus in St. Louis. They are still there. Fifteen students ended a six-day hunger strike April 16, after the administration agreed to meet with them for negotiations.
 According to a post by Rev. Oscar Lucion, at Boston Indymedia, "On Friday, April 15, 2005 over 1,000 students, professors and administrators gathered in support of ending discrimination against members of the Gay, Lesbian, Bi-sexual, and Transgender (GLBT) community at Boston College. As student organizers called for a university strike, hundreds of students opted not to attend classes, with dozens of professors expressing their solidarity by canceling their sections.
Lucion, added, "The official notice of non-discrimination for Boston College does not offer any legal protection from discrimination for members of the GLBT community. In fact the clause is written in a manner to deliberately invoke an exemption from Massachusetts anti-discrimination laws. For over a decade students and faculty have worked to get 'sexual orientation' included in the statement, but their requests have repeatedly been rejected by the University."
(
http://boston.indymedia.org/feature/display/35210/index.php
)
 Campus anti-war resistance, most prominently varied forms of defiance to military recruiting is increasing. According to the Campus Anti-War Network, a campus anti-war coalition, conferences, teach-ins, walkouts and more have taken place to protest the war in Iraq and to demand money for people's needs instead of war (
http://www.campusantiwar.net
).
Since September 2001, hundreds of thousands, if not millions, of students have participated in the anti-war movement. The most recent national actions have been the "Troops Out Now" March 19 demonstrations in New York City and the Military Families Speak Out demonstration in Fayetteville North Carolina at Fort Bragg, North Carolina. That same weekend International ANSWER (Act Now to Stop War and End Racism) held demonstrations on the West Coast. Since then actions have continued including an April 16 New York City conference sponsored by No Draft No Way.
According to the April 21 Final Call online edition, this counter-recruitment organization held nationwide actions March 31 to oppose a possible upcoming draft.
The Final Call quoted long-time War Resisters League activist Ruth Benn, arrested in front of a recruiting station in Brooklyn, N.Y. on Mar. 19. "We march to military recruiting stations to demand an end to wasting young lives in war. Many of us will put our bodies between the recruiting stations and the young people they want to use as war fodder," Ms. Benn said.
The Associated Press reported on April 21 the Senate passed an appropriation bill for $81 billion more for the U.S. occupation of Iraq. The House is expected to pass the same bill soon. This is on top of the at least $200 billion spent on the occupation thus far, much of this money coming from social programs such as education, childcare housing and healthcare which intimately affects poor and working-class students, especially students of color and women.
 According to the AFL-CIO, after a three-year campaign and a nine-day hunger strike last month at Georgetown University in Washington D.C. "students…won their fight to secure living wages for university workers. The administration agreed to raise the minimum wage for campus workers to $14 an hour. Currently some workers earn less than $9 dollars an hour in a city where cost-of-living increases continue to skyrocket.
 And, according to AP reports, tens of thousands of students took to the streets of Quebec in late March to protest education cuts, and tuition and fee hikes.
Likewise in Puerto Rico over the past two week all 11 of the University of Puerto Rico's campuses have been shut down due to a student's general strike.
As a frequent traveler across the United States, Ehrenreich is seeing this movement build.
She is hopeful and excited about its prospects, especially the increasing anti-racist working-class unity and solidarity.
"They want us scared to protest, to come together, to organize. Fear is contagious. But courage is too. But defiance is too."
-- 30 --
Pfeifer is a Labor Studies graduate student at UMass-Amherst and a GEO member,
http://www.geouaw.org
.
For more information or to join the UMass-Amherst struggles see:
http://www.geouaw.org
or
http://www.takebackumass.com
.
© 2005 Bryan G. Pfeifer. Article may be used in full or in part provided full attribution is given to author.
Union labor donated.
-- END --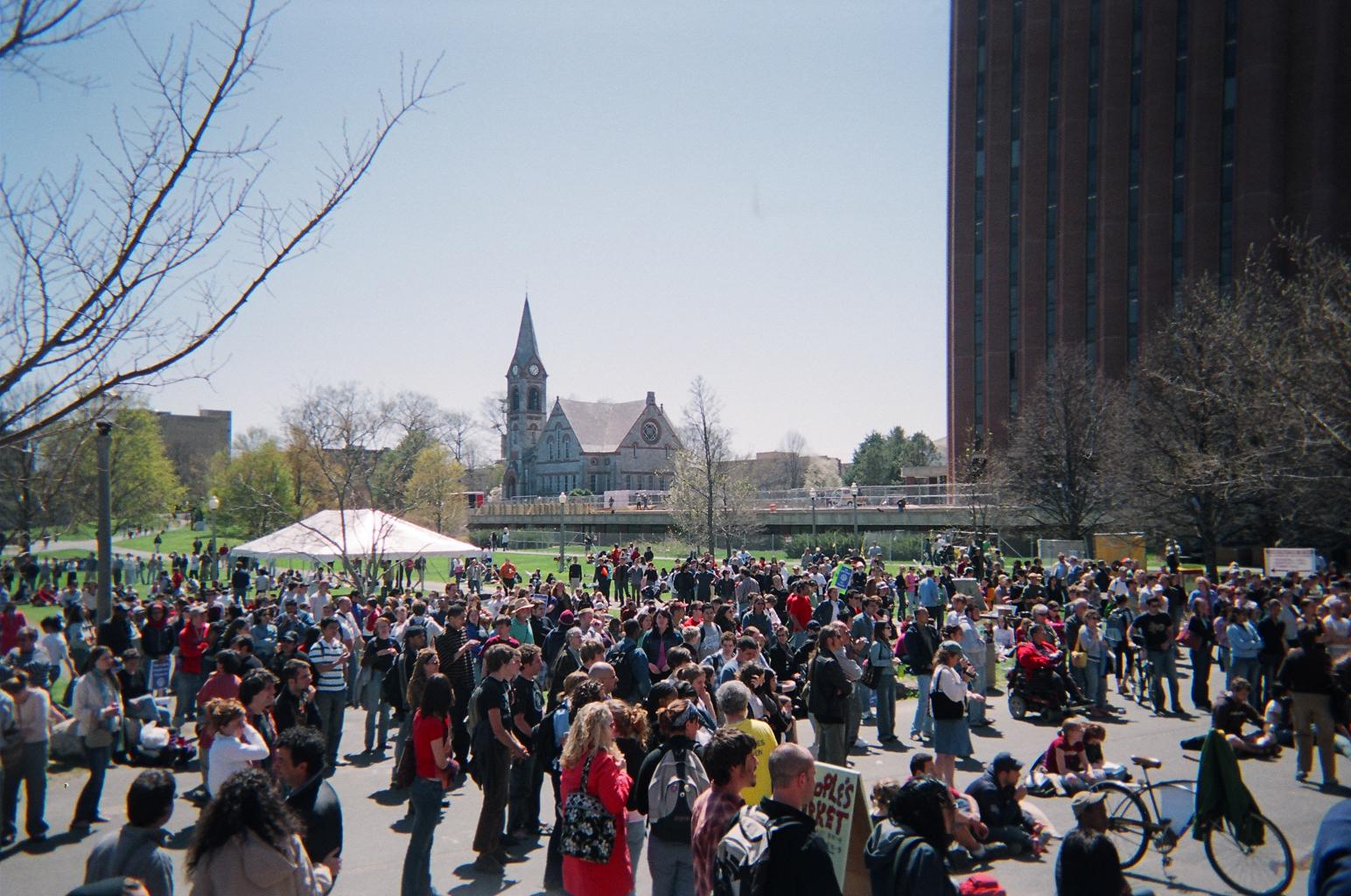 We are 100% volunteer and depend on your participation to sustain our efforts!
Get Involved
If you'd like to help with maintaining or developing the website, contact us.