From the Open-Publishing Calendar
From the Open-Publishing Newswire
Indybay Feature
State justices refuse PETA a hearing on the life of cows
The court denied review without comment.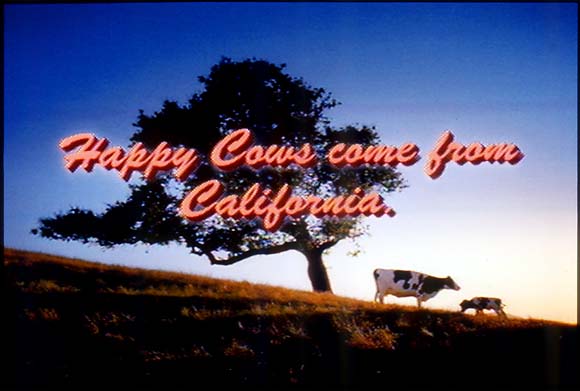 Thursday, April 21, 2005

Whether the cows in a state milk board's ads are really happy is apparently none of the California courts' business.

The state Supreme Court denied review of an appeal Wednesday by People for the Ethical Treatment of Animals, which sued the California Milk Producers Advisory Board in December 2002. The board's ads, funded by dairy farms, showed cows grazing in green pastures with the slogan, "Great cheese comes from happy cows. Happy cows come from California.''

Actually, PETA declared, California dairy cows commonly spend their lives in dirt and mud, are repeatedly impregnated and milked throughout their pregnancies, often suffer painful maladies and are slaughtered when they can no longer meet the industry's production demands.

A court may not be able to tell whether cows are truly happy, the animal- rights group said, but it should decide whether consumers are being misled.

But San Francisco Superior Court Judge David Garcia ruled that the milk board could not be sued for false advertising or unfair business practices, the two laws invoked by PETA. He said they can be used only against individuals, companies and private associations.

A Court of Appeal panel in San Francisco agreed with Garcia in January, saying past rulings had established that government agencies are immune from lawsuits over their ads.

Complaints about a state-run agricultural marketing program must instead be filed administratively with the state director of food and agriculture, the court said.

PETA's appeal to the state's high court argued that the appellate court had improperly narrowed the law. By authorizing suits over unfair and deceptive practices, the Legislature intended "to give consumers the direct power to protect themselves from harm, even when that harm comes from the government,'' attorney Bruce Wagman said.

The court denied review without comment.

The case is PETA vs. California Milk Producers Advisory Board, S131634.


We are 100% volunteer and depend on your participation to sustain our efforts!
Get Involved
If you'd like to help with maintaining or developing the website, contact us.