From the Open-Publishing Calendar
From the Open-Publishing Newswire
Indybay Feature
Pro-war activists on the UCB campus protest for military recruitment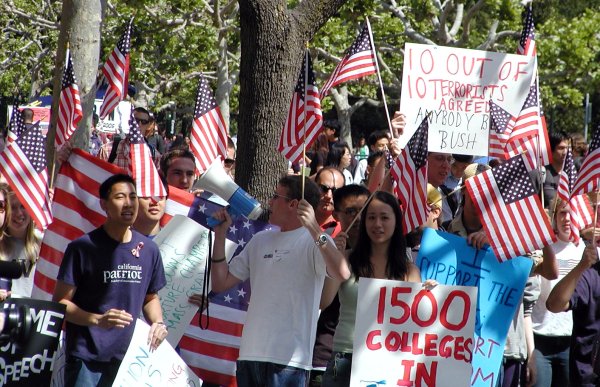 As anti-war protesters gathered at 10:30 to prepare for a counter-recruitment rally, a single pro-war activist with "Protest warrior" sat off to the side looking nervous. About an hour later, a crowd of Berkeley Republicans gathered around the Republican Party table on the other side of Sproul Plaza and the group moved toward the anti-war protest trying to shout down the speakers.

The pro-war signs were rather interesting. Some mainly mentioned personal connections to serving soldiers. Others talked about allowing ROTC to have freedom of speech (a strange demand since the recruiters were not with ROTC and the university barred anti-war protesters from bringing signs into the building but had less of a problem when the pro-war people went inside) One sign told protesters to support recruitment since it prevents a draft. The common theme was one of support for the Iraq war combined with a desire for recruitment so serving soldiers could come home and Berkeley students wouldnt have to be drafted.

Among the crowd of mainly first and second year undergraduates were several filmakers making a film demonizing political activism on college campuses (one of the men who was doing sound was wearing a Stalin t-shirt probably as a joke but perhaps since Stalin hated dissidents too). Another person who took part in the protest was a shady local businessman named Sameer Parekh who made millions posing as a civil libertarian while promoting software that allows the current level of email spam (for anyone who thinks the open source computer counterculture is in some ways progressive you only have to look at Parekh to see how groups like the EFF mainly stand for freedom for those with money and power and care little for those on the other end of Bush's economic policies or US bombs)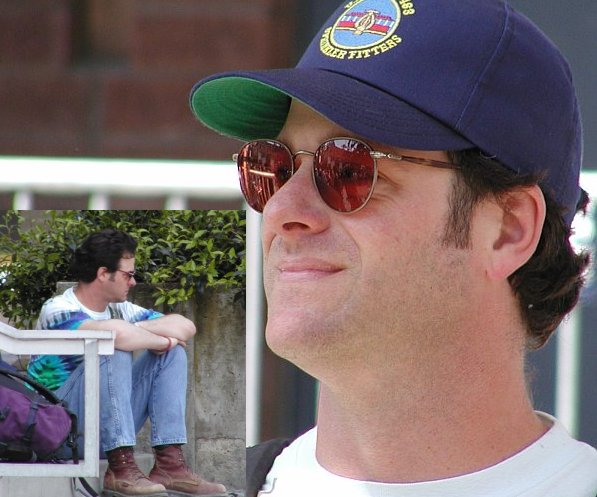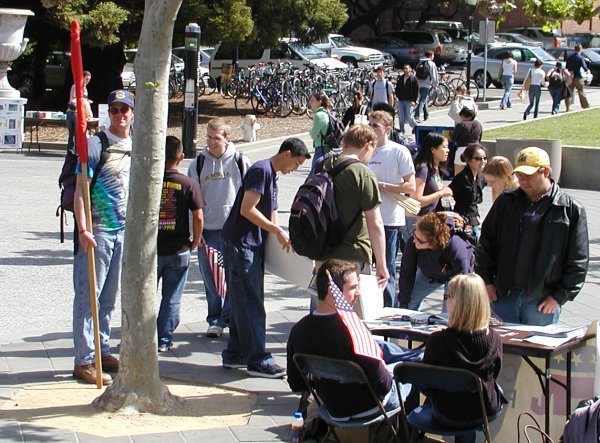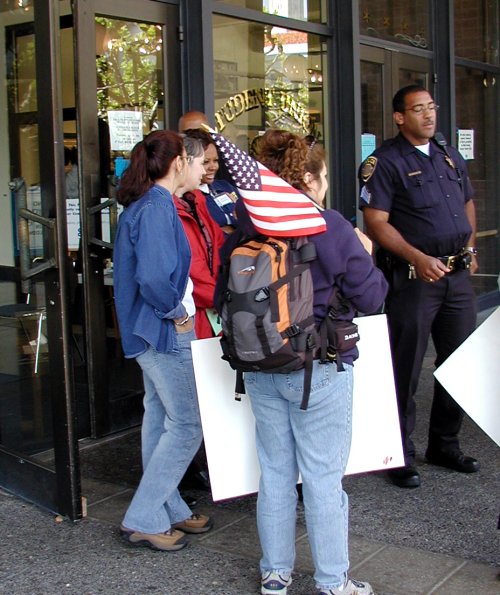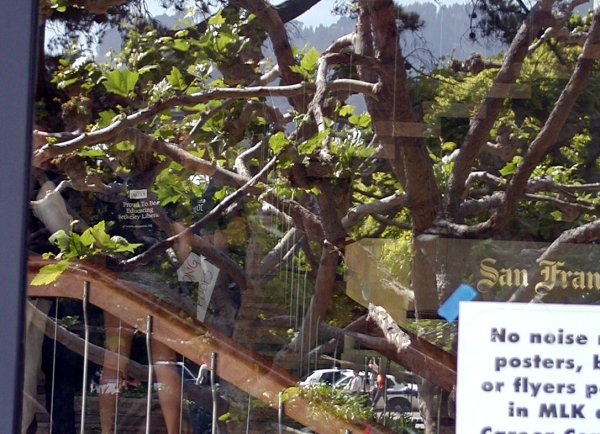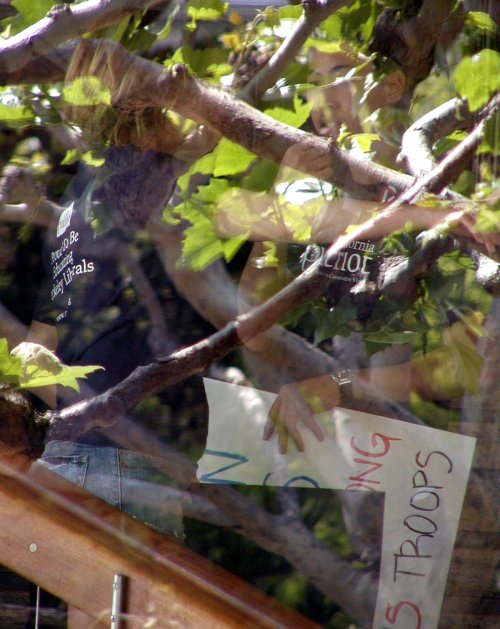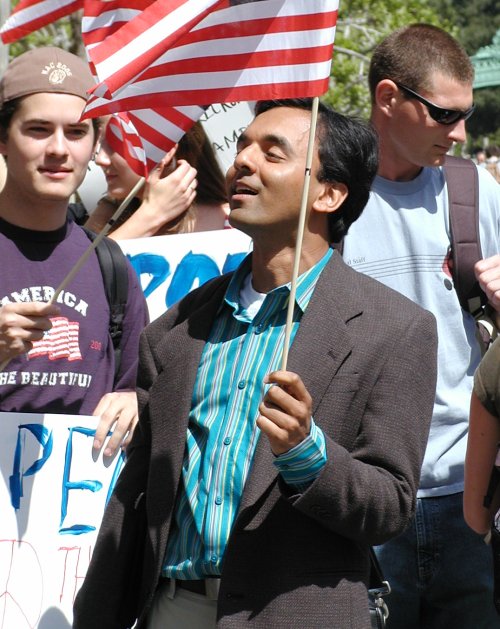 Sameer Parekh: From rave DJ, writer of anonymous remailers to allow spamers to operate and promoter of secure communications for money laundering to "Republican" organizer.
Proof that too much money and taking too much MDMA can turn a liberal young computer programmer into a right wing fascist:
http://www.linuxjournal.com/article/2342
http://www.mccullagh.org/image/6/sameer-profile.html
http://www.mccullagh.org/image/4/sameer-smile.html
http://www.eff.org/legal/cases/EFGA_v_GA/960924_c2.affidavit
http://www.calpatriot.org/staff.php?staffID=44
Join the Fun at EFF's VIP Party with Wil Wheaton!
"Former technology entrepeneur and cypherpunk Sameer Parekh, now an electronic musician and event promoter, will play a mix of fresh minimal techno and electro for your aural edification."
http://www.eff.org/effector/HTML/effect15.25.html
"THIS IS A COOL HOLIDAY," says Sameer Parekh over a July 4 breakfast in a cafe near the University of California at Berkeley. "It\s the day we celebrate overthrowing the government."
A disheveled 22-year-old, 135 pounds, shirttails down to the knees of his jeans, with a 4-inch black goatee hanging from a cherubic face, Parekh is no violent revolutionary out to establish a dictatorship of the proletariat. Parekh is a libertarian of a new sort. His weapon: software.
http://www.forbes.com/forbes/1997/0908/6005172a.html
" At the FC (Financial Cryptography) conference held in Anguilla in 1998, I met Sameer Parekh, Ryan Lackey, John Gilmore and many other notable figures in fighting the war for Freedom and Privacy online."
http://www.seanhastings.com/havenco/datahaven/datahaven_chapter_1.html
When I meet Sameer 10 years ago he hung out with radicals but was way into computer security for reasons that always seemed vague. He called himself a Libertarian because he opposed police repression and was always asking about finding places to score drugs. Libertarians with money whose main reason for radicalism revolves around getting high always seem like they will become Republicans when they get older but Sameer seemed different since his goal in life seemed to be to create secure communications that would allow anyone to communicate internationally without the government listening in. While radicals always like to talk about security culture, one has to look at who benefts from the technology to understand why its also supported by the far right. The only people who really needed the high level of security Sameer's software offered were those who needed to hide money offshore and perhaps groups like Al Qaeda. Perhaps guilt over those who made use of his software drove him to become pro-war (something pretty inconsistent with being a Libertarian) after 9/11, but its more likely he was just corrupted by money and found common cause across issues with those supporting mass slaughter in Iraq since they also supported reducing his taxes (so he wouldnt have to help support the poor people who kept getting in his way as he wandered around Berkeley).
Its always weird to see cultural liberals who couldn't survive a week in a "red state" due to their sexual preference and support for drug legalization promoting the Republican party on the Berkeley campus. But anyone whose idea of freedom mainly involves secure movements of money to offshore accounts probably doesnt worry too much of the cultural right taking over since there is always somewhere safe to fly off to.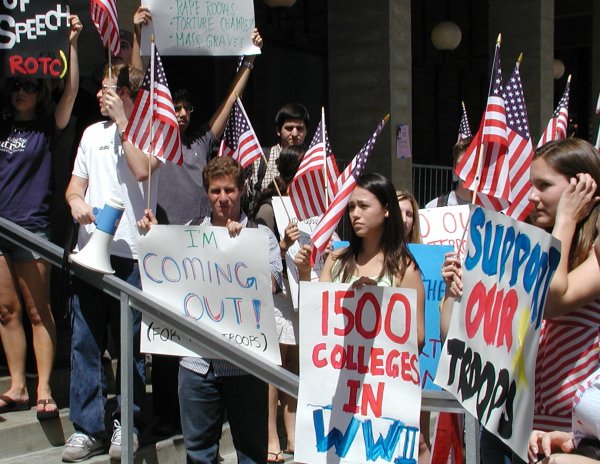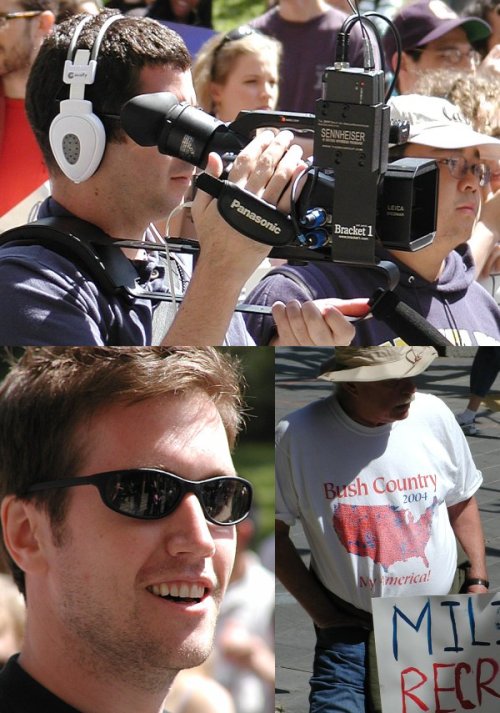 The guy with the red-state shirt wasn't with them.
We are 100% volunteer and depend on your participation to sustain our efforts!
Get Involved
If you'd like to help with maintaining or developing the website, contact us.