From the Open-Publishing Calendar
From the Open-Publishing Newswire
Indybay Feature
Angie and Audrey Osborne in front of Jessie Morrow Mountain
Wahallich Revisited
Mike Robe
Author's note: I recognize that the word "white"—a mistake of racism--is just as mistaken as the word "Indian", a mistake made by that ur-racist Colombus who thought he had found India. Someday these mistakes and others, like "first" and "third" worlds, really will be mere "things of the past." There is only one world, one people, and one Mother Earth.
"History as Tragedy: the real Goliath"
A noted authority on the subject once said "history repeats itself, first as tragedy, then as farce." The history of engagement between Euro-American colonizers and the indigenous people of turtle island has been an endless repetition of tragedies. The dramatis personae of these tragedies vary little: government and corporations bent on the expansion of territory, technological culture, and profit; indigenous people subject to the policy of divide et impera ("divide and conquer") and riven by traditional and modern factions; and relatively poor and powerless "whites" on the border of "Indian" land with all manner of motives, interests, and sympathies.
The latest and most nearby performance of this tragedy is at Wahallich, also known as Jesse Morrow Mountain. Wahallich is one of our most beautiful and powerful nearby foothills. Visible from Fresno, it lies immediately to the north of scenic Highway 180 at Frankwood lane, just across from the old schoolhouse, now known as Sherwood Inn. Last month I reported on RMC Pacific Materials proposal for converting this mountain, sacred to the traditional Choinumni people, into a gravel pit. Not much in the facts of the RMC story has changed in the last month. Goliath has gotten a little bigger. Cemex—a Mexican construction materials multi-national—recently completed its $5.8 billion acquisition of RMC Pacific's parent company, RMC Group plc of London England. Cemex/RMC becomes the world's largest provider of cement, ready mix concrete, and other "materials" operating in over fifty countries and producing 97 million tons of cement annually. It also appears that Goliath has followed the tried and true historical path of exploiting divisions within the Choinumni. According to an e-mail from RMC Pacific President Eric Woodhouse, RMC's consultant, Greystone, hired two California State University anthropologists to begin the cultural studies portion of the Environmental Impact Report. But according to traditional Choinumni tribal member Angie Osborne, there has been no contact made with the traditional Choinumni regarding studies of sacred and cultural sites on Wahallich. But after all, what is Wahallich to Cemex/RMC/RMC Pacific? It is what nature is to any corporate giant and to many "white" people: natural resources and potential profit. It is a number on a ledger. It is a marker of profit at a moment in time.
Nevertheless at a more fundamental level, at the grassroots level, at the sedimentary level of history there are rumblings of change. David is starting to fashion a slingshot. (For those of you lacking faith, apparently a few weeks ago an RMC official out to check "the company's land" was up on Wahallich and was bitten by a wild pig. Take that!) On the evening of Wednesday, March 9th, at Sanger High School, over one hundred and fifty common people from all walks of life stood together in opposition to Cemex/RMC. The occasion was a public scoping meeting for the proposed Jesse Morrow Mountain project. At a scoping meeting the public is advised of the elements of the proposed draft Environmental Impact Report and informed that they may submit questions and comments to be considered in the report (the public comment period closed March 31). Representatives from Greystone, a consulting firm hired by the county but paid by Cemex/RMC, presented the elements of the project and an overview of matters to be taken up in the draft EIR. The response was emphatic: NO. No to RMC; no to the project; no to tearing up a mountain and a community for the profit of a multi-national corporation.
They say politics makes strange bedfellows. Well I can't see the Friends of Jesse Morrow Mountain actually sleeping together, but it was an one of the most extraordinary political unions I have ever witnessed: ranchers and Earth First!ers; conservative republicans and immigration rights activists; suburbanites and a wine-maker/bed and breakfast owner promoting agri-tourism standing with a lady who grows hay and with traditional indigenous people. When Fresno RANCOR/Sierra Nevada Earth First! activists carried a giant black and green banner reading "A MOUNTAIN NOT A MINE" onto the auditorium stage, the whole crowd erupted in sustained applause. It's true that the most hard-core conservative, free-market Republican will become an instant environmentalist when the methodical destruction wrought by Goliath comes to his backyard. But what's happening with Wahallich is more than a NIMBY phenomenon.
Fresno is beginning to wake up to what it means to be the colonized rather than the colonizer. The story of "first world" governments and corporations moving in to monopolize the "natural resources" of "third world" countries is as old as capitalism. It is what drove the near total destruction of the Choinumni people in the first place. It is what is driving the destruction of indigenous people in the last few remaining wild and free places on the planet—in the rainforests of southeast Asia, in the Amazon basin, in southeastern Mexico to name a few. Many people naively wonder why "we" continue to extend loans to countries that can never pay those loans back. But that is precisely the point. Mired in debt, these countries fuel global capitalism by providing a steady supply of cheap resources and cheap labor. (For an eloquent statement of this relationship see EZLN sub-comandante Marcos's statement on the eve of the Zapatista rebellion—"The Southeast in Two Winds: A Storm and A Prophecy"). By this logic, the logic of capitalism, Fresno has just what powerful materials multi-nationals and corporate builders need: cheap land and cheap "resources." From the perspective of multi-nationals, Fresno looks much the same as rainforest tracts on the islands of Sulawesi and Maluku or Anapu Para in Brazil or like Chiapas. And by the same logic, Fresnans are forced to stand in a resistance struggle for their land in much the same way as Demetrio do Amaral de Carvalho in Indonesia or Chico Mendes and Dorothy Stang in the Amazon or the Zapatistas in Chiapas.
Cemex/RMC proudly boasts that it will provide necessary "aggregate" for the next hundred years of growth in this area. But the Friends of Jesse Morrow Mounatin—both "conservative" and "liberal"—like citizens throughout this area are beginning to wonder whether one hundred more years of unchecked suburban sprawl is really what this valley needs. The friends of the mountain don't want a mine in anyone's backyard. Is that naive? Only if you think that unchecked growth is inevitable. It is not. Except for a few patches, here and there, in places like Wahallich, for instance, in the last one hundred years one of the most vibrant, verdant, fertile, magical natural places on this mother Earth has been converted into a vast agri-business, suburban wasteland. What would one-hundred more years of global capitalist expropriation bring? No, whether some would like to admit it or not, the friends of the mountain are saying the same thing as the Zapatistas—ya basta! Enough.
"Who controls the past controls the future. Who controls the present, now, controls the past."
A different future is as possible as a different telling of history; in fact one demands the other. A history of the valley appropriate for resistance to Goliath might begin with Thomas Jefferson Mayfield, known to his contemporaries as "Uncle Jeff."
Thomas Jefferson Mayfield was born in 1843 in Brazos County Texas. His father, William, had fought with Colonel Andrew Jackson against the British in the Battle of New Orleans and with Sam Houston in the Mexican War. [Do you feel the tragic ripples of historical repetition—Jackson, Indian killer, signer of the Indian Removal Act of 1830 and architect of the trail of tears?] Having helped annex half of Mexico, William Mayfield decided to try his luck in the newly acquired territory of California. The Mayfields started along the Santa Fe trail in 1849 but were turned back by government agents fearful of attacks by Mescalero Apaches defending their homeland. The government offered transport around South America, and the Mayfields landed in San Francisco in 1850. Traveling by horse and pack mule the family made its way south through San Jose and across Pacheco Pass along the route of the current highway 152. Of the family's first glimpse of the San Joaquin Valley, Mayfield writes,
The whole plain was covered with great patches of rose, yellow, scarlet, orange, and blue…. Some of the patches of one color were a mile or more across…. Several times we stopped to pick the different kinds of flowers, and soon we had our horses and packs decorated with masses of all colors. My daddy had traveled a great deal, and it was not easy to get him excited about wild flowers or pretty scenery. But he said that he would not have believed that such a place existed had he not seen it himself. Mother cried with joy and wanted to make a home right there in the middle of it all. For my own part, I have never seen anything to equal the virgin San Joaquin Valley before there was a plow or a fence within it.
From the Pacheco Pass and in the marsh lands of the valley Mayfield reports great numbers of elk, antelope, deer, badgers, foxes, ground squirrels, and sand hill cranes as well as abundant evidence of the great Grizzly Bear. As in so many settler accounts, the valley is described by Mayfield as simply "teeming" with life.
The Mayfields first headed to the Fremont Mines at Las Mariposas. But, finding the land all staked and claimed and a bedlam of ferocious activity, the Mayfields moved south, first to Fort Millerton on the San Joaquin river and then to the junction of Sycamore Creek and the Kings River near present day Centerville. The family was in constant contact with local, peaceful indigenous people. In fact, to help stop the Mayfields from hunting with guns, a practice that was scaring off game animals, the "Indians" (who hunted with bow and arrow and snare) regularly provided meat to the family.
Uncle Jeff's mother, Maria Mayfield nee' Curd, died shortly after their arrival at the Kings River. His father and much older brothers were gone for long periods, running cattle in the south valley, and, after much discussion, it was decided that seven year old Thomas would be taken care of by the local Choinumni Indians. Over the next ten years Uncle Jeff saw his father just three times, and for two three-year periods he saw no "white" people.
In the face of intense racism and violence against "Digger Indians" Uncle Jeff was able to achieve something very rare among "whites": a faithful transmission of some of the lifeways and wisdom of the Choinumni people. He relates much of their language, their generosity and scrupulous honesty, and their extraordinary facility with mathematics in which they could easily keep an accurate record of numbers into the millions without writing. He tells of their trips by tule raft down the Kings River to stay with the Tachi Yokuts people on Tulare Lake and the clam bakes that the people enjoyed there. He relates their gatherings and their games and their simultaneously exquisitely beautiful and ruggedly durable basketwork. For a young boy it is not surprising that he found their story-telling and music around the fire after dinner as a highlight of daily life. He describes the anarchical nature of their decision-making process with the chief being simply the most adept person at helping others settle any disputes and who, in failing this, would simply no longer be recognized as chief. Still, as is necessary in any anti-authoritarian, decentralized group, Mayfield observes that
On the whole the Indians I was with quarreled very little. An Indian can say less longer with more grace than anyone you will meet. The adult Indians very seldom quarreled or even argued with each other. In general they did very little useless talking. They were not so speechless as many people suppose, but they were not inclined to talk or gossip carelessly…. The Indians I lived with were great to joke among themselves, and they all enjoyed themselves. The [women] were well treated by their husbands. Before they got whiskey, I never saw an Indian man strike an Indian woman.
Mayfield remarks further that, in disciplining children, corporal punishment was never used. Of their ceremonies Mayfield knew very little as he was restored by the Choinumni to his father's care before coming of age for initiation into one of the ceremonial paths.
Mayfield is recounting a way of life and a way of wisdom that was the culmination of millennia. It is simplicity, a sense of balance among human beings and our mineral, water, plant and animal relations with whom we are companions on this Earth. It is something extraordinary difficult and imperative for restless people like us. When this begins to sink in one realizes that something has to give. More commercials on more tv's used to get us to drive more cars on more freeways to more shoping malls to buy more useless stuff to put in more Derell's mini storages is not compatible with Life in the full sense of the word. Something has to give.
Our possible future will begin in part with this possible history which helps to remind us how life, for all life, once was in this valley. In remembering we can begin a deeper, more meditative thinking, one which embraces all of the mystery of life in which we are a part. And in remembering and thinking we can begin to restore some of what has been lost in the mad rush for money, a heedless and ultimately futile, mad rush that has captured our past and our future for far too long.
In the meantime we can work to at least preserve the center of the Choinumni's world and a vestige of the original San Joaquin, Wahallich/Jesse Morrow Mountain. In a mad rush, Greystone plans to have a very extensive, underfunded draft EIR out in June of this year. Public opposition will be necessary then and as this project moves forward. Many groups and individuals are working to stop this project. Please feel free to contact any of them to get involved. Traditional Choinumni People, call Angie Osborne 787 3336; the Friends of Jesse Morrow Mountain, call Jim Van Haun at 787 9412; the Reedley Peace Center; Fresno RANCOR, www.rancor.info ; and Sierra Nevada Earth First at www.sierranevadaearthfirst.org .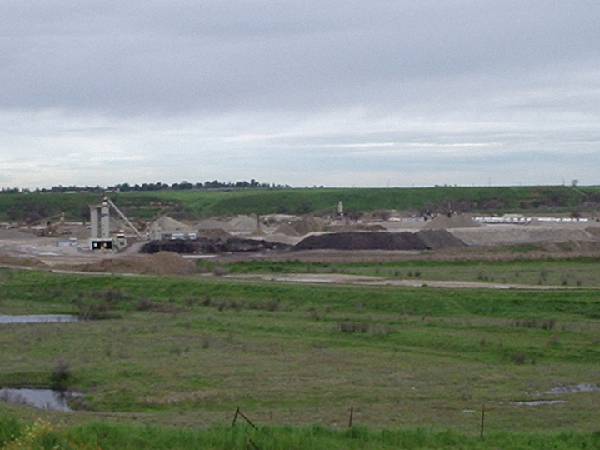 Photos by Dallas Blanchard
We are 100% volunteer and depend on your participation to sustain our efforts!
Get Involved
If you'd like to help with maintaining or developing the website, contact us.