From the Open-Publishing Calendar
From the Open-Publishing Newswire
Indybay Feature
An Evening Spent with Cop Watch
Cop Watch keeps an eye on police in San Jose, where on Friday nights the popular downtown area is saturated with patrol cars. Led by an activist called Quetza, the Cop Watch crew spent a couple of hours out on the street April 1 and into the early morning of April 2. Indybay reporter Peter Maiden, who has been covering police issues in San Jose for the last five months, came along to document their efforts.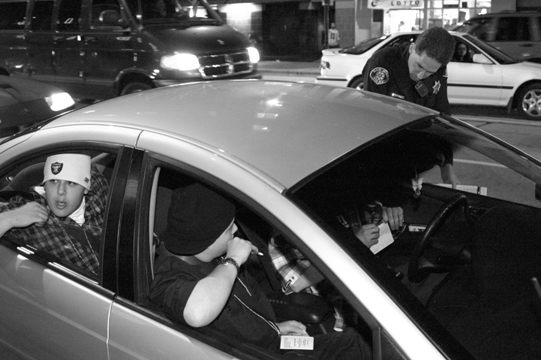 I met with the Cop Watch crew at 9:30 Friday night, April 1 at the office of the Barrio Defense Committee, the Centro Aztlán, in downtown San Jose. The Centro is in a nice Spanish style building on Second Street at William. Its walls are covered with artwork on Mexican themes and posters protesting police and prison brutality.

Quetza, a pleasant woman of middle age who runs the office, was talking in Spanish to two high school students, Magaly, 15 and Yerardin, 16. Over the course of twenty minutes she explained how the police, by putting young people into the juvenile justice system, undermine family and community values. "We live in a society where humanity is not valued," she said as they listened intently. "The police are not the solution. The worst thing that can happen to you would be to fall into el juvenil."

By 10 p.m. three young men, José, Plutarco and Tonatihu, joined the two girls. They are all English students at the Centro. I was introduced as the author of an article in Faultlines that exposed some brutality at the San Jose Main Jail. Tonatihu was interested in my digital camera, and knows a lot about how it works.

At 10:30 we started to walk to Santa Clara Street, where police are very active. On the way Quetza explained that Cop Watch has been going on for a few months, and has involved many activists, although on this night the whole crew was the English students. They were armed with pamphlets titled "Know Your Rights."

On Santa Clara Street, police parked in the middle of the street and observed cars going by, stopping one every five or ten minutes. "They're very selective," Quetza said. "They profile?" I asked. "Yes, they profile. Most of those they select are Raza."

They stopped a car for having a tinted front window. Quetza talked to the young people in the car and took notes. Another is stopped for a seat belt violation. "How many squad cars do you see?" Quetza asked. "2,3,4,5 in one intersection. Damn!"

It was a kind of amazing scene, something that as a resident of San Jose I had noticed before, but never studied closely. The violations cars were stopped for are very minor. It seemed to be a kind of police propaganda, letting the young people know who's boss, not just of Santa Clara Street, but over their lives.

At one point two cars are stopped with no reason given. One, in the middle of the street, had four girls in it; the other, at the curb, had five guys. They yelled across the street to each other. "They stopped us for the fuck of it!" one of the guys hollered. The boys asked the girls for a telephone number, which they gave willingly.

Another group of youths were stopped in their SUV because one of the passengers had stuck his head out the window to look at the cops. He was ticketed for not wearing a seat belt, and the driver was ticketed for "driver responsibility." The two who were ticketed, Danny and Xavier said they were ticketed last month by the same cop for the same thing. They talked at length with the Cop Watch people and posed defiantly for a photo.

Some of the people going by knew Cop Watch from seeing them on previous nights, and you could hear them talking about it amongst themselves. From one vehicle, an African-American woman told me not to take her picture, then looked around and saw what was going on. "Are you getting pictures of police harassment?" she asked. I nodded. "Then take some more!" she demanded.

The police, who seemed to be made self-conscious by the Cop Watch, were sarcastic. One noticed that I was having a good time with my camera, and said to me, while walking across the street to give a ticket, "Oh, this is FUN, ISN"T it?" Well, it was fun and it wasn't. But I won't soon forget it.

When the Black Panther Party started policing the police in the1960s it began a tendency on the left to call police to account for their role in our communities. Cop Watch seemed a bit Quixotic, but it gave a few citizens heart and seemed to make a few police more aware that they could be held accountable for their actions.

To contact San Jose's Cop Watch, call the Barrio Defense Committee at (408) 885-9785.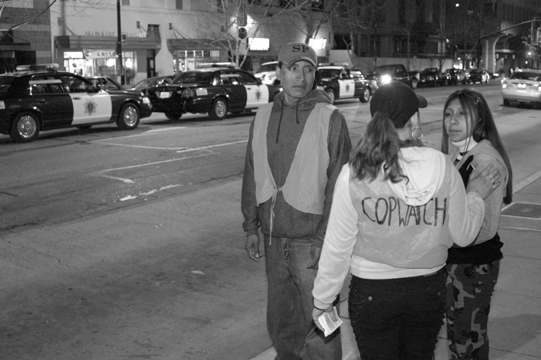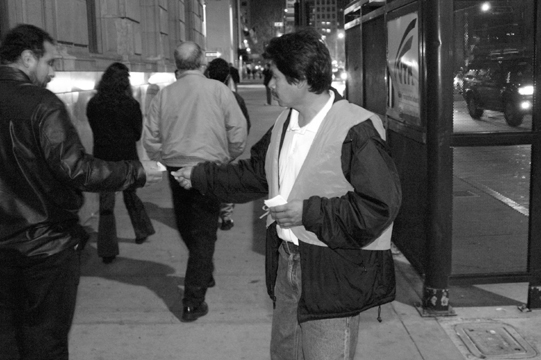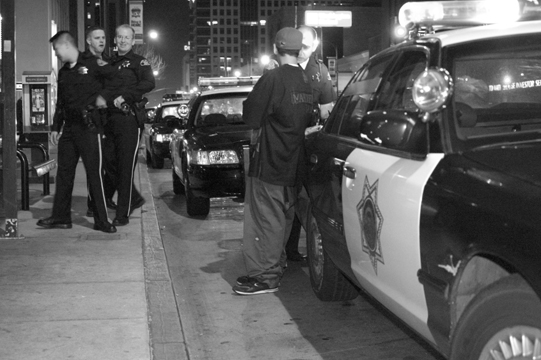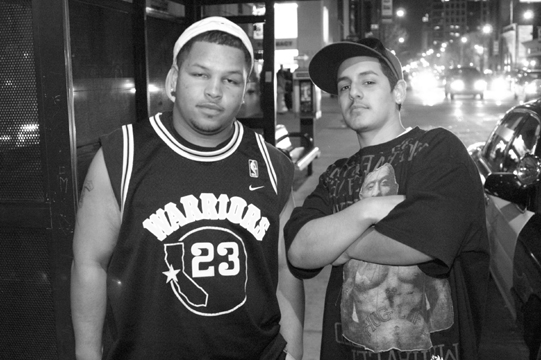 We are 100% volunteer and depend on your participation to sustain our efforts!
Get Involved
If you'd like to help with maintaining or developing the website, contact us.