From the Open-Publishing Calendar
From the Open-Publishing Newswire
Indybay Feature
Sea Shepherd Crew Attacked by Sealers and Arrested
Captain Paul Watson's reports from the bridge of the Farley Mowat: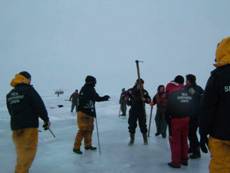 1400 Hours AST - Nineteen Sea Shepherd crew are on the ice approaching the sealing vessel Brady Mariner. The Coast Guard vessel Amundsen has dispatched a helicopter towards our crew. The crew are approximately one half a nautical mile from the Farley Mowat. I informed the Fisheries Officer on the Amundsen that they were not in violation because no one is sealing. They said they were. We see no evidence of this. The Coast Guard helicopter has just flown over the Farley Mowat towards the crew and landed near them then took off again.
At 1405 Hours AST - Seven of our international volunteer crew members, including Lisa Moises, Lisa Shalom, Jon Batchelor, Jonny Vasic, Jerry Vlasak, Adrian Haley, and Ian Robichaud, were assaulted by sealers from the sealing vessel Brady Mariner. They were punched and hit with clubs and hakapiks.
1415 Hours AST - The crew are returning to the ship. A Coast Guard helicopter has landed by some of the crew. They may be arresting them.
I have officially requested that assault charges be brought against the sealers. They will most likely ignore my request. The bottom line is that crew members were taking pictures and they were assaulted and injured.
1430 Hours AST – Some of the crew have made it back to the ship but not all of them. The Coast Guard icebreaker Amundsen has pulled up behind the Farley Mowat, cutting thru the ice to cut off the rest of the crew from getting back on the Farley Mowat. The crew still on the ice are being arrested.
1520 Hours AST - The Farley Mowat is under attack. 11 crewmembers have been arrested by the Mounted Police for taking pictures of sealers.
We are asking everyone to contact the media by email, fax, or phone and give them our contact information.
Please go to:
http://www.seashepherd.org/news_media_contacts_us.html
* Pictures available!*
Sea Shepherd crew members attacked.
We are 100% volunteer and depend on your participation to sustain our efforts!
Get Involved
If you'd like to help with maintaining or developing the website, contact us.