From the Open-Publishing Calendar
From the Open-Publishing Newswire
Indybay Feature
Besieged Bolivian President Faces More Upheaval
There were injuries on both sides in Santa Cruz as residents battled riot police.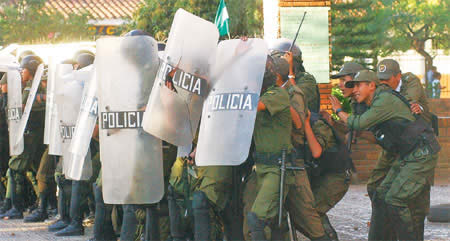 Besieged Bolivian President Faces More Upheaval
Fri Jan 21, 2005 01:31 PM ET
By Rene Villegas
LA PAZ, Bolivia (Reuters) - Anti-government protesters in Bolivia's largest city kept up their pressure on President Carlos Mesa on Friday even after he bowed to some of their demands following two weeks of strikes and blockades.
Thousands of protesters were preparing to march later on Friday in Santa Cruz, Bolivia's economic powerhouse, where a business elite, who accuse Mesa of ruining the economy, is now leading a crusade to oust him. Mesa has been in office since October 2003. His term expires in 2007.
On Wednesday, Mesa, a former television news anchor who has no political affiliation, scaled back fuel price hikes he had decreed three weeks earlier, the spark of the worst protests.
Last week, he also rescinded a contract from a French-run water utility vilified by protesters in the poor, indigenous city of El Alto, center of the bloody October 2003 revolt that ousted the previous president, U.S. ally Gonzalo Sanchez de Lozada.
The concessions soothed tensions in El Alto, but failed to satisfy opposition groups in affluent Santa Cruz, where protesters threw rocks at police on Thursday and 200 hunger strikers stormed public buildings. Farmers and truck drivers, upset that Mesa did not roll back the entire fuel price increase, blocked roads, cutting off supplies to the city.
"This is a president who cannot govern. This is a president who cannot make a single solitary decision without having some kind of negative reaction from one sector or another," said Eduardo Gamarra, a Bolivian political scientist and head of Latin American Studies at Florida International University.
Analysts say more upheaval is inevitable in South America's poorest nation, where a European-descended elite controls the riches of natural gas, mining and farming, and most in the indigenous majority scrape by on less than $2 a day.
"In this country, the rich get subsidized and the poor get hit with a stick," said Raul Choque, a 35-year-old teacher, while lining up to get his monthly pay of $90.
RICH SANTA CRUZ REBELS
Unlike past uprisings, the latest protests spread beyond El Alto, a gritty potholed city overlooking the capital, La Paz, to Santa Cruz, the largest and most prosperous city 550 miles to the east with an economy that accounts for a third of gross domestic product.
"The government is mocking us," said Carlos Dabdoub, spokesman for the Santa Cruz civic group, led by businessmen but joined by labor, student and peasant associations.
Analysts said Santa Cruz could bring down Mesa just as El Alto toppled Sanchez de Lozada. Some groups in Santa Cruz, touting the vast ethnic and economic divide with the rest of the country, want more autonomy from La Paz.
"In Santa Cruz, there is a very dangerous breakup that President Mesa has not sized up correctly," said La Paz analyst Jorge Lazarte.
Mesa this week was negotiating an alliance of 35 independent lawmakers to help counter the relentless attacks of the traditional parties.
He also has the backing of Washington for supporting its program to eradicate Bolivia's coca leaf crop, the raw material for making cocaine. The United States worries about the rising influence of coca-farmer leader and presidential hopeful Evo Morales.
Mesa has admitted he would rather quit before finishing his term than be forced to send tanks into the streets and spill blood.
"If there is violence, Mesa will probably resign. If there is no violence and Mesa is able to articulate some kind of political support from deputies and senators ... he just might survive to 2007," Gamarra said. (Additional reporting by Louise Egan in Buenos Aires)
Bolivia: Protests Oust Water Company:
http://thunderbay.indymedia.org/news/2005/01/17987.php
Bolivia: General Strike Enters Second Day in El Alto:
http://victoria.indymedia.org/news/2005/01/37112.php
Indefinite General Strike in El Alto, Bolivia:
http://victoria.indymedia.org/news/2005/01/36944.php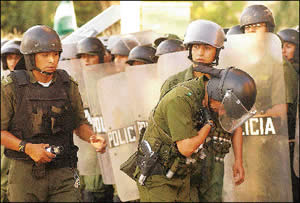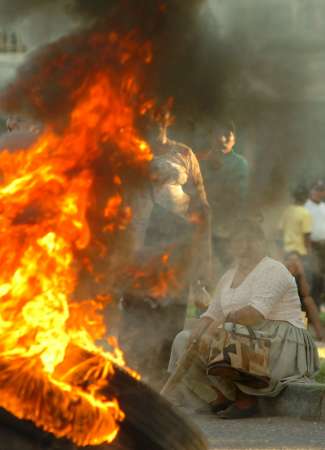 We are 100% volunteer and depend on your participation to sustain our efforts!
Get Involved
If you'd like to help with maintaining or developing the website, contact us.