From the Open-Publishing Calendar
From the Open-Publishing Newswire
Indybay Feature
Mega-dairies mean mega-probs for Cali.
Fox KTVU Channel 2 news story about mega dairies in Northern CA and their environmental impact.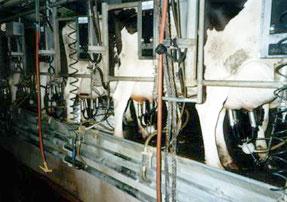 Locally, VIVA has been involved with fighting mega-dairies, and was interviewed for the KTVU story on tonight at 10pm, but we'll have to tune in to find out more...
Good to see this too-often ignored issue getting airtime (again)!
Be sure to check out the well-documented SF Chronicle links below for last major time this stink surfaced in full public view in NoCal — it's still really an eye-opener, for milk drinkers and non-milk drinkers alike.


---
here's a fact-based synopsis from a few years back on the issue in California (although it's the nearly the same across the U.S. and even in other Western countries)...


Three Wrongs and One Right
California is now the largest dairy state, with over one million milk cows, most of them in the Central Valley. They produce as much natural waste as 21 million people, contaminating underground drinking water and fouling rivers that fish and other wild animals depend on. That's not even considering the amount of water and other resources "food animals" themselves consume before it comes out the other end. For instance, it takes 2,500 gallons of water to produce a single pound of meat, the amount of water a typical family uses in a month.
And, contrary to what the $3-billion-a-year California dairy industry might tell you, milk is not the best source of calcium for good human health; milk contains animal proteins which actually leach calcium from your bones. Milk drinkers gain and lose calcium at the same time. A better source of calcium is green leafy vegetables and beans. (Beans are also a great source of protein, being that they contain no animal proteins, nor will they clog your arteries.)
Milk does no body good
It's bad for the environment, by using inordinate amounts of natural resources and polluting the water that both humans and wild animals need. It's bad for the cows themselves, with the unnatural confinement and hormones used to increase profits. And it's bad for human health, being an inefficient source of calcium and, again, contaminating wells people need for drinking water.
What You Can Do
You can decrease your part in these three wrongs with one right. Simply make a committed effort to cut down on your dairy/meat consumption and stick to it. If you're bold enough, cut out both entirely. You'll be able to sleep with a cleaner conscience and you'll feel physically lighter.
---
sources:
· San Francisco Chronicle, 7/7/97 ; also see follow-up stories 7/19/97, 2/13/98
· Diet for a New America by John Robbins (Walpole, NH: Stillpoint Publishing, 1987)


We are 100% volunteer and depend on your participation to sustain our efforts!
Get Involved
If you'd like to help with maintaining or developing the website, contact us.