From the Open-Publishing Calendar
From the Open-Publishing Newswire
Indybay Feature
Related Categories:

East Bay | Police State & Prisons
Oakland's New Crowd Control Policy
On November 5, 2004, the Oakland Police Department agreed to enact a crowd control policy, which will establish, for the first time, a uniform protocol for the OPD to use in handling crowds. The policy will apply equally to protests or spontaneous celebrations.
On November 5, 2004, the Oakland Police Department agreed to enact a crowd control policy, which will establish, for the first time, a uniform protocol for the OPD to use in handling crowds. The policy will apply equally to protests or spontaneous celebrations.
The wording of the policy favors and protects crowd members and their right to assemble. As Michael Haddad, a civil rights lawyer who helped implement the guidelines stated, it is most important because prior to this, the OPD "had no policy. Their policy was anything goes."
The new policy was created by the ACLU, the National Lawyer's Guild, civil rights lawyers, city officials, and Oakland Police Chief Richard Word.
Efforts to implement this policy were inspired by the incident on April 7, 2003, where police indiscriminately fired wooden bullets, sting ball grenades and shot-filled bean bags at hundreds of non-violent anti war activists during an organized demonstration at The Port of Oakland. The protesters were expressing their opposition to Iraq war profiteering by Stevedoring Services of America (SSA) and American President's Line (APL). Protesters were not given adequate warning to disperse before being fired at.
The OPD's use of overwhelming force resulted in at least 58 people being injured by various projectiles. Among the victims were several legal observers and nine dock workers who had shown up for work. Many serious injuries occurred as a result, some of which required hospitalization.
Willow Rosenthal of Oakland was hit in the back of her calf with a wooden bullet. She required several surgeries, including skin grafts due to internal bleeding. At a press conference on Tuesday announcing the new crowd control policy, Rosenthal said that she is still not able to attend protests because she does not trust what the cops may do. "They can never take away what they did to me and what they did to us." Rosenthal stated.
The new Crowd Management Policy includes the following guidelines…
o Strict limits on the use of force and mandates protecting the right to assemble and demonstrate must be a primary goal of the OPD in their planning for and management of demonstrations;
o Crowd dispersal methods that create risk of injury to crowd members and bystanders are prohibited, including skip fired wooden bullets, stinger grenades, tasers, stun guns, motorcycle bumps, and dogs;
o Indiscriminate use of bean bags, aerosol pepper spray and batons against crowds or passive resisters is prohibited;
o When crowd members break the law, OPD will attempt to negotiate with leaders, and will give clear and audible orders to the crowd, allowing time for individuals to comply before taking enforcement action;
o OPD will arrest individuals who refuse to follow valid police orders, rather than using weapons or other force to move them.
Scott Bohning of Oakland was at the docks on April 7. He was hit five times by projectiles, including one shot, which hit him in his nose. In response to the new crowd control policy, Bohning said, "I think I will feel safer going to demonstrations." He added, "I hope that this policy can set examples for other cities."
Bohning also has his reservations about the guidelines. The policy states that verbal commands by officers must be used on passively-resisting protestors before force can be used, but only with, the approval of a supervisor. The methods may include, lifting and carrying, using dollies or stretchers and/or control holds, which should be used only after other methods of arrest have failed or are not feasible under the circumstances. "I don't think there is sufficient protection for people doing civil disobedience, as the commanding officer could simply decide that 'circumstances' require the use of pain holds. And since their use is sanctioned, and can't be monitored for every individual, it is still likely that pain holds will be abused," Bohning said.
There is also concern as to whether the OPD will adhere to the new policies. Word, the acting police chief, leaves the force later in the month and a new chief is yet to be named. Activists, as well as lawyers who worked on the policy hope that Word's replacement will honor the spirit of the policy.
Haddad said the Federal Court will oversee the implementation of the policy guidelines for several years to ensure that they are followed. "We intend to hold them to it." Haddad stated.
For more information, you can visit
http://aclunc.org/pressrel/041109-opd.html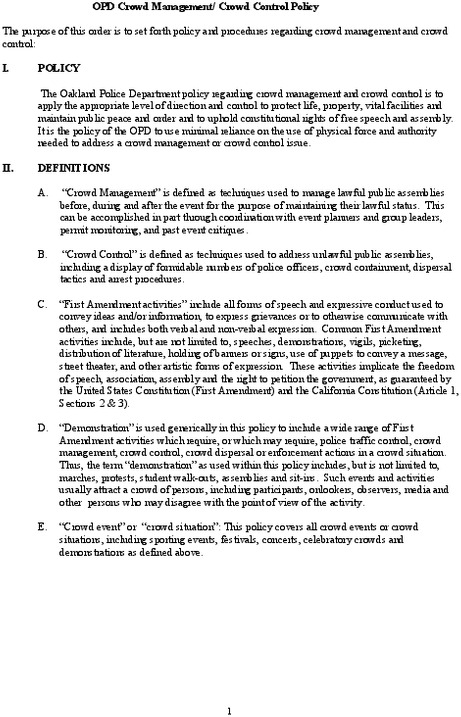 Download PDF (171.6kb)
"The Oakland Police Department policy regarding crowd management and crowd control is to apply the appropriate level of direction and control to protect life, property, vital facilities and maintain public peace and order and to uphold constitutional rights of free speech and assembly. It is the policy of the OPD to use minimal reliance on the use of physical force and authority needed to address a crowd management or crowd control issue."
http://www.nlgsf.org/docs/OaklandPolicePolicy.pdf
We are 100% volunteer and depend on your participation to sustain our efforts!
Get Involved
If you'd like to help with maintaining or developing the website, contact us.