From the Open-Publishing Calendar
From the Open-Publishing Newswire
Indybay Feature
On Nov.8, Free Radio Berkeley held an open house to introduce low power television.

5 minute realvideo.
The Revolution Will Be Televised
From Free Radio to Free TV Broadcasting
It is now time to "Turn on, tune in and take over". Finally, guerilla media activists will be able to say:
"There is nothing wrong with your television set. Do not attempt to adjust the picture. We are controlling transmission. If we wish to make it louder, we will bring up the volume. If we wish to make it softer, we will tune it to a whisper. We will control the horizontal. We will control the vertical. We can roll the image, make it flutter. We can change the focus to a soft blur or sharpen it to crystal clarity. For the next hour sit quietly and we will control all that you see and hear. We repeat: there is nothing wrong with your television set. You are about to participate in a great adventure." (Outer Limits intro circa 1963)
Free Radio Berkeley's engineering staff has managed to design and develop low power VHF and UHF transmitters by the creative use of off-the-shelf technology. So far, design and engineering efforts have yielded TV transmitters capable of reaching a distance of 4-5 miles. Estimated cost for a VHF transmitter and antenna system with an effective radiated power of 75 watts is about $500, $700 to $800 for a system with an effective radiated power of 400 watts. For an UHF system, add about $300 to the above amounts. Coverage pattern is 220 degrees, not fully omni-directional. Further work is continuing on the development of antenna systems.
TV broadcasting kits will be made available starting in mid November. The transmitters accept any composite video source with line level audio. Typically, the video source will be a multiple disk DVD player or a computer with video files stored on a large capacity hard drive. Live broadcasts are certainly a possibility. This would require several video cameras and a video switcher/mixer. A 200 disk DVD juke box style player would hold almost two weeks worth of program material, assuming two hours per DVD. Considering the quantity of video material available, most of which will never be seen on either broadcast TV or cable/satellite feeds, there should not be any problem providing audiences with an exciting and compelling selection of material.
No doubt, the FCC, the National Association of Broadcasters and other entrenched interests will most strenuously object to Micropower or FreeTV Broadcasting. What better way to respond to the latest media debacle involving Sinclair Broadcasting and the total propaganda environment that has been created than with guerilla TV broadcasting.
For folks who wish to engage in Low Power TV Broadcasting, an all day introductory workshop on Low Power TV Broadcasting will be held on Saturday, December 4 from 10 AM to 5 PM.
Contact Free Radio Berkeley for further information.
510-625-0314 /
xmtrman [at] pacbell.net
/
http://www.freeradio.org
Mailing address: 1442A Walnut St., Suite 406, Berkeley, CA 94709
Shop location: 2311 Adeline, Unit P, Oakland, 94607 (at West Grand)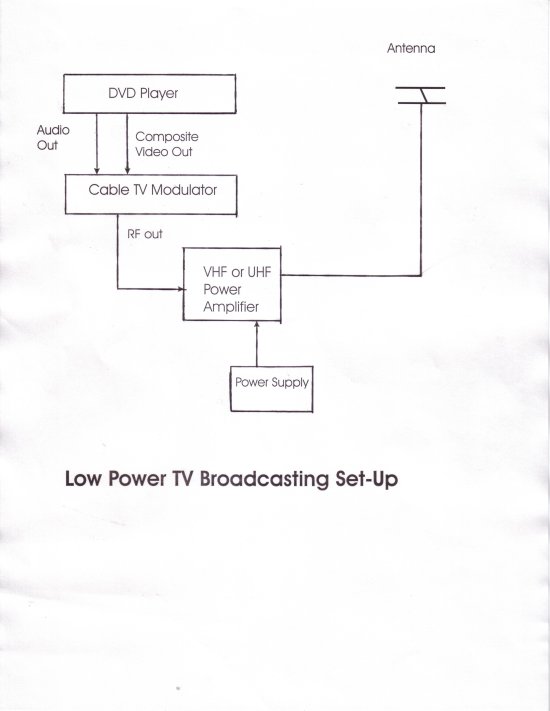 We are 100% volunteer and depend on your participation to sustain our efforts!
Get Involved
If you'd like to help with maintaining or developing the website, contact us.