From the Open-Publishing Calendar
From the Open-Publishing Newswire
Indybay Feature
Reaction to election NION and breakaway march-part I
I went to the Not in Our Name march at 5pm on Powell and Market on the day after the election. It felt 'reactionary', like we were powerlessly doing another protest that wouldn't influence Bush any more than the big Republican Conventions did. However, it could easily be rationalized. Even if you can't influence world politics yet, you can make your own community a nice place to live, and interact with other people at the protest.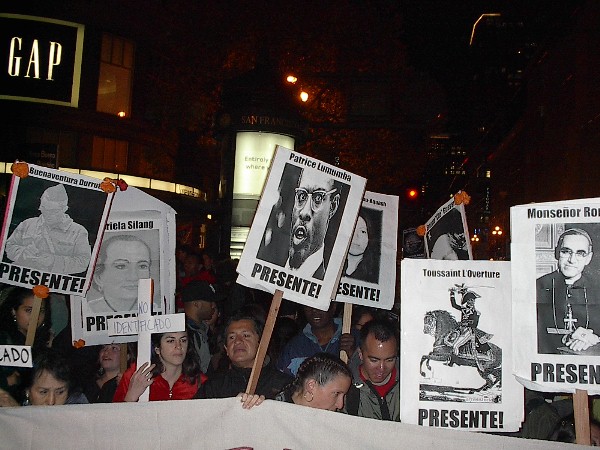 There was an impressive number of people there, so it was difficult to find your friends if you lost them - maybe 1-2 thousand. The crowd had more people under age 35 than over, but there were plenty of seniors. I had to delete several beginning pictures on my camera to create space when the arrests started, but here are an initial few.

After an hour of standing at Powell and Market, we walked slowly to 24th and Mission BART station, stopping for a long time by the police station while the NOIN young people wearing red scarves were doing something. Lots of regular antiwar marchers from those 100000+ protests last year are in their denial and grief stages, but a lot of the people already out here are in their anger and planning for future stage. The RCP looked like it had 3-4 brand new recruits selling papers.

At the 24th st BART station, there was some sort of scuffle as we came up. I just saw people toss a few trash items over the open hole of the station, but someone explained that a person had been arrested, then 2-3 people held onto the person's feet as they dragged them into the station, then they were hit with sticks and pepper sprayed. If you are caught holding onto arrestees feet, you can be charged with lynching so watch out.
At this point, most people went out for a burrito or went home.

15 minutes later, some people started a fire of SF Weeklys, a Bush effigy, and a flag. This was uninterrupted by police. The police were less than 2 dozen in number, and had no battle helmets, so they had to wait for the sergeant to fetch some from the car. Some people stood around the fire until a thin hippie guy with a marijuana leaf shirt encouraged everyone to go down Mission before the fire department came. This started the 'breakaway march', which went on for a long time. No one was drunk, but it felt like people were staggering along like a party the wrong way through Van Ness for some time.

3 blocks down at 21st, some young men used an item as a battering ram to knock in a Wells Fargo door window, as seen in the picture here. Then someone tried to pick up a newspaper box, but could barely lift it and sort of tipped it over on the window.

I didn't like how a few people knocked over recycling bins that were probably owned by local businesses or apartments. There wasn't much trashing or destruction here.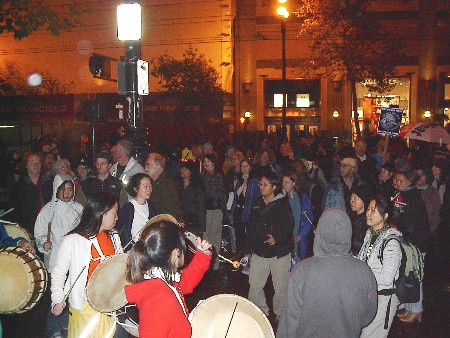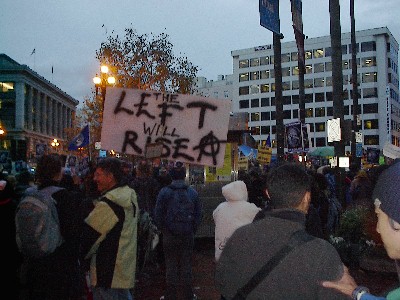 There was a range of sentiments expressed. I couldn't hear the speakers that well. A number of people wanted to talk to others regarding their anger at how the antiwar movement has gone.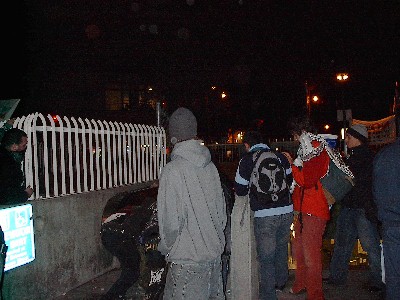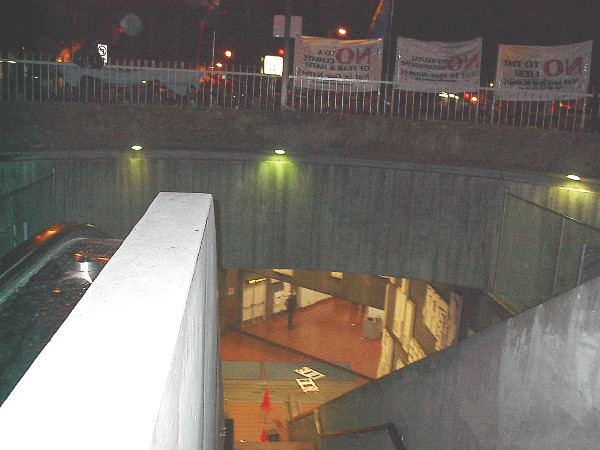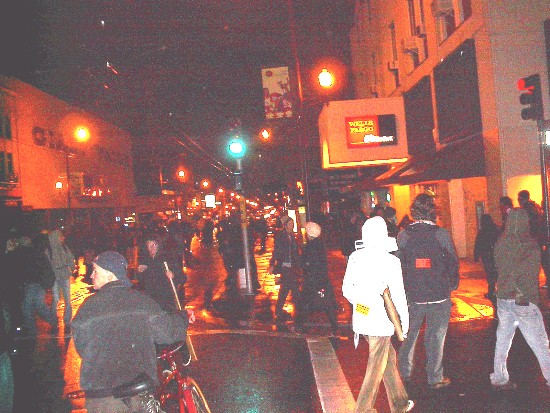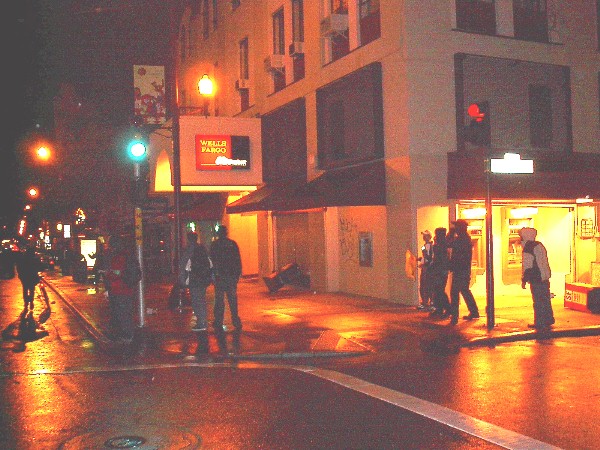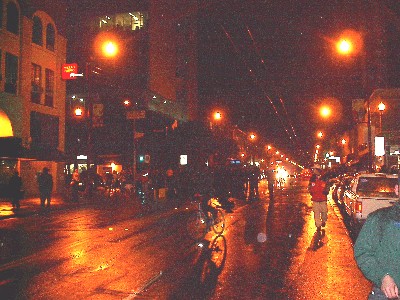 At this point, a number of them had helmets on. I jogged ahead, and really ran when I heard "curb to curb" given as an order. The police blocked everyone in the block in between 20th and 21st for 4-5 minutes. The block is long, but this was about 100+ people I guess. A number of others dispersed at this point. The police sergeant tapped his stick and called the line of police back into formation and let them go. After the anarchist oriented people kept going, they started to gain momentum and cohere as a group again two blocks later, whereas previously, it had been a long string of people.
We are 100% volunteer and depend on your participation to sustain our efforts!
Get Involved
If you'd like to help with maintaining or developing the website, contact us.