From the Open-Publishing Calendar
From the Open-Publishing Newswire
Indybay Feature
Reclaim the Parks: A Cry For The Commons
NOTE: Identities of members of Modesto's street community have been withheld for their protection.
(Graphix by N. DeGraff)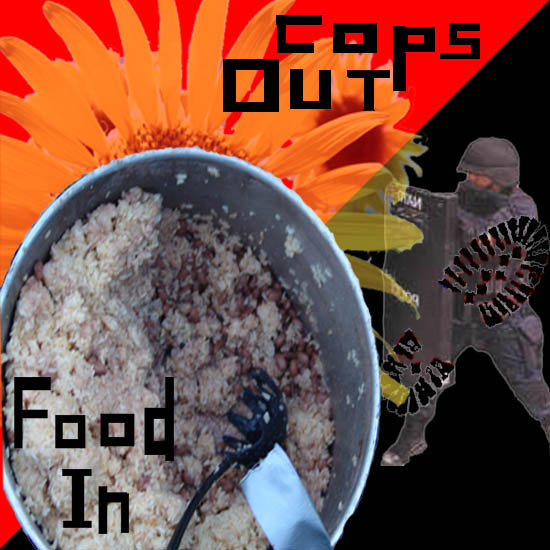 Gathered around two picnic tables filled with food and clothes, the anti-authoritarian and street communities blended together to call for a change in city policy toward the homeless and an end to the policy of harassment towards the street community that is so common in cities small and large in the Central Valley. Looking around Tower Park that morning something was missing. With people of varied race, age, and background; families, couples, friends, and children chasing after kittens; it may have been hard to put your finger on it looking at the cacophony of life. However, those gathered to eat, talk, and laugh knew what was missing: the all too common lines of division.


Tough Weeks, Tough Months.

With the unity in the group, it was hard to tell the pressures that had been placed on the group at Tower Park. Pressure that has been increasing since the last Reclaim the Parks action, drastically so in recent weeks and months. Modesto's Direct Action Anti-authoritarians (DAAA) is not bowing to the pressure.

Tower Park in Modesto has been the safe haven for the street community, but that has been changing. One man who had been on the streets in Modesto for a few years now had a clear message to give, "The police don't want [us] here, they come in and harass us trying to run us off. They [Modesto PD] used to leave us alone here, now there's not anywhere where we are safe." This sentiment was echoed unanimously, but the causes were an issue of debate.

While some in the street community felt that the police had it in for them, many others felt that there was more going on. According to DAAA, the feeling that the system is against the best interest of the street community is not misplaced. DAAA has witnessed an increasing cold wind running through those who are charged by the 'mainstream' to provide care as more and more services are privatized.

"They [those put in place to provide services] have been telling people not to come to Reclaim the Parks, they say that we are jeopardizing the creation of a permanent shelter and don't really have the homeless community's interests in mind," said DAAA's Doug Gilbert. Those from the street community didn't agree. "They [DAAA] are out here every Sunday with food and clothes, they actually get to know us and care what happens, I don't see anyone else who REALLY cares," said one man with nods from those standing around him. For those activists from Fresno, it is an all too common conflict. The difference according to Gilbert, "we're real with them."

Religious institutions have also become part of the systemic harassment and labeling of the street community. Recently, one church that sits on the edge of Tower Park claimed that a homeless person broke a window and stole a purse during services. With no reported witnesses, DAAA doesn't buy claims that this incident was committed by a homeless individual and wonders if the church is perpetuating stereotypes and nothing more.

With all that is going on, many in the community are becoming frustrated by being stereotyped and treated like, "nobodies." This feeling came out recently in one homeless man in nearby Merced, who in an act of protest; lowered, burnt, and then raised upside-down an American and California Flag that flew in front of Merced's old-courthouse.

The point he was trying to make was subsequently drown out by local media who focused on calls for retribution. The Merced American Legion commander was quoted in the Merced Sun-Star saying, "Anybody messing with the flag ought to get their arms broke." While those gathered felt that what they were doing was a more pro-active way to voice the same frustrations, all seemed to understand what drove this man to take the actions he did.


Know Your Rights.

In between meals and breakout discussions, the main focus at Tower Park was educating the community on their rights in the face of increased police harassment. One issue that was apparent during the Know Your Rights discussion was how dealing with the police was an every day concern for everyone gathered.

The attitude that law enforcement takes towards the street community is one major cause of a sense of helplessness in a system that stereotypes the street community as criminals and drug abusers. While much of the focus was on rights to non-consent, and how to deal with police contact, the concerns stretched past a typical Know Your Rights workshop.

This was exemplified by one woman and her home health care provider who told the group that they were recently on the street after their landlord had pushed them out of their housing, going so far as to remove basic amenities such as their refrigerator. As we discussed issues like how to find a lawyer and legal aid, how to deal with not having an address in legal issues, as well as rights outside of dealing with the police, the systemic nature of the issues faced by the community and the spiral of civil rights violations was apparent.


Anti-Authoritarians Take the Streets!

As the street community, fearing harassment if they took part in the action, left to meet the march at Graceada Park, Anti-Authoritarians took the streets for a 30 minute march through sleepy downtown Modesto, raising echoing cries for justice and an end to police harassment. As the group targeted areas where youth and the homeless typically face harassment, passers by stopped to waive, others came out of cafes and shops to hold a peace sign or raise a fist in solidarity. It seemed that others in the community too, wanted to see more services and no more prisons.

Remarkably, what wasn't seen was a police presence. Many in DAAA wondered why after shutting down downtown streets for 30 min, the only squad car seen seemed to be more interested in coffee than the group of anarchists marching down K st. Perhaps after faulty alerts slandering the group as 'Terrorists' for holding a legal fundraiser, the Modesto Police Department figured out that this group is focused on feeding and clothing the homeless.

From Graceada to Blackstar Squat.

As the group of Anti-Authoritarians from Fresno to San Francisco made their way into Graceada Park, chanting their way through families and picnics that, moments before, were ignoring the fact that homelessness exists all around them. Groups of people from all walks of life came to join the group for the dinner meal and guerrilla video showing.

While Modesto certainly isn't alone in its issues with housing, jobs, and the police; it serves as an example of the issues faced by Valley towns. Settling into the Blackstar Squat, opened to meet the need a permanent shelter in Modesto would fit, I realized that it also serves as another example: how a small group of people can make a great difference both in the minds and spirits of the community they care about.

We are 100% volunteer and depend on your participation to sustain our efforts!
Get Involved
If you'd like to help with maintaining or developing the website, contact us.