From the Open-Publishing Calendar
From the Open-Publishing Newswire
Indybay Feature
Bush Administration Intervenes for Starbucks Against Union
In a stunning reversal, the Bush Administration dominated NLRB rules against Starbucks workers trying to organize with the IWW. This ruling could affect all union attempts to organize corporate chains.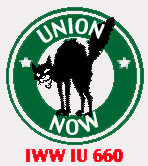 Right to a Fair Vote Denied - July 29, 2004
New York, NY - The Bush Administration-controlled National Labor Relations Board accepted for review yesterday an appeal by Starbucks of the IWW IU/660 victory that allowed workers at a single store in the chain to vote in a union certification election. The decision effectively disenfranchises workers because regardless of the outcome of the appeal the result of the election is suspended for several years while the case is being decided.
"Starbucks and its union-busting law firm have succeeded in obliterating our right to a vote," said Daniel Gross, a worker at the store. "The company has established beyond a shadow of a doubt that it follows an extreme anti-worker union avoidance policy."
While Starbucks may have won this battle, government certification was merely one tool out of a much larger toolbox for the Union. Utilizing a direct action approach, the Retail Workers Union will continue full steam ahead with the campaign to improve working conditions for Starbucks employees.
The decision by the Republican-majority NLRB is the latest in a series of rulings that have rolled back the right of workers to organize a union. A (July) 13th decision held that graduate student instructors are not employees and thus not entitled to form a union. Prior to that, the Board rescinded the right of employees outside of a union setting to have a co-worker present at disciplinary meetings.
The NLRB's anti-union decisions are just part of the Bush Administration's larger attack on working people. The Administration has rolled back policies that were the result of decades long struggles by unions including ergonomic standards for OSHA, overtime pay protections, and regulations on anti-union consultants.
Starbucks' underhanded legal maneuvers to defeat the Union sharply belie the image the company has crafted as a decent place to work. Workers can't pay rent with company propaganda no matter how persistent.
"They're as bad as Wal-Mart," Mr. Gross remarked.
The Industrial Workers of the World IU/660, a non-partisan union dedicated to the empowerment of retail workers, has established the first union at a Starbucks coffee shop in the United States. Starbucks workers are coming together to address issues on the job such as low wages, a lack of guaranteed hours, and understaffing at stores.
IWW Starbucks Site
http://www.iww.org/unions/iu660/starbucks/
NYC IWW Starbucks Site
http://bari.iww.org/~iww-nyc/baristahome.html
We are 100% volunteer and depend on your participation to sustain our efforts!
Get Involved
If you'd like to help with maintaining or developing the website, contact us.