From the Open-Publishing Calendar
From the Open-Publishing Newswire
Indybay Feature
An Update on the Outdoor Drunk Tank in Fresno
Outdoor drunk tank or Safe Area - you decide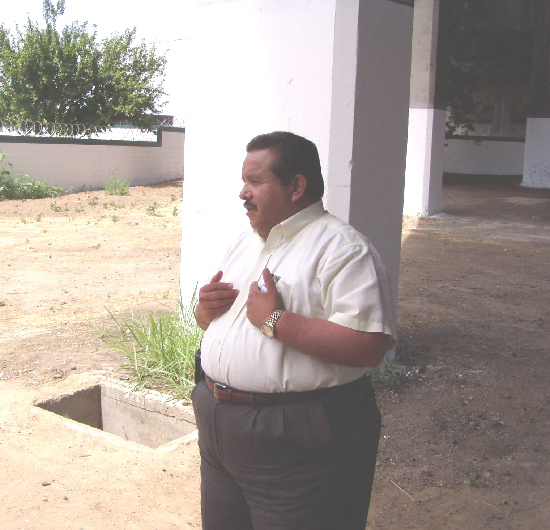 An Update on the Outdoor Drunk Tank in Fresno
By Mike Rhodes
July 3, 2004
According to Fresno Rescue Mission director Larry Arce, the outdoor drunk tank (see previous story at
http://sfbay.indymedia.org/news/2004/02/1670574.php
) should be referred to as a "safe area." In an interview conducted yesterday with this Indymedia reporter, Arce said that anyone brought to the Rescue Mission for public intoxication would not be held against their will. Arce said "there will be no locks to keep people from leaving and the razor wire around the perimeter is to keep people from breaking in." The Rescue Mission will have a guard house and will probably instal video monitoring equipment to keep track of people as they come and go.
The idea of an outdoor drunk tank is the idea of Arce and Fresno Police Chief Jerry Dyer. Arce said that they had been searching for a solution to people who are chronic drunks when they hit upon the idea of using the Rescue Mission as an outdoor drunk tank, er, I mean... "safe area." The creation of this safe area comes at a convenient time, since the State of California has just announced that they will no longer be reimbursing the City of Fresno for booking fees. When the idea of the outdoor drunk tank came before the city council in May, one of the big arguments was how much money this would save the city. At $170 per booking, it was estimated that the city would save up to $400,000 a year by diverting people arrested for public intoxication to the Rescue Mission.
Nobody really expects the city to save $400,000 a year because not everyone picked up for public intoxication would be brought to the Rescue Mission. According to Arce, each person would be asked if they would rather be arrested and booked into the Fresno County Jail or be taken to the "safe area." In addition, everyone brought to the Rescue Mission must be ambulatory, not violent, and male. No women will be allowed into the safe area.
Arce says that the facility will be paved with blacktop (any day now), will be well lit, and climate controlled. The area, which you can see in the photo below, is on City of Fresno land and under an overpass. According to Arce, space heaters (the kind they have in outdoor restaurants) and water misters will be installed and used to control the temperature which in this area can go down to 25 degrees in the winter and up to 110 degrees in the summer. He also envisions having 100 cots in the enclosed area - about 95 more cots than would be needed to accommodate the 3 - 5 public intoxication cases the FPD predicts will be dropped off there each day. It was not clear what the other 95 beds would be used for. Arce says that there are over "1,000 homeless people in the downtown area." With that many people it is unlikely that the cots will go empty.
A report from 2002 said that there are 19,000 homeless in Fresno and Madera counties, about 16,000 of them in Fresno. In February of this year Mike Purtell, who works with the Poverello House (another Fresno homeless agency), told me that there are about 1,500 homeless people in downtown Fresno but added that "nobody really knows how many homeless there are in Fresno."
Part of the dynamic of what will happen to the homeless in downtown Fresno is the massive redevelopment plans that are under way. The Rescue Mission and Poverello House are in an area of redevelopment called the Chinatown Revitalization project. Ed Kashian and Tom Richards are veteran developers in this area who have recently expanded the scope of the project to include the area South of Ventura - where many of the homeless are located. Arce believes that the Rescue Mission will be a part of the redevelopment project.
In a future update on the outdoor drunk tank and homeless in Fresno Indymedia will attempt to interview Ed Kashian to see how the homeless fit into his vision of redevelopment and a theme park like downtown.
All photos by Mike Rhodes
We are 100% volunteer and depend on your participation to sustain our efforts!
Get Involved
If you'd like to help with maintaining or developing the website, contact us.