From the Open-Publishing Calendar
From the Open-Publishing Newswire
Indybay Feature
Take Action to Support Ben Davis Workers in SF - from UNITE and Sweatshop Watch
For more background info on the campaign, and an easy form that allows you to send an email to Frank Davis, the owner of Ben Davis Inc., go to the Sweatshop Watch website listed below.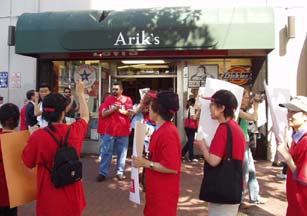 Support Ben Davis Workers & "Union Made"!

[Information for this alert comes from Sweatshop Watch]

Since 1935, Ben Davis Inc. has been a unionized employer
in the San Francisco Bay area. For years, the company has
been famous for producing "Union Made" and "Made in the
USA" garments. However, the company's attitude toward its
workers has changed as it is now trying to deprive them of
the advantages that they currently benefit from.

In October 2003, the workers of Ben Davis Inc. in San
Francisco voted to be represented by the garment workers
union UNITE. Since November 2003, they have been in
contract negotiations with Frank Davis, the owner of Ben
Davis, Inc. Almost a year later, his position has not
budged.

Workers explained their decision to join UNITE: "We voted
for UNITE because we believe we deserve to be treated
fairly and with dignity by our employer. Since that time,
we have negotiated patiently with the management of Ben
Davis in an effort to reach a reasonable contract.
However, the Company has done nothing but ask for
concessions. They are asking us to pay 50% of our health
care costs, and we only have employee coverage and no
coverage for our families. In addition, they want to take
away our hard earned vacation and regardless of the time
that we have been employed, we will all have a maximum of
2 weeks. They also want us to give up 3 holidays and all
of our sick days. If we don't agree to these concessions,
they have threatened us to take the work out of the
U.S.A."

Frank Davis claims that he is obliged to reduce the
workers' benefits if he is to remain competitive because
the minimum wage in San Francisco has jumped from $6.75 to
$8.50 an hour. Although this might indeed be a difficult
transition for smaller, struggling employers, Ben Davis
can most certainly afford to increase the wages and
continue providing the same benefits.

Mr. Davis does not seem to care that the majority of the
workers have been loyal employees of the company for about
25 years. He even told the workers that if they do not
comply, he will find low wage workers in Mexico, Guatemala
or China to take over their jobs.

It is very important that you call or write a letter to
Frank Davis expressing your outrage at his irresponsible
and selfish behavior. Ask the company to negotiate a fair
contract with workers!

Below is a sample letter from which you can compose your
own.
------------------------------------------------------------------------------------------------
Frank Davis, Owner
Ben Davis Inc.
21 Pimentel Ct.
Novato, CA 94949

Dear Mr. Davis:

I recently learned that there has been an impasse in the
union contract negotiations with the workers who sew your
clothes in San Francisco. Ben Davis work wear is known for
being "Union Made" and "Made in the USA." That is why so
many people -- many union members themselves -- buy your
products. I truly believe that the workers deserve a union
and a fair contract. I realize that you have been in
negotiations with UNITE since last November. Please
resolve this labor dispute as soon as possible; it has
dragged on long enough!

I understand that you are a profitable employer. It would
be irresponsible of you to slash the employees' health
care, vacation days, and/or sick day benefits after their
years, some even 25 years, of service and quality work.
And, it would be even worse if you moved production
offshore, leaving these workers jobless and throwing away
your commitment to local union production.

I urge you to ensure the workers receive a fair contract
and to continue your commitment to U.S. union-made
clothing. Your employees deserve the new minimum wage in
San Francisco, and the benefits that they have worked so
hard for.

I look forward to your reply to this important matter.

Sincerely,
We are 100% volunteer and depend on your participation to sustain our efforts!
Get Involved
If you'd like to help with maintaining or developing the website, contact us.