From the Open-Publishing Calendar
From the Open-Publishing Newswire
Indybay Feature
Rally to protest Schwarzenegger's proposed cuts to Bay Area public transportation
Rally to protest Schwarzenegger's proposed cuts to Bay Area public transportation

Enormous budget cuts called 'unfair' by transit agencies, grassroots coalitions, union workers and riders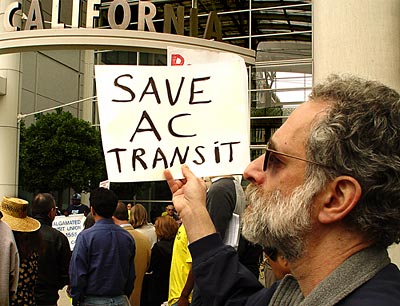 Thursday 3 June 2004
Oakland - People around the state are rising up and speaking out against Arnold Schwarzenegger's proposed cuts to the state budget. Well over a hundred people rallied outside the State of California Building in downtown Oakland on Thursday to protest the proposed massive cuts to AC Transit, BART and other Bay Area public transportation services.
The Transportation and Land Use Coalition helped organize the rally and released a new report, Cutting Transit, Terminating the Economy: Quantifying the economic and social impacts of Governor Schwarzenegger's transit cuts on the Bay Area which details some of the drastic cuts to Bay Area transit systems, with, "AC Transit standing to lose $20 million a year (8% of it's operating budget) and BART standing to lose $9 million a year. In Marin County, the transit district stands to lose $500,000, representing a large portion of their funds for paratransit service for the senior and disabled community." The report also contains an assessment of the economic impact to AC Transit riders and concludes that the proposed budget cuts would really hurt those most in need of public transit: low-income residents, people of color, students, the elderly, and disabled passengers. AC Transit is informing it's riders that if Schwarzenegger's budget passes, there will be likely be the equivalent of "NO weekend service or NO school service beginning July 1."
"The cuts that Arnold Schwarzenegger is proposing to make to AC Transit's service would be devastating to our local economy," stated Rebecca Kaplan, a member of AC Transit's Board of Directors who attended the rally. She continued, "Everybody's trying to help people get jobs -- well, this is like pushing people OUT of jobs. People won't be able to get to work, people won't be able to get to schools, people won't be able to get to hospitals and it will have a devastating impact on our local community.
Kaplan painted a larger picture saying, "At this time in our history to be cutting public transit service and forcing people to increase their dependence on oil from the Middle East is the worst possible policy anyone could propose. For Arnold Schwarzenegger to cut public transit is bad for our environment, it's bad for our community and it's bad for our economy. For every one dollar we invest in local public transit our economy reaps eight dollars of added benefit -- local salaries; local people being able to save money; local people being able to get to jobs. Every time we invest in public transit our communities improve."
BART would also be hit hard by the proposed budget. Alan Hollie, an Oakland citizen and union member of Amalgamated Transit 1555 (BART Train Operators and Station Agents) discussed the cuts BART is having to propose, asserting the state would be, "putting public safety at risk by eliminating end of the line workers, system service workers and understaffing stations," saying further that, "if you're disabled or you get hurt in a station and you don't have the proper staff, then there will just be no one to go to."
Assemblywoman Loni Hancock (AD 14) issued a statement in support of AC Transit and BART, the primary transit agencies within her district. The statement read in part, "One of the most important things a government does for its people is provide transportation. People who depend on transit for travel to school and work, seniors and people with disabilities, who rely upon public transit to remain viable members of our community, should not bear the cost of the taxes cut in the good times of the last decade."
Grassroots transportation organizations and local transit agencies are continuing to stress how important it is for their riders to make their voices heard by contacting the office of Arnold Schwarzenegger and their elected representatives. Email and call your representatives:
Governor Arnold Schwarzenegger  (916) 445-2841
Senator Don Perata (510) 286-1333
Senator Liz Figueroa   (510) 413-5960
Senator Tom Torlakson   (916) 445-6083
Assemblymember Joe Canciamilla (925) 372-7990
Assemblymember Wilma Chan (510) 286-1670
Assemblymember Ellen Corbett  (510) 614-0180
Assemblymember John Dutra   (510) 440-9030
Assemblymember Loni Hancock (510) 559-1406
To find your district representative, go here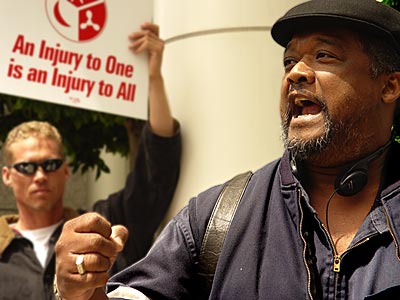 Alan Hollie, union member of Amalgamated Transit 1555 (BART Train Operators and Station Agents) spoke vehemently about potential job losses and resulting concerns for public safety at the rally in Oakland.
We are 100% volunteer and depend on your participation to sustain our efforts!
Get Involved
If you'd like to help with maintaining or developing the website, contact us.