From the Open-Publishing Calendar
From the Open-Publishing Newswire
Indybay Feature
Red Cross (ICRC) Report On The Treatment Of Iraqi Prisoners By Coalition Forces
Report Of The International Committee of the Red Cross (ICRC) on the treatment by the coalition forces of prisoners of war and other protected persons by the Geneva Conventions in Iraq during arrest, internment and interrogation.
FULL TEXT OF REPORT CONTAINED IN PDF: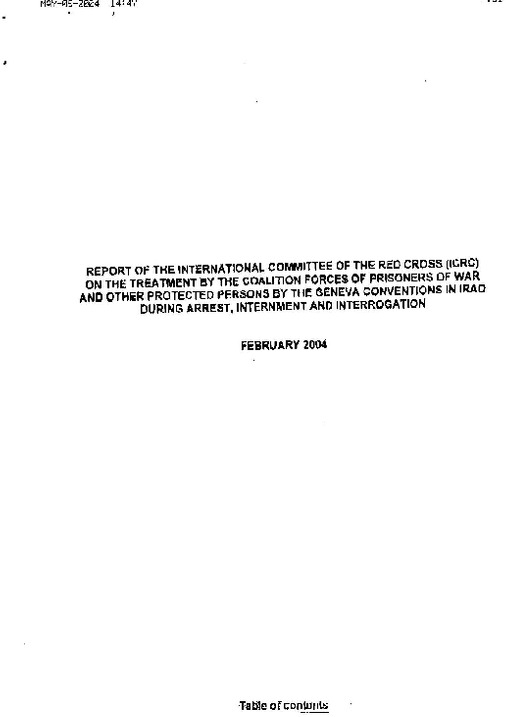 WASHINGTON, May 10 — In a visit to the Abu Ghraib prison last October, Red Cross inspectors were so unsettled by what they found that they broke off their visit and demanded an immediate explanation from the military prison authorities.
As recounted in a report by the International Committee of the Red Cross, prisoners were being held "completely naked in totally empty concrete cells and in total darkness," apparently for several days.
The inspectors were also able to document the exact sort of behavior that has produced a firestorm over the last two weeks: "acts of humiliation such as being made to stand naked against the wall of the cell with arms raised or with women's underwear over the heads for prolonged periods — while being laughed at by guards, including female guards, and sometimes photographed in this position."
The report also said military intelligence officers had confirmed the inspectors' impression that those "methods of physical and psychological coercion used by the interrogators appeared to be part of the standard operating procedures by military intelligence personnel to obtain confessions and extract information."
The 24-page report, completed in February, appears to contradict several statements by senior Pentagon officials in recent days concerning how and when the military learned of potential abuses in Iraq, how they reacted to reports of abuses and how widespread the practices might have been.
A spokesman for the International Committee of the Red Cross in Geneva said Monday that the organization's president, Jakob Kellenberger, complained about the prison abuses directly to top Bush administration officials during a two-day visit to Washington in mid-January when he met with Secretary of State Colin L. Powell, the national security adviser, Condoleezza Rice, and Deputy Defense Secretary Paul D. Wolfowitz.
Antonella Notari, the chief spokeswoman for the international committee in Geneva, suggested that Mr. Kellenberger had raised the issue with senior administration officials because the situation had not improved sufficiently after the prison authorities in Baghdad had been informed of the criticisms.
"If it's a serious problem and it persists, we would make use of our contacts with higher-ranking people," she said.
Ms. Notari said the February report had been based on private interviews with prisoners of war and civilian internees during the 29 visits the committee's staff had conducted in 14 places of detention across Iraq between March 31 and Oct. 24, 2003.
Read More
http://www.infoshop.org/inews/stories.php?story=04/05/11/9615907
We are 100% volunteer and depend on your participation to sustain our efforts!
Get Involved
If you'd like to help with maintaining or developing the website, contact us.