From the Open-Publishing Calendar
From the Open-Publishing Newswire
Indybay Feature
Article about an Iraqi I met and his time in prison. Plus analysis of the situation of abuse.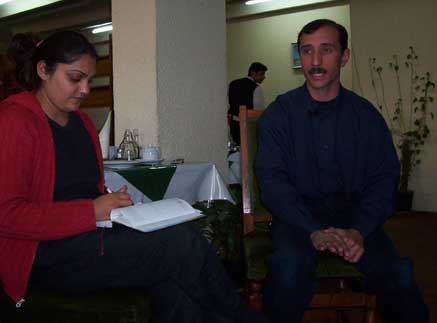 Analysis of prison abuses in Iraq
I was in Iraq for the month of February. While I was there I met a peace activist from the UK named Uzma. She had been in Iraq as a peace shield during the war and had done some video reports for a few British TV stations. The filming was done by an Iraqi cameraman named Khalid Mohammed Abed al-Mosawi*. On January 30, 2004 at 3:00 am the US Army raided his house. He heard a bang at the door and stuck his head out the window to say he would be right down, so as not to have the door blown up. He didn't want to wake and scare his wife but tells her to get dressed and get the jewelry (Thousands of Iraq's have lost gold jewelry and large amounts of money during raids in this country with no regular banks). The translator demands that he hand over his tapes and camera and said someone accused him of filming the resistance (the US offers rewards for information against the resistance). The US soldiers are shout angrily in English but Khalid also speaks English and said that he will give them anything and that he would be thankful if they didn't destroy the house. His 4 and 2 year old children are asleep, the soldiers search the bed. "This is my job, I know how to do it." Due to his English ability they let him put on cloths, then they handcuff and blindfold him.
He is taken to the Adhamiyya Palace (now a US army base). He is blindfolded for two days, he cant breath and his handcuffs are kept on for two days behind his back then for two more days in front. As anyone who has ever beer handcuffed knows this is a form of torture. Khalid was afraid to lay down as he feared he will not be able to get up again. He thought of his children at home and how today is Eid al-Fitr the biggest celebration of the year (like Christmas in the US). His brothers would be there for the first time since they fled Saddam eight years ago. He proclaims his innocence and says "We have full justice (Iraqi's under US occupation) it says on TV". After four days he is transferred to the US jail in front of the Ministry of the Interior. The soldiers say if he cooperates and tells the truth they will give him back his camera and tapes and let him go tomorrow. That night he finally falls asleep on the wet floor, alone in the rain. A US soldier wearing a ski mask yanks off his blankets and stands over him. Khalid is small, maybe 5'6" and has a slim frame. He stares up in fear, he believed in the system and that innocence was good enough. Now he knows better. The US soldier threatens him as is his job to treat all Iraqi's, its called softening them up so they crack during interrogation. At 4:00 am Khalid is interrogated "Where is your friend who ran away when we caught you by the palace (a lie)". From this jail prisoners are released, sent to Baghdad Airport (US base and prison) for more interrogation or sent to Abu Ghraib for long term imprisonment.
He and a bunch of other prisoners are taken to a place and made to face the wall with their hands behind their back. "Nobody move". They are very near the shooting range and the bullets fly by, more intimidation. Khalid commented on Sergeant Johnson, a black soldier in charge of the day shift, and said he was Ä good man" and let them go to the bathroom three times a day. They never got to bathe, smoke or eat Iraqi food. Most prisoners are only there four or five days. Every day the soldiers call names and blindfold and handcuff prisoners and take them off, but to where, freedom or Abu Ghraib? At Abu Ghraib innocent prisoners usually wait four to six months before released (according to the army).
All prisons in Iraq are the same, there is no Habeas Corpus, no trials, no lawyers or hearings of any kind and no contact with the outside world at all. Khalid is held across from the Ministry of the Interior for 13 days. On the outside we work for his freedom. We call the Officer in charge everyday. We start an international e-mail campaign and thousands of messages are soon received by the officer in charge and Paul Bremmer "ambassador "to Iraq. The British television stations prove that he worked for them and demand his freedom as a member of the press. Eventually Khalid is sent back to the Palace. The Sergeant says "We are sorry, we find you innocent."
The soldiers had never mentioned all the e-mails that were sent or the visitors for him. When a soldier described his family and said that they came every day Khalid said "I cried at that time".
Was Khalid's story particularly awful for an Iraqi prisoner? No, in fact it was only noteworthy in its normalness. This is what happens to every arrested Iraqi. There are thousands of cases that are far worse than his. If one wants, it is easy to interview people in Iraq that have been tortured to many different degrees by Coalition soldiers. Khalid was lucky, not only was he innocent but he speaks English quite well and had massive English speaking support on the outside. I believe that if it wasn't for us, he would be in Abu Ghraib right now.
The torture and humiliation of prisoners in Abu Ghraib by US soldiers has become a big news story. The treatment of prisoners is not any surprise to people in Iraq or human rights organizations, we knew about it all along. The most surprising aspect of the whole thing may be the quality of the photos and that it got out of the military's hands and all over the news. It is also interesting to me that many of the accused US soldiers were from a National Guard unit and work as prison guards in the US. In Iraq nobody gets into the prisons but the guards and the suspected "terrorists". There are no visits from families, no lawyers, no Red Cross, no information gets out and no oversight is let in. Families rely on the few released prisoners to get any news and often don't know what prison family members are being kept in or even if they are still alive. The Occupation doesn't seem to think it's important to let families know when inmates die or are killed.
The New York times had a very interesting article today(5/6/04). It interviewed Dr. Phillip G. Zimbardo who did a famous 1971 study at Stanford University. In the study 24 participants were divided into prison guards and prisoners for two weeks. "Within days the guards had become swaggering and sadistic, to the point of placing bags over the prisoners' heads, forcing them to strip naked and encouraging them to perform sexual acts. Dr. Zimbardo referred to Iraq and said "I was not surprised it happened. Prisons, where the balance of power is so unequal tend to be brutal and abusive places…" While Bush and company are blaming six soldiers and saying its all their fault the true cause is so much larger. When you send a huge army off to kill, and in a "War Against Terrorism" where getting information from the prisoners is the highest goals, then abuses will be constant if not actually part of the soldiers orders. As Dr. Zimbardo said "It's not that we put bad apples in a good barrel. We put good apples in a bad barrel. The barrel corrupts anything that it touches."
As Khalid said about US soldiers when he got out of prison "They have hearts. They are humans, but you know, these are political things. Really nothing will change".
*His name has been changed at his request due to his family's fear of retribution.
Photos I took outside Abu Ghraib:
http://indybay.org/news/2004/03/1672358.php
Original short article I wrote about Khalid from Iraq:
http://indybay.org/news/2004/02/1669995.php
Articles and the pictures, if you haven't seen them:
http://www.indybay.org/news/2004/04/1679030.php
We are 100% volunteer and depend on your participation to sustain our efforts!
Get Involved
If you'd like to help with maintaining or developing the website, contact us.