From the Open-Publishing Calendar
From the Open-Publishing Newswire
Indybay Feature
The Joint Terrorism Task Force Infiltration of Peace Fresno
On Wednesday, April 21 Peace Fresno held a press conference to provide the latest information about the infiltration of their organization by the Joint Terrorism Task Force.
The Joint Terrorism Task Force Infiltration of Peace Fresno
By Mike Rhodes
April 22, 2004
Last year, Peace Fresno was infiltrated by an agent of the Join Terrorism Task Force (JTTF). They have not received any official explanation or indication of why the investigation took place. Yesterday Peace Fresno and the American Civil Liberties Union announced that they were calling on Attorney General Bill Lockyer and Senator Barbara Boxer to open a full investigation of the surveillance. Members of Peace Fresno want to know why they were the subject of this undercover investigation. They also want assurances that their group is not still under surveillance by members of the JTTF or other law enforcement agencies.
Peace Fresno was under surveillance for the first six months of last year by Aaron Kilner, who represented himself to the group as being independently wealthy and interested in peace. Kilner attended meetings, participated in peace demonstrations, and went on a bus to Sacramento with other protestors to demonstrate against the World Trade Organization. For more information about the infiltration click here and here. Kilner's activity was discovered when he died in a motorcycle accident and his photo appeared in a Fresno Bee obituary which identified him as a member of the Fresno Sheriff's department and JTTF.
Peace Fresno spokesperson Nick DeGraff said "After six months of trying to get answers from the Fresno Sheriff's Department, the U.S. Department of Justice and the FBI, we still don't know why we were infiltrated, what information was collected, and who authorized the surveillance." Police Practices Policy Director of the ACLU of Northern California, Mark Schlosberg, says "the infiltration of Peace Fresno was unjustified and is inconsistent with California's constitutional right to privacy." He adds that "this type of law enforcement activity should not be allowed to happen again in Fresno or anywhere else in California. It is therefore vital that Attorney General Lockyer fully investigate this incident and issue specific guidelines to prevent similar incidents in the future."
The California State Constitution prevents law enforcement from investigating community groups or individuals without evidence of criminal conduct. These protections are in apparent contradiction to Federal guidelines and the U.S. Patriot Act. The ACLU and Peace Fresno are encouraging Lockyer to follow the California State Constitution, which is more supportive of civil liberties. The ACLU and Peace Fresno sent a letter calling on Lockyer to open a full investigation into the infiltration of Peace Fresno. In a separate letter to State Senator Barbara Boxer, she is asked to take steps to protect the privacy rights of Peace Fresno members and requested to make a full accounting of the FBI's involvement in the surveillance of the group.
Peace Fresno is encouraging the public to contact both Senator Boxer and Attorney General Lockyer to pressure them to investigate this incident and defend our civil liberties. You can contact them at:
Attorney General Bill Lockyer
1300 "I" Street, Suite 1740
Sacramento Ca 95814

Senator Barbara Boxer
1130 O Street, Suite 2450
Fresno Ca 93721
George (Elfie) Ballis provides us with this picture of JTTF agent Aaron Kilner participating in an anti-war demonstration with Peace Fresno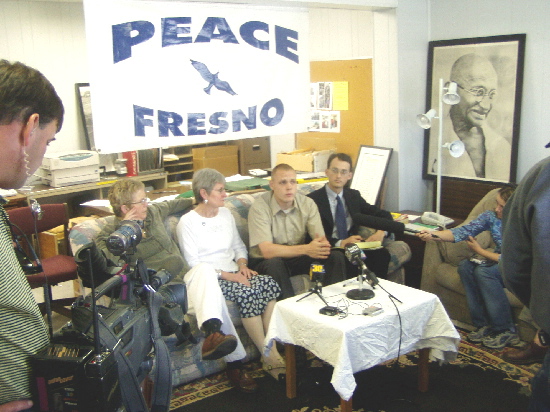 Peace Fresno and ACLU press conference. From left to right: Attorney Catherine Campbell, Peace Fresno activist (she was the groups President at the time of the infiltration) Camille Russell, Peace Fresno activist Nicholas DeGraff, and Police Practices Policy Director of the ACLU of Northern California, Mark Schlosberg
We are 100% volunteer and depend on your participation to sustain our efforts!
Get Involved
If you'd like to help with maintaining or developing the website, contact us.