From the Open-Publishing Calendar
From the Open-Publishing Newswire
Indybay Feature
Book Review of Deaf Black People in the US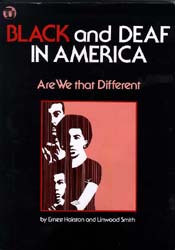 This is an incredible book!!!!! I found this book on Christmas eve 2003 over the internet. BLACK and DEAF in AMERICA: Are We that Different was first published in 1984 by TJ Publishing Inc. What a Christmas gift! As a Black disabled researcher and writer on race and disability, I knew I needed to read this book. What history and talents we have as Black disabled people. BLACK and DEAF in AMERICA: Are We That Different was written by two extraordinary Black deaf leaders, advocates, professionals, artists and educators: Ernest E. Hairston and Linwood Smith. I can go on and on about the authors and their work. Being a poet I was interested in finding more writings by Mr. Smith. He was a poet. Black & Deaf in America end with his poem entitled: The Way of A Hand. After doing some research I found out he is the author of Silence, Love and Kids I Know, a book of poems about children he taught published in 1979. I'm pulling my hair out trying to locate this book. If anybody knows how, please drop me an email! In the Memoriam at the end of the book by Ernest E. Hairston to Linwood Smith who passed away on November 14, 1982, made me feel like I knew Mr. Smith and shared his dedication to Black disabled people and his love for the arts, writing reading and children. This Memoriam was written not from a pen by from the heart and I felt every word.
I've to admit that I was a little bit jealous after I read the last page of this book because this is the kind of book that I talk about writing on Black Disabled People in America. BLACK and DEAF in AMERICA. has everything that I've dreamt about in a book. Mixture of historical facts, which you won't learn in American history or Black History, classes, pictures of Black deaf people showing them in their daily lives and a poem etc. Do you know the name of the first Black deaf student to graduate from Gallaudet College in Washington, DC? Most historians will know about the famous protest at Gallaudet for a deaf president but BLACK and DEAF in AMERICA lets the cat out of the bag in writing about the long history of not accepting Black deaf students. This book is not afraid to put race in the reader's face with chapter titles like Rehabilitation and the Black Deaf Person and Black Signs etc.. What makes this book so great is the mixture of historical facts like the growth of Black Deaf Social Clubs i.e. The Washington Silent Society that was established after WWII and continue through the early 1950's because Black deaf people were barred from joining and participating the large white association. The black and white pictures that are sprinkled throughout the book points out racial segregation in schools to the pride of Black deaf people at the first Black Deaf Conference held at Howard University on June 25-26, 1981 where I think this book was birthed. It also has pictures of Black Deaf youths that I just want to hang on my wall. BLACK and DEAF in AMERICA can be held up next to the almighty Reflection: Views of black disabled people on their lives and community care published in the UK 1994. The only book at the time that talks truthfully how race touches Black disabled people and it is also written for and by the people. Another reason why I adore BLACK and DEAF in AMERICA. is because its in the voice of advocates, the people who live the experience and a seed in the community compared to the recent push of the ivory walls or the medical system speaking for the Black community. Have you heard of Black Sign? Yes, this book trails the birth and death of Black sign or what the author writes, "a Black way of signing used by Black deaf people in their own cultural milieu." Just like Black deaf social clubs came to exist, Black sign blossomed because of the same reason, societal attitudes and discriminating policies.
BLACK and DEAF in AMERICA.. hits on reality in today society facing Black deaf people. For example, a lack of rehabilitation services that reach the Black deaf community. One shocking quote both authors come back to at the end of the book is "Hundreds of Black deaf children have never had the opportunity to talk with or met Black deaf adults during their informative years." They say this case of a lack of visible role models could and has drastic affect on a sense of pride, self-esteem and strive to go on with their dreams and goals in their lives. As a Black physically disabled young man I can say I agree but very little has change in this arena. When was the last time you saw a Black disabled man or woman on television or in the newspaper. Even during Black History Month we are almost invisible! The Authors continues to hit it on the nail.
The second to last section of the book continues to share the pages with Black deaf artists, educators, advocates, parents and trailblazers with interviews and their pictures. Many became deaf later in life and some were born deaf but all have beautiful stories to tell. From the Father of Black deaf history as many have called him, Dr. Andrew Foster, I found out from this wonderful book, that he founded the Christian Mission for Deaf Africans in 1956 and traveled to West Africa to begin his missionary work with the deaf etc. To Mary Cheese on page 63, who is a mother in New York and President of the Imperials Club for the Deaf and also serves as a "Mother Superior" to many Black deaf youth and adults. Now that is what I call diversity and breaking up the ivory walls to keep it in the community.
The last chapter, Are We Really Different?, serves up a plate of thoughts to chew on race, class, unfavorable self-image etc. among Black deaf people and how it plays out in their lives. On the last two pages the authors are still firing raw questions that keeps under theme of this book in your brain. They asked a Black deaf teen how does being Black and hard of hearing affect you socially, emotionally, or otherwise. And her answer brings the theme of the book to the surface once again and that is? "Doesn't affect me at all no change. But if you ask me about being Black, I can tell you ' cause I know we live in a racist world." So therefore what is the answer to the question, are we different? My answer is no there is any difference except for our attitudes on race. This book, BlACK and DEAF in AMERICA:: Are We that Different is way overdue!! It records the separate struggles, history, racial discrimination that Black deaf people faced and how they continue to displayed their talents, beauty, activism and art in this harsh racist society we live by making windows to see improvements for our youth. This book should be in Black studies, mention during Black History Month and on every selves of disabled, youth and people of color non-profit organizations. I recommend it to all advocates, Black families, teachers, social workers, professors and others. A GREAT & REAL BOOK!
I like to thank T.J. PUBLISHERS, INC. for giving this opportunity to read and write a review on this amazing book. And thanks to the authors for taking this bold step and telling it like it is!.
We are 100% volunteer and depend on your participation to sustain our efforts!
Get Involved
If you'd like to help with maintaining or developing the website, contact us.